By Eric Stirgus, The Atlanta Journal-Constitution #atlanta-ga
Georgia State University President Mark Becker announced Tuesday he's leaving the position in June after more than a decade in the job of leading the school, which has grown under his tenure into having the largest enrollment of any university in the state.
Becker said he announced his plans now to give the Georgia Board of Regents ample time to conduct a search for his replacement. Becker, Georgia State's president for the past 12 years, plans to take an educational leave following his presidency to conduct research and write.
Under Becker's presidency, Georgia State completed a consolidation with Georgia Perimeter College, increasing its enrollment to an estimated 54,000 students. The university's ongoing effort to use data analytics to improve student performance constantly draws curious colleagues across the nation. Georgia State, by some accounts, graduates more nonwhite students than any college or university in America.
Becker has also been instrumental in the development of downtown Atlanta, particularly through the acquisition of Turner Field, the former home of the Atlanta Braves. Georgia State converted the venue into its football field and partnered with a private developer to build student housing and businesses nearby.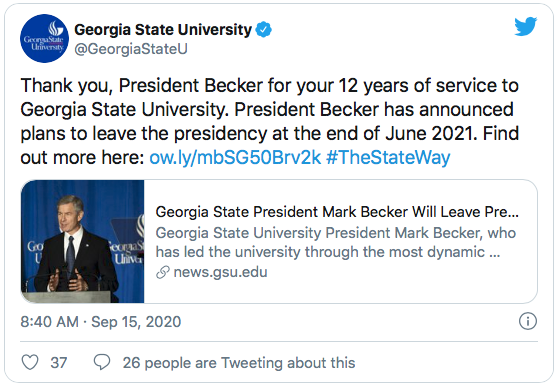 "Leading Georgia State for more than a decade, starting in the middle of a global financial crisis and concluding with a global pandemic, has been challenging and stimulating," Becker said in an email to students, faculty, employees and supporters. "It has been my most rewarding professional experience. What we have accomplished together over the last decade is remarkable and exemplifies Georgia State's more than 100-year legacy of adapting to meet the everchanging needs of the city of Atlanta, the state of Georgia and the nation. I have been inspired throughout my presidency by the innovation, culture and indomitable spirit of our community."
Becker recently created a group to explore ways to improve its diversity and inclusion, amid criticism from some faculty that there are not enough nonwhite faculty members and the need for an African Studies Center.
University System of Georgia Chancellor Steve Wrigley praised Becker in a statement.
"His vision transformed the university's physical campus and lifted intercollegiate athletics to new heights. He guided a complex institutional consolidation to a successful outcome and has been a leader off-campus in the city and region. All the while, he provided excellent counsel to me and has become a valued friend," Wrigley said. "While we will organize a national search soon to find the university's next president, I'm grateful for his service to our students and the University System of Georgia. Georgia State has transformed thousands of lives because of Mark's leadership, and we will miss him greatly."