By Asia Simone Burns, The Atlanta Journal-Constitution #atlanta-ga
Monday is the last full day of summer, but fall is already making a big impression. The sunshine and fall-like temperatures from the weekend are expected to stick around, according to the latest forecast.
"We kind of jumped the gun this weekend," Channel 2 Action News meteorologist Brian Monahan said. "It felt a lot like fall across North Georgia."
Fall does not officially start until after 9:30 a.m. Tuesday, but Monday morning is off to a brisk start. Temperatures are in the high 50s and humidity is around 62%.
"It feels great outside," Monahan said. "The air is really dry. The morning feels really cool when the air is dry."
You'll want to reach to the back of your closet and pull out the jackets on account of the breeze.
There's plenty of sunshine in the forecast. Monahan said there's no chance of rain on Monday, and 11 out of the day's 12 daylight hours will be sunny.
Despite the sunshine, it won't get very hot. The low humidity will keep temperatures in check, Monahan said. The predicted high is 72 degrees.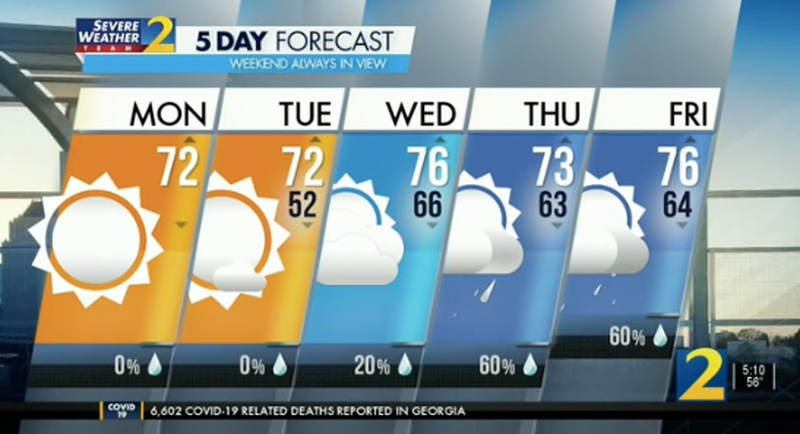 It's an easy ride through metro Atlanta, according to the WSB 24-hour Traffic Center. Most interstates are delay-free, WSB traffic reporter Mark Arum said.