By Asia Simone Burns, The Atlanta Journal-Constitution #atlanta-ga
Wednesday will be comfortable, but clouds will rule the day, according to the latest forecast.
Heavy cloud cover is expected over metro Atlanta for the better part of the day, Channel 2 Action News meteorologist Eboni Deon said.
The morning is off to a chilly start with temperatures in the low 60s and high 50s.
"Not as cool as where we were yesterday, but still cool enough to need a jacket," Deon said.
You'll be able to shed those extra layers in the afternoon, as temperatures rise into the low 70s. The high for the day is 74 degrees.
Though you won't see the sun very much, the day will be dry, Deon said.
"We are going to have more clouds than sunshine, but as for the rain, I think it will hold out for today," she said.
The chance of rain is just 20% on Wednesday, but it climbs to 70% on Thursday. When showers move in Thursday afternoon, areas north of I-20 could get as much as 2 inches of rain, Deon said.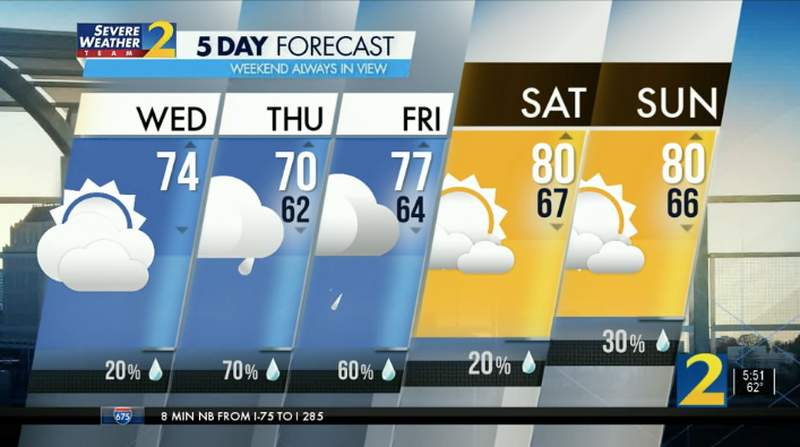 It's an easy ride through most of the metro area, but drivers in DeKalb County could run into trouble on I-285.
A crash has two westbound lanes closed on the interstate, the WSB 24-hour Traffic Center reported. Drivers should expect delays in the area.