By Asia Simone Burns, The Atlanta Journal-Constitution #atlanta-ga
Nearly every corner of the state will get soaked Thursday as remnants of Beta move through Georgia.
With a 90% chance of rain in the forecast, "count on it being really wet today," Channel 2 Action News meteorologist Eboni Deon said.
Beta made landfall late Monday as a tropical storm just north of Port O'Connor, Texas, flooding homes and roadways. The weakened system has made a slow trek across multiple Southern states, bringing rainfall to parts of Louisiana, Arkansas, Mississippi and Alabama.
Residents in parts of North Georgia are already waking up to showers, but most of metro Atlanta is dry. The morning is off to a cool start with temperatures in the 60s.
Isolated showers will pop up between 9 a.m. and 11 a.m., Deon said. After a lull around lunchtime, the wet weather is set to return around 1 p.m. That is when heavy rain will start to move from the west along I-20.
"As we head into the afternoon, rain will continue to fill in from Alabama and move in our direction," Deon said. "So, late afternoon through the evening hours, that's when we'll see more widespread rain."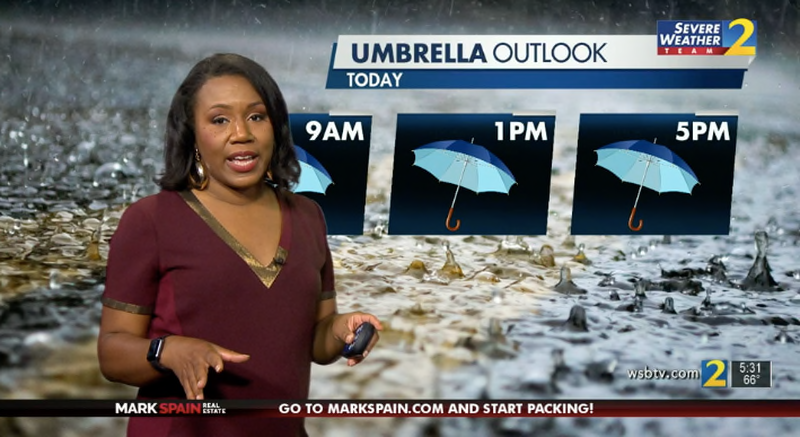 The heaviest rain will fall in the North Georgia mountains, according to the latest forecast. Some areas will receive between 1 and 2 inches of rain before Friday.
Heavy cloud cover expected in the afternoon will also keep temperatures relatively mild, Deon said. They're expected to peak at 71 degrees.
With the exception of one trouble spot, it's an easy ride through metro Atlanta, according to the WSB 24-hour Traffic Center.
Part of the ramp from Jimmy Carter Boulevard to I-85 South is blocked due to police activity in the gore. Expect delays, the Traffic Center reported.