By Henri Hollis, The Atlanta Journal-Constitution #atlanta-ga
The remnants of Tropical Storm Beta are moving out of metro Atlanta Friday, setting the stage for higher temperatures and a mostly dry weekend.
"We're still dealing with scattered light rain showers," Channel 2 Action News meteorologist Eboni Deon said. "Clouds are going to be hanging with us for most of the day. But temperatures are warmer, too. It's going to be feeling nice."
The projected high in Atlanta is 78 degrees.
What Is Your Business Doing to Stay Connected During COVID-19?
"We are going to see just isolated showers possible as we head into the afternoon," Deon said.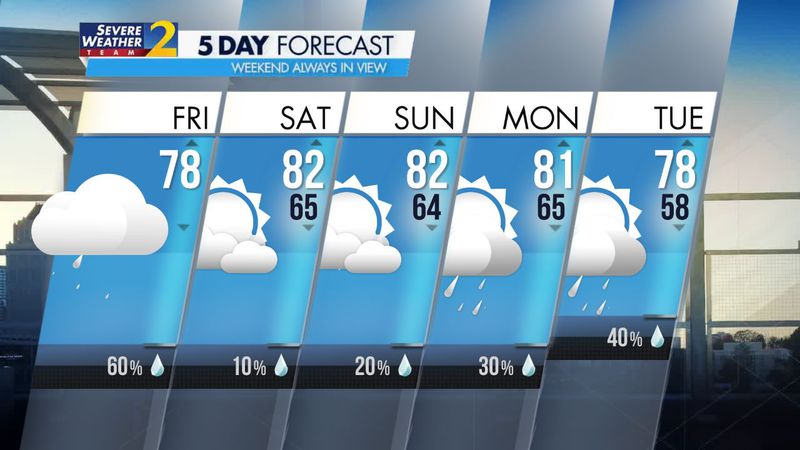 As the rain tapers off, it will make way for nicer weekend weather with temperatures more typical of late September. Rain chances are 10% Saturday and 20% Sunday, and the the projected high is 82 degrees on both days, according to the latest forecast.
This morning, though, the wet weather is causing "nasty driving conditions," WSB traffic reporter Mark Arum said. There are massive delays through Spaghetti Junction after a crash in the westbound lanes of I-285 at North Peachtree Road. The investigation, at times, has blocked all lanes, according to the WSB 24-hour Traffic Center.
"Avoid the Northside Perimeter," Arum said.
An earlier crash investigation blocked northbound lanes of the Downtown Connector near Freedom Parkway. All but one right lane reopened just before 6 a.m., but delays remain on the drive into Midtown, the Traffic Center reported.
Drivers can take I-285 and Metropolitan Parkway to avoid the backups, according to the Traffic Center.
A presidential visit could complicate the afternoon drive in another part of metro Atlanta. President Donald Trump will visit Cobb County to make his pitch for a second term to Black Georgians with a speech on economic empowerment. His motorcade will not have far to travel.
The president is set to touch down at Dobbins Air Reserve Base at 2 p.m. and then will head to the Cobb Galleria Centre for a 2:40 speech. He's set to depart from Dobbins around 4 p.m.
"As a traffic reporter, I could not ask for a more perfect presidential visit," Arum said. "President Trump will be flying into Dobbins Air Force Base, like most presidents do, but he's not going downtown and he's not going to the Perimeter. He's just going down the street to the Cumberland area."
The presidential motorcade is likely to take a route on either Cobb Parkway or I-75, he said. Expect traffic delays in the area, according to the Traffic Center.