By Tanni Deb, The Atlanta Journal-Constitution #atlanta-ga
Metro Atlanta residents will get a break from the rain this weekend, but it won't be completely sunny.
Saturday is off to a cloudy start, and a dense fog advisory is in effect for most North Georgia counties until 10 a.m., Channel 2 Action News meteorologist Eboni Deon said.
"As we go throughout the day, we're expecting to see those clouds breaking up some," she said.
The temperature in Atlanta should reach 73 degrees by noon and today's high will top out at 79, according to the latest forecast. The chance of rain increases on Sunday, but the afternoon showers aren't expected to be very widespread, Deon said. Rain returns on Monday and is expected to linger through midweek, however.
"Overall, it's going to be a very nice weekend for your outdoor plans," she said.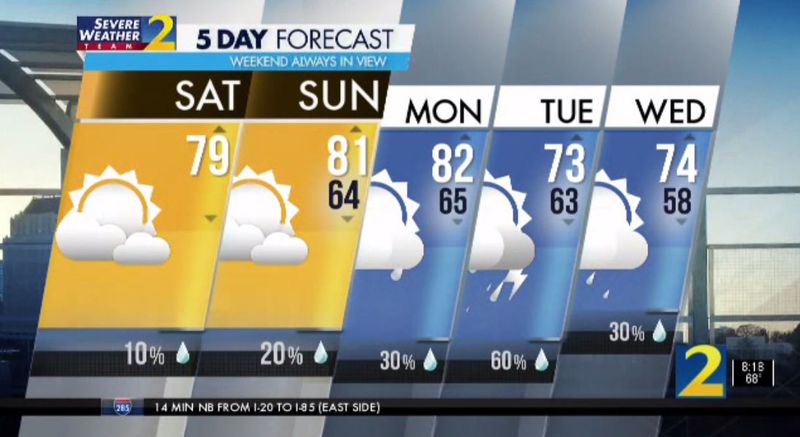 Weather permitting, the Georgia Department of Transportation has a few roadwork projects planned over the weekend. There will be rolling closures along I-285 East near Riverside Drive in Sandy Springs from 9 a.m. to 9 p.m. Saturday, GDOT said. On the southside, all lanes on I-75 North will be closed at Ga. 331 and Forest Parkway in Clayton County from 12 a.m. to 11:30 p.m.
Construction on Ga. 42 near Cedar Grove Road could also cause delays in Clayton County starting at 9 a.m., GDOT said. The roadwork is expected to clear by 3 p.m.