By Asia Simone Burns, The Atlanta Journal-Constitution #atlanta-ga
Monday will be a hot one, but the rest of the week will be a different story as a cold front moves in, according to Channel 2 Action News.
Right now, things are off to a relatively warm start with temperatures in the low 70s. Most areas are dry, but spotty showers are popping up in parts of North Georgia.
"It's going to be warm and humid today for the last Monday of September," Channel 2 meteorologist Brian Monahan said.
It will be 73 degrees by 10 a.m. and 76 by noon. Temperatures are expected to top out at 80 degrees. The day will be mostly cloudy, with sunshine for six of the day's 12 daylight hours.
That will change drastically over the next few days. A cold front will move through North Georgia, bringing a greater chance of isolated storms.
"By late (Monday) afternoon, we are going to have a weakening line of storms moving toward North Georgia," Monahan said.
The other side of the the cold front will bring lower temperatures on Tuesday and Wednesday, with respective highs of 67 and 70 in the forecast.
"It's going to feel like the heart of fall by the time we hit the middle of the week," he said.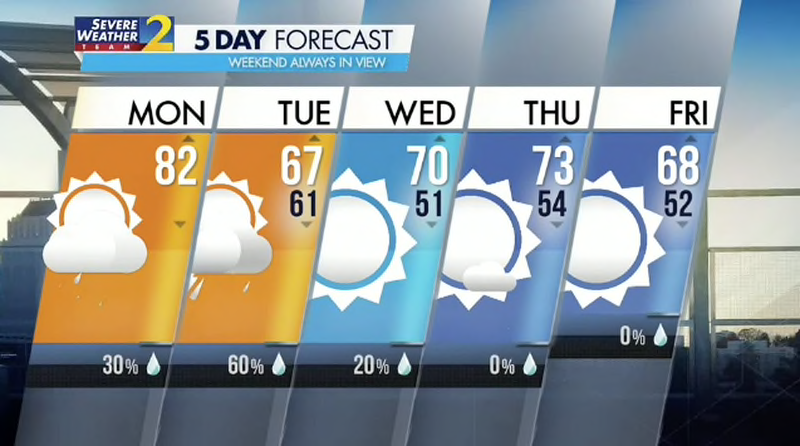 The morning commute is getting off to a rocky start.
A crash has all lanes of Campbellton Road shut down at Kenilworth Drive, according to the WSB 24-hour Traffic Center. Drivers should expect delays in the area.
The right shoulder of I-75 South at I-675 is closed in Henry County due to a car that went off the road. There are delays leaving Stockbridge, the Traffic Center reported.
In DeKalb County, an injury crash on I-20 East at Evans Mill Road is blocking the right shoulder, leading to delays into the city of Stonecrest.
And a stalled tractor-trailer is in the second right lane of I-85 South at Beaver Ruin Road. Those heading into Norcross may experience delays, according to the Traffic Center.