By Chelsea Prince, The Atlanta Journal-Constitution #atlanta-ga
A few lingering effects from a cold front Monday are helping North Georgia to feel like fall.
Channel 2 Action News meteorologist Brian Monahan said the weather system "is not what we call a clean cold front." Instead of moving through and quickly clearing out the clouds and rain, the front has left behind some showers in northwest Georgia on Tuesday morning.
There is a chance of rain in the western Atlanta suburbs through the end of the morning drive, he said. Temperatures are in the 60s to begin the day and will not move much, according to Channel 2.
"Not necessarily heavy rain out there, but there are some spots with showers," Monahan said. "There was heavy rain overnight, so there is going to be some puddles. There's going to be some ponding on the roads."
The wet weather should be gone by the afternoon, but North Georgia should not hold out for sunshine. According to Channel 2, the region will get about three hours of sun Tuesday before it sets for the evening. Add in cooler air from the cold front, and Atlanta is only expected to reach a high of 65 degrees.
"It's going to get a whole lot better starting tomorrow," Monahan said. "Wednesday and Thursday, we'll have almost total sunshine. Just a few fair weather clouds in the sky."
Temperatures will return to the 70s for the second half of the week once the rain dries up and skies clear out, according to Channel 2. Tuesday is the last day this week with a chance of rain in the forecast.
By the weekend, Monahan said a second cold front will move through and knock down temperatures once again. Saturday morning could see lows in the 40s, according to the latest forecast.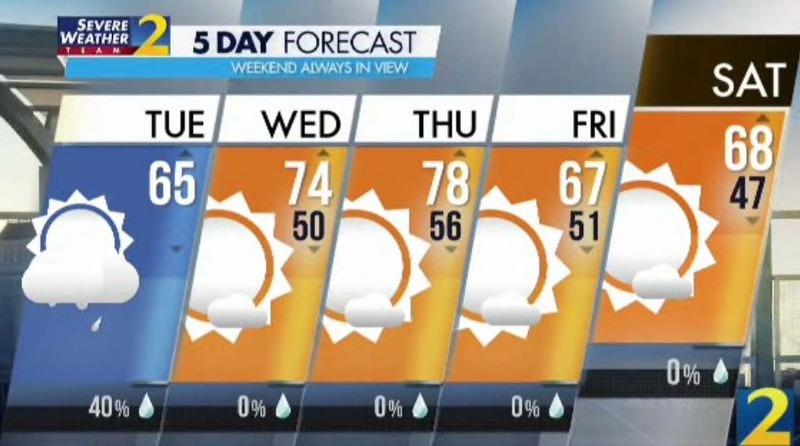 Despite the wet roads, the Tuesday morning drive is off to a decent start. There are only a few minor slow zones at 6 a.m., according to the WSB 24-hour Traffic Center.
Atlanta motorists will have to avoid Northside Drive due to ongoing road work. Crews have shut down the road at Peachtree Battle Avenue, the Traffic Center reported. Howell Mill and Peachtree roads are good alternates.