By Shaddi Abusaid, The Atlanta Journal-Constitution
(CNT) City News Talk #atlanta-ga
Don't forget to roll back those clocks and grab an extra jacket before heading out on Sunday morning.
Metro Atlanta residents will gain an extra hour overnight as daylight saving time comes to an end, but the second half of the weekend will get off to a chilly start.
While it should be cool in the morning, Sunday won't be quite as cold as Saturday, according to the latest forecast.
Isolated showers are possible early in the day as a cold front moves through North Georgia, but the rain isn't expected to be very widespread, Channel 2 Action News meteorologist Eboni Deon said. The chance of rain on Sunday morning is just 20%.
"We are starting the day with a few isolated showers around, but nothing to really wash out any plans," Deon said.
By lunchtime, temperatures in metro Atlanta will start to warm up, and the afternoon high is expected to reach 67 degrees in the city. Sunday will be breezy, however, with wind speeds of up to 20 mph, Deon said.
Temperatures in North Georgia are expected to plummet ahead of the workweek, so it might be best to grab an extra blanket before crawling into bed on Sunday night. Monday's low will drop to 36 degrees ahead of an afternoon high of 56, according to the latest forecast.
Mornings will remain cool for much of the week, and Atlanta is expected to see some of its coldest temperatures since March.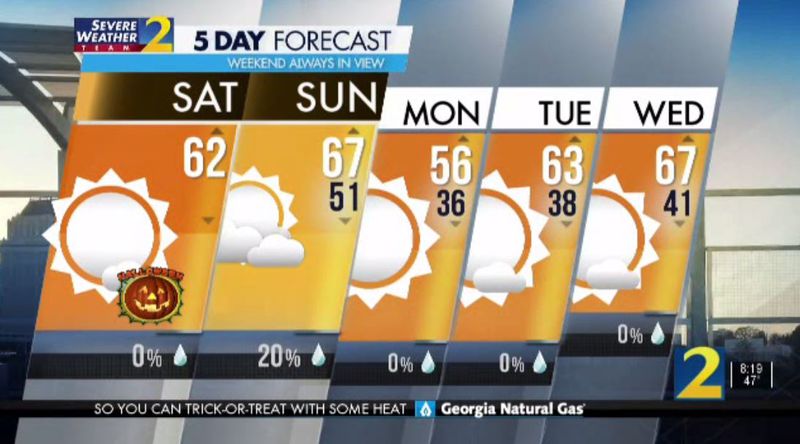 Georgia Department of Transportation crews will be out in full force this weekend, and some drivers could run into delays on metro Atlanta's interstates.
Overnight lane closures are planned in DeKalb and Rockdale counties as crews work to restripe I-20 between Columbia Drive and the Newton County line, GDOT said. The delays will last from 9 p.m. Sunday until about 5 a.m. Monday.
In addition, Clayton County drivers should plan for backups at the I-75/I-285 interchange this weekend. The speed limit will be reduced to 40 mph and one left lane of I-285 East will be closed between I-75 and Old Dixie Highway, officials said.