By Chelsea Prince, The Atlanta Journal-Constitution #atlanta-ga
A cold front will move through North Georgia on Thursday, but it's not likely to cause much of a stir.
Channel 2 Action News meteorologist Brian Monahan said most likely won't notice the front Thursday. He does not expect any rain and minimal clouds associated with the weather system.
"But I promise you, you're really going to notice it tomorrow morning," Monahan said. "Tomorrow is going to be awfully chilly across North Georgia."
After a chilly start in the 50s, temperatures are headed for the upper 70s Thursday. Monahan said a projected high of 78 in Atlanta is about average for the start of October.
By the end of the month, average temperatures will drop into the upper 60s. The sun will also set earlier, about 6:45 p.m., which Monahan said will be yet another signal that winter is on the way. The sun will set Thursday at 7:21 p.m.
Once it goes down, the full harvest moon should be visible in the sky. It is the smallest the moon will appear all year, according to Monahan.
Friday will be chilly on the other side of the cold front. Metro Atlanta could wake up to temperatures in the upper 40s Friday morning before hitting a projected high of 67 degrees, according to Channel 2. Lows are forecast to bottom out at 47 degrees on Saturday morning.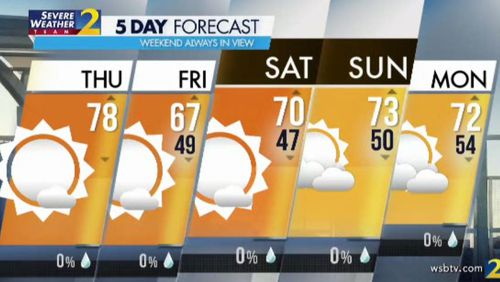 The Thursday morning drive is looking up now that some overnight construction projects have cleared, according to the WSB 24-hour Traffic Center.
One project on I-75 North at Barrett Parkway caused major early days in Cobb County before it wrapped shortly after 5:30 a.m. While all lanes are now open, some delays remain, the Traffic Center reported.
In East Atlanta, construction has cleared on I-20 West at Moreland Avenue. According to the Traffic Center, all lanes are now open and delay-free.