By Chelsea Prince, The Atlanta Journal-Constitution #atlanta-ga
After hitting a high of 80 degrees Thursday, metro Atlanta will feel much more like fall Friday.
The projected high is 68 degrees in the city, according to Channel 2 Action News meteorologist Brian Monahan.
"I think most areas will stay short of 70 degrees this afternoon, a good 10 to even 15 degrees cooler than we saw Thursday afternoon," he said.
A cold front moved through North Georgia on Thursday, helping to drop temperatures. Friday is starting in the low 50s for most of metro Atlanta, while neighborhoods to the north are in the 40s to begin the day.
Monahan said that cold front will not produce many clouds Friday, making way for lots of sunshine.
"Really, our weather winning streak, in terms of any rain, continues into early next week," he said. "We're going to stay dry."
The weekend will also see some chilly starts, but Monahan said the sun will help temperatures bounce back in the afternoons. Saturday's projected high is 70 degrees, still well below the average of 77 for this time of year.
The low Saturday is 47 degrees, according to Channel 2.
"You want to get out early Saturday morning? Be ready to dress for the cold air," Monahan said. "Coldest we've felt since May 12."
With temperatures dropping, Monahan said North Georgia can expect to see the leaves start to change in the next few weeks. Trees in the mountains will reach their peak color first, while metro Atlanta can expect to see peak fall color around Halloween, he said.
On the Southside and in Middle Georgia, he said trees may not reach their peak color until the middle of November.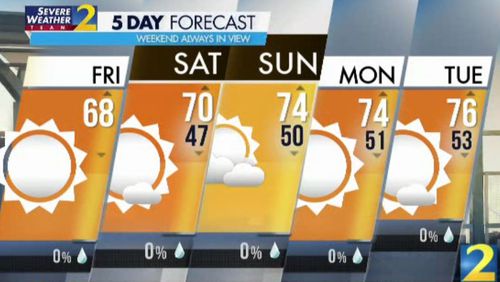 While no weather-related delays are expected on the roads Friday, the morning drive is off to a rocky start, according to the WSB 24-hour Traffic Center.
Multiple injury crashes have been reported. Most earlier crashes have cleared, including an accident involving a pedestrian in Cherokee County. Authorities shut down the intersection of Cumming Highway and Northside Cherokee Boulevard for about an hour after the collision, which happened about 6:25 a.m.
The victim was taken to Wellstar Kennestone Hospital with injuries, and his condition is not known, according to sheriff's spokesman Capt. Jay Baker.
Baker said the driver is not likely to face charges. It was dark at the time, and there is construction in the area, he said.
"It does appear that the driver had the green light when she went through the intersection," he told AJC.com. "It doesn't appear that the driver was doing anything they shouldn't, other than going with traffic."