By Greg Bluestein, The Atlanta Journal-Constitution #atlanta-ga
President Donald Trump's disclosure that he had contracted the coronavirus sent a shudder across Georgia, as politicians and activists wondered how vastly it would upend an already tight race for the White House, two U.S. Senate races and other consequential contests.
With polls showing Trump in a deadlocked race with Joe Biden in Georgia, the revelation of the president's COVID-19 diagnosis instantly shifted attention toward his handling of an outbreak that has killed more than 207,000 people in the United States.
State Republican and Democratic leaders quickly offered get well wishes, including Atlanta Mayor Keisha Lance Bottoms, one of the highest-profile politicians in Georgia to contract the disease. "A COVID-19 diagnosis is unsettling," she said, "and even more so when a loved one also tests positive."
The political fallout was unclear, though it seemed certain that Trump's rallies over the final stretch of the race would be delayed and canceled. The president last visited Georgia on Friday to court Black voters, mindful of close polls in a state Republicans have held in every White House race since 1996.
His struggle with the disease comes after Trump has mocked precautions such as wearing a mask and contradicted health advisers. Democrats predicted it would remind voters of his cavalier handling of the pandemic at a time when he was trying to emphasize his economic agenda and the battle over a Supreme Court vacancy.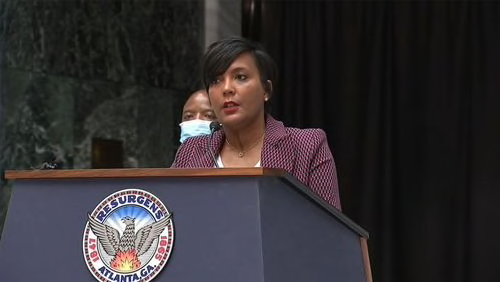 Nikema Williams, a congressional candidate who chairs the Democratic party and has recovered from the disease, said it was a wakeup call for Trump, who "should be more consistent with wearing a mask" as Biden has done. Facing criticism from Republicans, Williams responded on Twitter: "WEAR A MASK."
Georgia Republican strategists, meanwhile, said Trump could be rewarded by sympathetic voters who have struggled with the disease and the economic turmoil it triggered. Brian Robinson, a veteran GOP operative, said boastful remarks from Democrats about Trump's diagnosis could backfire.
"Democrat activists will have trouble resisting the urge to gloat and perhaps even go on Twitter and wish for the worst possible outcome for the president," he said, adding: "Americans have let their guard down about COVID-19. Let's all hope this provides a reset."
The Faith and Freedom Coalition conference, an annual event that Trump has headlined, opened its final session in Atlanta with a somber prayer for Trump's health amid the "challenging news." So did U.S. Sen. Kelly Loeffler, who said the president's diagnosis shows "there's no more important time than today to fight for conservative values."
On Twitter, she offered a more pointed message: "Remember: China gave this virus to our President @realDonaldTrump and First Lady @FLOTUS. WE MUST HOLD THEM ACCOUNTABLE."
Though a handful of conference attendees wore masks as they filed into the Cobb Galleria Centre ballroom on Friday, the broad majority did not. There was a stir in the crowd as news spread that Vice President Mike Pence, who spoke at the event on Wednesday, tested negative for the disease.
"His supporters are going to support him and pray for him and be positive," said Dianne Putnam, who chairs the Whitfield County GOP. "And it will probably make them take the virus more seriously."
Marci McCarthy, a DeKalb County activist, showed off her bright-red Trump mask, which she said she made a point of wearing on Friday.
"It shows we are all able to contract COVID-19. And many of us can move forward and survive from it," she said. "I'm very confident President Trump and Melania will recover."
And Scott Johnson, a state school board member at the conference, said it offered Republicans a stinging reminder that the virus "doesn't care about one's political affiliation or ideology."
"Just like Governor Kemp didn't let COVID-19 shut down Georgia, it won't shut down the White House or our country."