AJC.Com – #atlanta-ga
One week ago, South Fulton posted photos on Facebook of a missing 3-week-old and the mother accused of taking her from the Division of Family and Children Services.
On Friday, the department said the baby and her mother had not been found.
"We are still actively searching for the baby as the child is a missing/endangered child," South Fulton police spokesman Lt. Jubal Rogers told AJC.com. "We do not (know) of where the child or mother is at this time. She may be in metro Atlanta or Toombs County, Georgia."
ExploreMother abducts 3-week-old girl in South Fulton, police say
The baby, Israel White, is believed to be in danger, according to the original Facebook post. Her mother, 36-year-old Angela Yvonne White, has active arrest warrants in South Fulton, police said in the Sept. 25 post. Details of those warrants have not been released.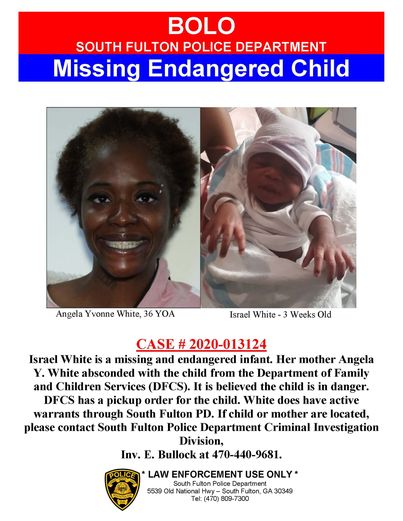 Anyone who sees Angela and Israel White is asked to call 911 or South Fulton police Investigator E. Bullock at 470-440-9681.