By Tanni Deb, The Atlanta Journal-Constitution #atlanta-ga
Over the weekend, Georgians will be treated to some of the coolest weather of the season. And with no rain in the forecast for Saturday or Sunday, it should be perfect weather to get outdoors.
Saturday is expected to get off to a chilly start, with a low of 48 degrees in metro Atlanta, Channel 2 Action News chief meteorologist Glenn Burns said.
It will be even cooler farther north, with temperatures dropping to 41 degrees in the North Georgia mountains and 44 degrees in Rome, Burns said.
"Air's going to be pretty dry, though after that cool start (Saturday)," he said. "Great weekend to go up and take a look at that early fall color."
Saturday afternoon is expected to be sunny with a high of 71 degrees, according to the latest forecast. Clouds will return on Sunday, but no rain is expected until at least midweek.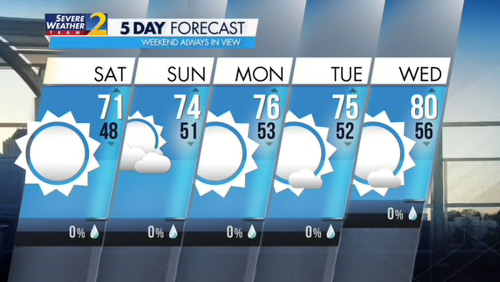 The Georgia Department of Transportation has several road projects planned this weekend. Rolling lane closures along I-285 East in Sandy Springs are expected to cause moderate delays between 9 a.m. and 9 p.m. Saturday.
In addition, construction in the northbound lanes of Ga. 400 near Lenox Road could cause backups in Buckhead, GDOT officials said. One right lane will be closed, but the roadwork is expected to conclude by 4 p.m. Drivers should also plan for delays in Midtown on Saturday afternoon as crews begin road maintenance on the Downtown Connector after lunch.