By Shaddi Abusaid, The Atlanta Journal-Constitution #atlanta-ga
Sunday morning will get off to a chilly start in metro Atlanta as ideal fall weather continues through the second half of the weekend.
Like Saturday, the afternoon high is expected to reach the mid-70s and no rain is expected, making it a good day to get outside. Morning temperatures should be slightly warmer to start the day, however, Channel 2 Action News meteorologist Eboni Deon said.
"The weather is perfect for doing just about anything, including maybe a little leaf-peeping," Deon said, adding the recent string of cool weather days is causing trees in some parts of North Georgia to change color a little earlier this year. "It looks like weather conditions will be perfect for that."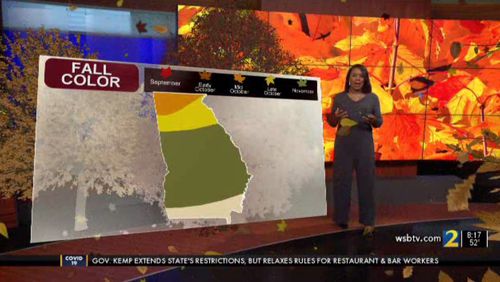 Vibrant fall colors usually aren't noticeable in far North Georgia until mid-October, but Deon said we're off to a head start this year.
"On Sunday, we'll have a few more clouds around but it will still be dry," she said. "We will have a little bit more moisture, clouds increasing a little bit on Sunday, but the dry weather is going to hold all the way into the middle of next week."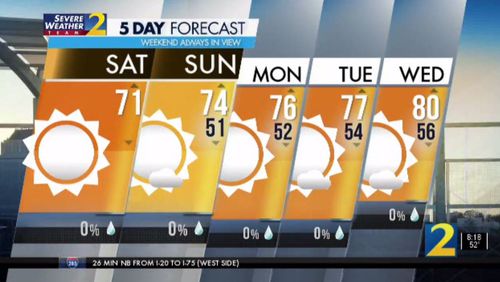 Georgia Department of Transportation crews are expected to take full advantage of the rain-free weekend, and several road projects are planned on metro Atlanta's interstates.
The Northwest Corridor Express Lanes on I-75 will be shut down for overnight maintenance over the next few days, GDOT officials said. The road project is expected to wrap up by 6 a.m. Tuesday, just in time for the morning commute.
In addition, drivers can expect delays on I-285 this weekend as crews continue maintenance work on eight bridges in Cobb and Fulton counties.
Two right lanes of the Perimeter will be closed in both directions overnight between Bolton Road and South Cobb Drive, GDOT said. All lanes should reopen by 5 a.m. Monday.