By Tim Darnell – Atlanta Journal-Constitution
Kelcie Willis – The Atlanta Journal-Constitution
#local-all
President Donald Trump, who tested positive for the coronavirus early Friday, is starting a multi-day stay at Walter Reed National Military Medical Center in Bethesda, Maryland. The president reportedly has not transferred power to Vice President Mike Pence ahead of being admitted.
First lady Melania Trump, who is quarantining, also tested positive for the coronavirus.
The president's stunning announcement plunged the country deeper into uncertainty just a month before the election.
Here are the latest developments:
3:05 p.m.: A rep for Sen. Ted Cruz said he tested negative for the coronavirus and is staying at home "out of an abundance of caution."
2:20 p.m.: A spokesperson for Regeneron, the biotechnology company whose antibody cocktail was administered to Trump by his physician following his coronavirus diagnosis, told CBS News reporter Amy Birnbaum Dr. Conley's letter was incorrect.
"It is two monoclonal antibodies," the spokesperson said of Conley's referral to administering "polyclonal antibody therapy" int the memo. "It was incorrect in the physician's letter."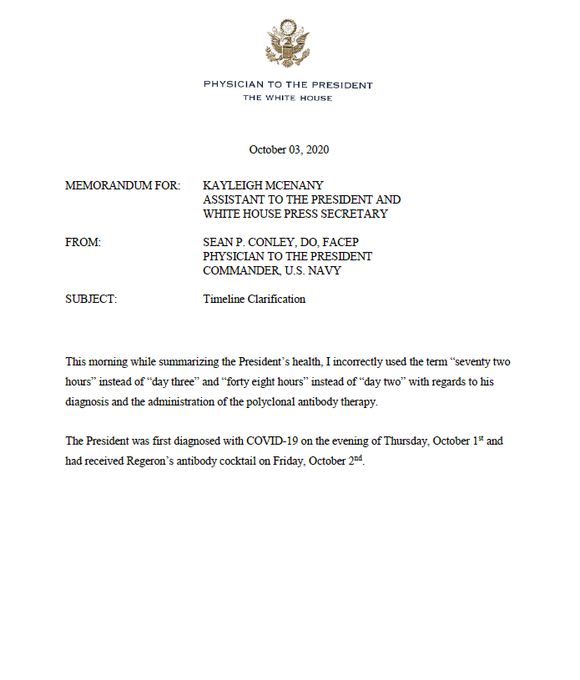 2 p.m.: Trump's doctor issued a statement saying he used terms "incorrectly" when discussing the president's heath Saturday morning.
"This morning while summarizing the President's health, I incorrectly used the term 'seventy two hours' instead of 'day three' and 'forty eight hours' instead of 'day two' with regards to his diagnosis and the administration of the polyclonal antibody therapy," Dr. Sean Conley said. "The President was first diagnosed with COVID-19 on the evening of Thursday, October 1st and had received Regeneron's antibody cocktail on Friday, October 2nd."
1:24 p.m.: President Trump tweeted praise for staff at Walter Reed Medical Center and said "Tremendous progress has been made over the last 6 months" in response to the coronavirus.
"With their help, I am feeling well," he tweeted.
The tweet comes after reports from some media, citing unnamed sources, that the next few days will be important for Trump's care.
1:10 p.m.: According to an unnamed source to The New York Times, "The president's vitals over the last 24 hours were very concerning and the next 48 hours will be critical in terms of his care. We're still not on a clear path to a full recovery."
The Times reported that two unnamed sources said Trump had difficulty breathing Friday and his oxygen levels dropped, requiring him to get supplemental oxygen from his doctors at the White House.