#foodie-all – by Ellen Britt. Hey y'all…! Ellen Britt here, the Atlanta News and Talk Hometown Ambassador, back with the results of my "jooked" grits experiment.
If you've looked at my recent Hometown Foodie posts from the past couple of days, I talked about how to make jook, the long cooked Chinese rice porridge that I came to love when I went to China a couple of decades ago to adopt my daughter. Jook uses rice soaked overnight then cooked one part rice and ten parts water for at least a couple of hours, then served with various toppings.
Being a true Southerner who loves her grits, I decided to use this long cooking technique to "jook" my grits, so last evening I took one cup of stone ground yellow corn grits and soaked them overnight in filtered water.
This morning I drained off the water and put the cup of soaked grits in a large stockpot with ten cups of filtered water. Then I brought it to a boil, cut the heat enough to bring the mixture to a rolling simmer and let it cook for a couple of hours.
I found I had to stir it relatively frequently to keep it from sticking. About half way through, I added a teaspoon of sea salt to the mix. I also discovered I had to cut the heat a bit as the mixture thickened and also had to stir more frequently.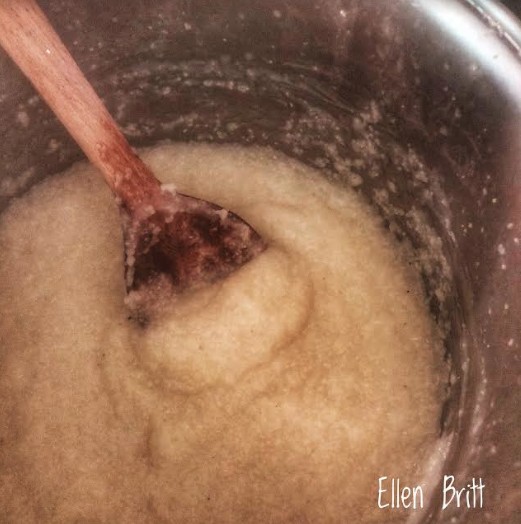 Once the grits were done and thickened to my liking, I ladled up a bowlful of grits and placed a pat of grass fed Irish butter on top. I usually use a plant based butter (Miyoko's is my favorite) but I was out.
With a bit of fresh ground pepper, a free range egg fried over easy and served with a dash of hot sauce, and a piece of whole grain toast, well…
I was in Southern gals' heaven! The jooked grits were unbelievable creamy but still with a bit of tooth and so flavorful, worthy of anyone's table. Let's eat y'all…!