By Chelsea Prince, The Atlanta Journal-Constitution #atlanta-ga (CNT)
North Georgia will enjoy a few days of early fall weather before things turn cold and wet for the end of the week, according to Channel 2 Action News.
Forecasters predict that a tropical system developing in the Caribbean will likely become Hurricane Delta before the end of the week. Channel 2 meteorologist Brian Monahan said the storm will hit the central Gulf Coast, but it will spread rain our way Friday and Saturday.
"We're going to see a cold, heavy rain across North Georgia on Friday," he said. "Until Friday we're dry … it looks beautiful for the early part of the week."
Monday is starting out chilly in the 40s and 50s, but Atlanta is expected to warm up to a high of 76 degrees, which is average for this time of year.
"As we go through today, there is plenty of sunshine, dry air," Monahan said. "That means we start cool, but finish with a nice day for you this afternoon."
Another tropical system spinning in the southern Gulf of Mexico could send some high clouds over Georgia on Monday, but Monahan said that will be the only impact. It will be mostly sunny, he said.
Mainly clear conditions should continue into the evening, with a light breeze from the east keeping things comfortable. According to Channel 2, Tuesday will be a repeat of Monday with sunshine and temperatures in the mid- to upper 70s.
"It's looking really good over the next few days," Monahan said. "Wednesday, Thursday, we're going to be in the low 80s. A little return to some late summer kind of weather. Friday is a totally different weather story."
What will become Delta is likely to strengthen into a Category 2 or 3 hurricane before it hits the Gulf Coast, Monahan said. The remnants of the storm are expected to move into the Southeast late Thursday and early Friday morning.
Friday has a 70% chance of rain and storms, and temperatures are not expected to leave the 60s, according to Channel 2.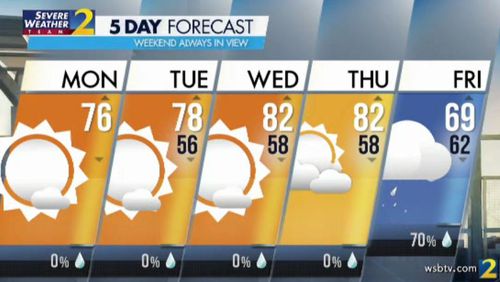 With only sunshine in the forecast Monday, there should not be any weather-related traffic delays. In fact, traffic could be improved Monday now that a new ramp has opened on the Northside.
Traffic is now flowing on the new flyover ramp on Ga. 400 South at I-285 East, according to the WSB 24-hour Traffic Center.
Construction projects continue elsewhere. Bridge work has Northside Drive shut down at Peachtree Battle Avenue remains closed in Buckhead, the Traffic Center reported. Drivers can continue to use Howell Mill or Peachtree roads as alternates.