By Chelsea Prince, The Atlanta Journal-Constitution #atlanta-ga (CNT)
North Georgia's winning streak continues Tuesday with another day of dry conditions, sunshine and comfortable temperatures.
Tuesday's forecast "looks outstanding," Channel 2 Action News meteorologist Brian Monahan said. "Just an amazing start to October and that continues today.
"Temperatures are slightly lower Tuesday morning than on Monday, but most metro Atlanta neighborhoods are still in the 50s to start the day. Monahan said the city will finish off around 80 degrees.
He said to expect some clouds in the sky, and a little more cloud coverage on the Southside.
"They will not bother you at all today," he said. "It will be mostly sunny through your Tuesday. A good looking Tuesday afternoon, and Wednesday and Thursday (are) looking good, too."
North Georgia can expect a few more days of quiet weather before rain starts to move in Friday with what's left of Hurricane Delta, according to Channel 2. The storm is currently a Category 2 hurricane and is moving toward the Yucatan Peninsula, where it is likely to become a Category 4, according to forecasters.
Monahan said it is likely Delta will downgrade to a Category 3 hurricane before it moves on the central Gulf Coast.
"The latest tracks are a little farther to the west," he said. "This would bring a little less rain into North Georgia, but still plan on Friday, Saturday and even Sunday being wet at times across North Georgia."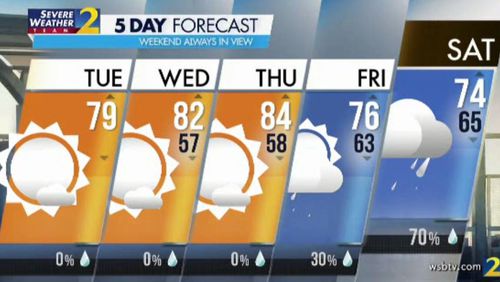 A crash on a major Atlanta roadway could mean early delays for intown commuters. All lanes of Moreland Avenue were blocked over I-285 at 6 a.m., according to the WSB 24-hour Traffic Center.
"The good news, though: It is not impacting your ride on I-285" traffic reporter Mark Arum said. The interstate remains lighter than normal, he said.