By J.D. Capelouto, The Atlanta Journal-Constitution #atlanta-ga (CDT)
A large, new plaza that opens to the public at Colony Square this week offers a glimpse into the multimillion-dollar renovation that aims to transform the Midtown landmark.
For the last several years, Colony Square has been immersed in a $400 million construction effort, spearheaded by the same developers behind Avalon and Atlantic Station.
With its two massive towers and nearly a million square feet of office space, Colony Square was ahead of its time when it opened as the first "mixed-use" development in Atlanta 50 years ago. But it fell behind more modern retail trends and lost some office and retail tenants as new office towers opened up nearby.
"Colony Square had become nothing but the mall, which was at one time a really viable retail enterprise," said Mark Toro, the chairman of North American Properties in Atlanta, which is redeveloping the property. "We saw an opportunity to convene Midtown at Colony Square."
The new plaza, located next to a food hall that is set to open next spring, is a chance for developers to turn Colony Square into a "living room" for Midtown, Toro said.
At over 8,200 square feet, the new greenspace was inspired by the Plaza de Santa Ana in Madrid. It can fit around 300 people with coronavirus safety precautions in place, and eventually up to 1,000 people when people no longer need to social distance.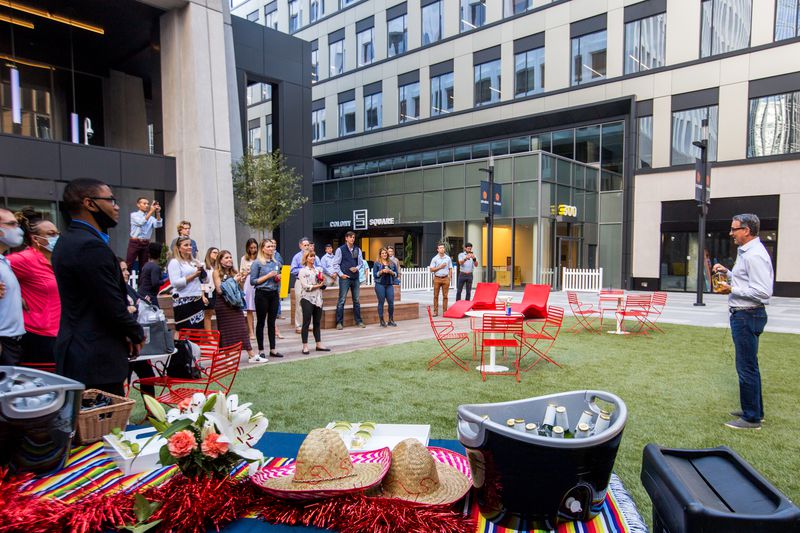 Thursday evening, Colony Square will host a fundraiser for local nonprofit City of Refuge, which provides housing, job training and youth development resources to Atlantans in disadvantaged communities. Thursday's event, called "The Gathering," will be a socially distanced celebration with musical performances.
The following day, on Friday, the Plaza opens to the public. It will play host to weekly yoga, live music and comedy shows throughout October.
"Colony Square has been a labor of love because Midtown is sorely in need of that place, of that gathering space," Toro said.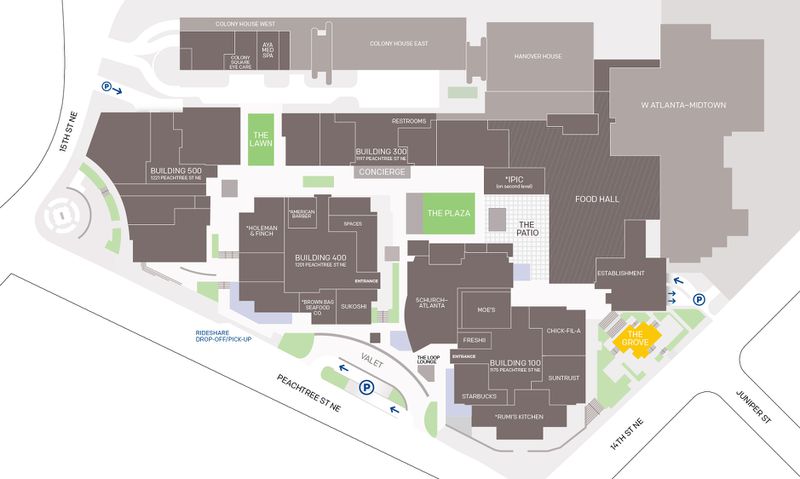 North American Properties purchased the property at the corner of Peachtree and 14th streets, located less than half a mile from Piedmont Park, about five years ago. Work began in 2017 and has been completed in phases; the project includes demolishing the former mall, adding two office buildings and creating new pedestrian paths. On the side of the complex facing 14th Street, developers opened an outdoor space with public seating called "The Grove."