By Shelia Poole, The Atlanta Journal-Constitution #atlanta-ga (CNT)
The Most Rev. Christophe Pierre, the Vatican's top diplomat to the United States, on Wednesday called for unity across the globe and challenged people to show the world that "love is more powerful than anything else."
"This is what the church is all about, especially in a society which is divided," said Pierre, who was speaking during a special Mass at St. Peter Chanel Catholic Church in Roswell. "The church should be the sign of unity, but the unity which comes not just as the fruit of this earth, of our own efforts, but because we believe in God. Because we try to be in our lives, in our society, in our families and even in the political world, signs of unity."
Pierre, the apostolic nuncio to the United States, was in Atlanta to bestow the sacred pallium, a vestment blessed by the pope and made of lamb's wool, upon the shoulders of Archbishop Gregory J. Hartmayer, formerly the bishop of the Roman Catholic Diocese of Savannah.
The pallium is adorned with six black crosses and three pins, representing nails on the cross, that contain precious stones. The vestment symbolizes an archbishop's unity with the pope, authority and acceptance for the care of his jurisdiction.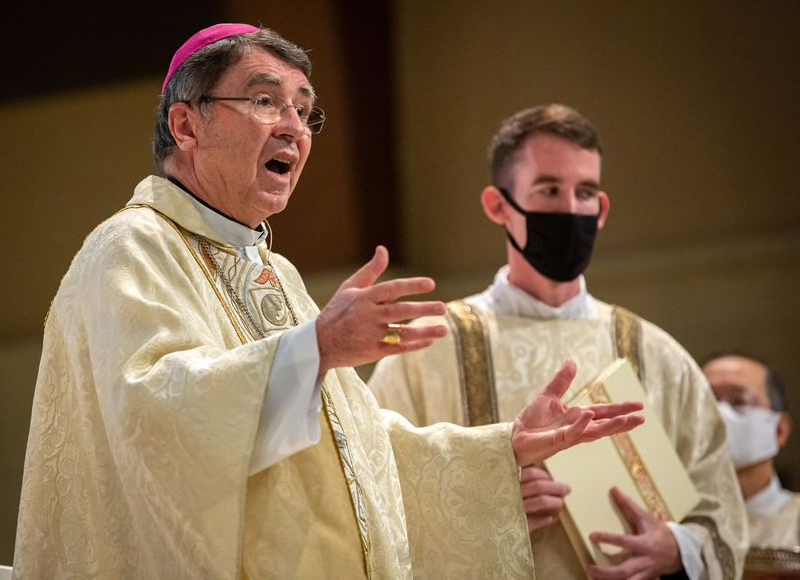 Hartmayer succeeded Archbishop Wilton D. Gregory, who now leads the Archdiocese of Washington.
For centuries, archbishops traveled to Rome to receive the pallium, but in 2015 Pope Francis decided that new archbishops would receive the pallium in their home diocese as a way to build upon the relationship between worshippers and local leadership. It would also allow more people, including other bishops in the region, to attend the event.
Of course with the pandemic, fewer people attended with more deciding to watch the Mass livestreamed. For those attending, masks were required and social distancing was practiced.
Fifty-four archbishops from 33 nations were named over the past 12 months, according to The Georgia Bulletin.