By Chelsea Prince, The Atlanta Journal-Constitution #atlanta-ga (CNT)
As the Gulf Coast braces for Hurricane Delta's expected landfall Friday, North Georgia is starting to see some impacts ahead of the storm.
There is no rain in the forecast Thursday, but clouds will start filling in, according to Channel 2 Action News meteorologist Brian Monahan.
"It is going to be a little wet by the weekend, but today, not so wet," he said. "You're going to notice a few more clouds."
Thursday will still have about eight hours of sunshine, but Monahan said he only expects five hours on Friday as the sky fills up. Saturday should only get about two hours of sunshine, according to Channel 2.
"By Saturday, as Delta weakens and moves by to our west, we're going to see our rain chances pick up," Monahan said. "During the day Saturday into Sunday, we will have rain at times. Not a washout this weekend, but the possibility here of an inch or two of rain."
The heaviest downpours will hold off until Saturday evening, he said. While there is always a chance of a brief tornado with landfalling hurricanes, Monahan said only the westernmost Georgia counties are at risk of severe weather. That risk is still considered low.
Ahead of the storm, Georgia will enjoy temperatures more typical of summer. Atlanta is expected to hit a high of 85 degrees Thursday, according to Channel 2.
Temperatures will fall as Delta approaches. Both Saturday and Sunday are not expected to leave the 70s, according to the latest forecast.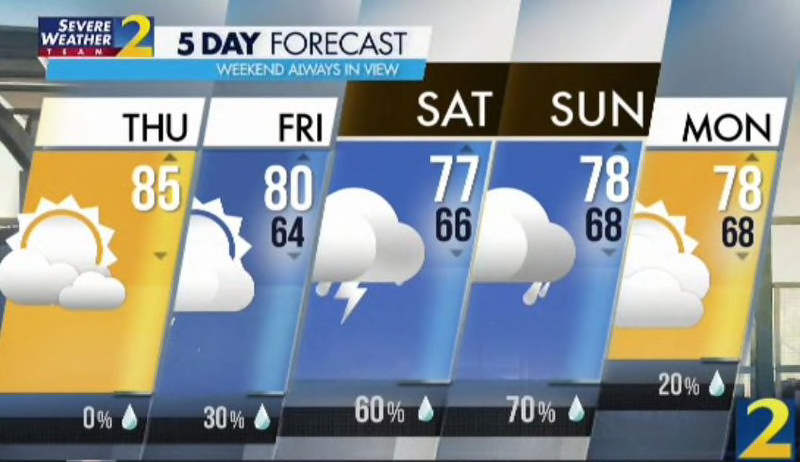 Despite some early crashes, the Thursday morning drive is off to a decent start, according to the WSB 24-hour Traffic Center. There are no major delays at 6 a.m.
Traffic reporter Mark Arum said he thinks the good fortune may hold for the evening commute as well.
"I suspect lighter-than-normal this afternoon … because we will have dry pavement," he said.