By Shaddi Abusaid, The Atlanta Journal-Constitution #atlanta-ga (CNT)
Residents used personal ladders to rescue neighbors, fire officials say.
A large fire tore through a Doraville apartment building Thursday afternoon, displacing approximately 70 people, authorities said.
The blaze broke out about 4:40 p.m.. at Alderwood Trails off North DeKalb Drive near Buford Highway, just outside I-285.
When crews arrived on scene, several residents were using their personal ladders to evacuate their upstairs neighbors and get them to safety, DeKalb County fire Capt. Dion Bentley said from the scene.
"Luckily there's a lot of painters that live in this community," Bentley said. "A lot of little ladder trucks out here."
Firefighters suited up and went door-to-door to make sure everyone got out of the burning building, and no injuries were reported.
It's still unclear what caused the fire, but Bentley said it quickly spread through the third story attic, catching the roof on fire. At least 12 units were affected and firefighters reported "extensive damage" to the building.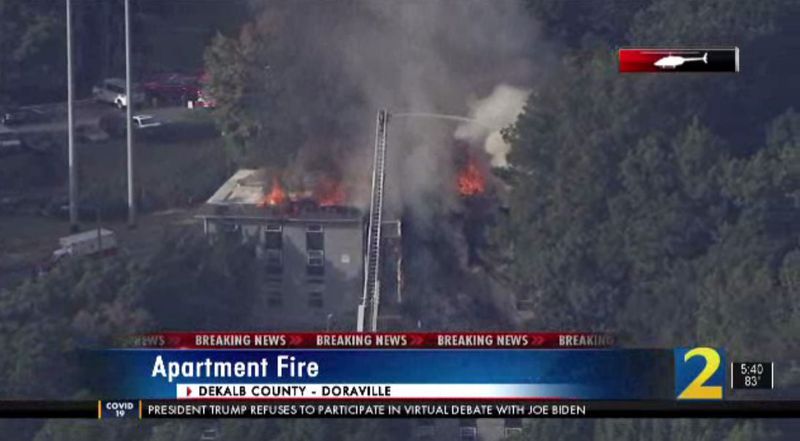 Flames shot through the roof as crews doused the complex from above. A large group of residents looked on from the parking lot.
"There's still some smoke and fire," Bentley said, but firefighters appear to be getting the blaze under control.
The American Red Cross of Georgia is providing assistance to more than a dozen families displaced by the fire, spokeswoman Sherry Nicholson said.
"In addition to emotional support, the Red Cross will provide essentials such as temporary lodging, clothing, food, personal care items and replacement prescriptions," she said. "Caseworkers will continue to work with the families in the weeks ahead to help them get back on their feet and share additional recovery resources available to them in the community."