By Chelsea Prince, The Atlanta Journal-Constitution #atlanta-ga (CNT)
With Hurricane Delta bearing down on western Louisiana's coast, the conditions are right for rain in North Georgia.
Tropical moisture is already setting up to the west of the state, but Channel 2 Action News meteorologist said much of that moisture will stay there. Sill, he said showers are possible at any time throughout the day Friday. Heavier rain is expected Saturday and Sunday.
"It's not going to rain all weekend, but we'll have the chance of rain all weekend," Monahan said. "Some of that is going to be on the stronger side.
Delta is expected to make landfall as a Category 2 or Category 3 storm at some point Friday. Clouds associated with the storm have already started filling in across North Georgia.
Monahan said he does not expect more than a few sprinkles during the day on Friday. Heavier showers could arrive later to disrupt evening plans.
"There's going to be some showers, so plan on some periods of downpours, and some rain that will affect Friday night football tonight," Monahan said.
A 30% chance of rain Friday increases to 60% Saturday and 70% Sunday, according to Channel 2. Monahan said there will be times to get outside this weekend, but there may not be much sunshine with all the cloud cover.
He does not expect any severe weather from Delta to reach metro Atlanta.
"With Hurricane Delta weakening and passing to our west this weekend, there's a small risk of a strong storm across west Georgia," Monahan said.
Temperatures will remain about average. Friday's projected high is 78 degrees in Atlanta.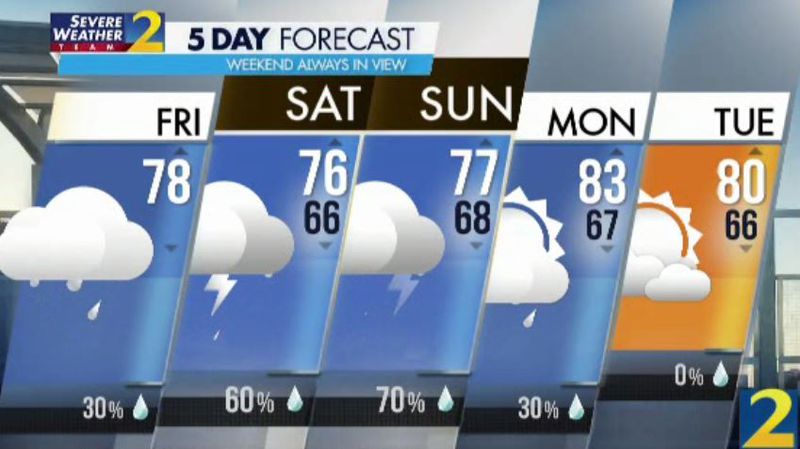 A crash in Cobb County is disturbing what is otherwise a quiet start to the Friday morning commute, according to the WSB 24-hour Traffic Center.
Delays are growing behind the wreck on I-75 South past the South Marietta Parkway loop. Two left lanes were closed at 6 a.m., the Traffic Center reported.
Drivers can avoid the backups by taking U.S. 41 out of Marietta, according to the Traffic Center.
Other interstates are not as busy.
"It's a quiet ride in and out of Midtown on I-75/85, but things can switch up in an instant," the Traffic Center said.