By Kiersten Willis, The Atlanta Journal-Constitution
#atlanta-ga (CNT) City News And Talk
The image was leaked from a video meant to encourage people to vote.
It wasn't supposed to happen this way, but as dance instructor and southeast Atlanta dance studio owner Maisha Land put it, "let the Lord have his way."
It's something her grandmother used to say. It's also what she credits for the viral sensation of the image that took off Wednesday after getting mentioned on ABC's "The View." A day earlier, author Lawrence Ross tweeted the photo, which was actually a screenshot of a promo meant to encourage people to cast their vote on Election Day. In it, members of the Divine Nine sororities stroll around the ramp in Vine City near Mercedes-Benz Stadium.
It wasn't the most accurate depiction, however ― Land said members of Sigma Gamma Rho Sorority, Inc. were cropped out and it didn't include credit for the footage, which came from independent documentary cinematographer, Mario Page.
Page, a member of Kappa Alpha Psi Fraternity, Inc., and Land, a member of Alpha Kappa Alpha Sorority, Inc., have deep ties to not only the Divine Nine, which is what the Black Greek letter organizations are collectively known as, but Atlanta itself.
Land is the daughter of Councilmember Joyce Sheperd of District 12 and the late Rev. Bill Land, whom she said was one of the organizers of Bloody Sunday. Page, meanwhile, is a graduate of Clark Atlanta University.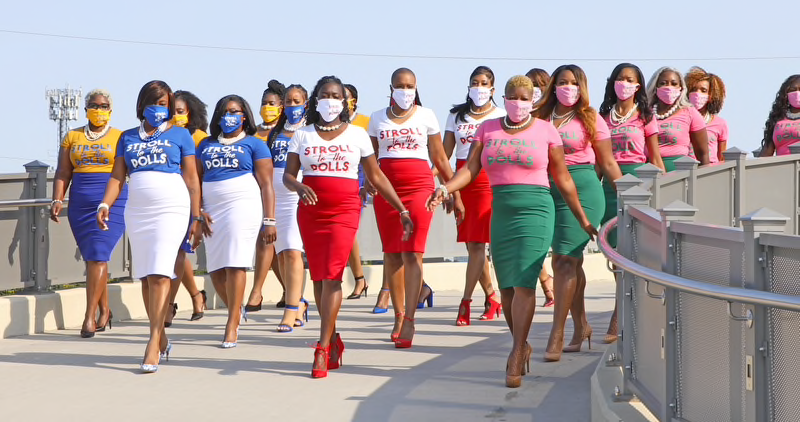 Their eye for the city comes through based on the shots captured of Atlanta in the video footage, the 58-second promo of which was first posted on Land's dance studio's Facebook, Twitter and Instagram accounts Oct. 7. As members of Alpha Kappa Alpha Sorority, Inc., Delta Sigma Theta Sorority, Inc., Zeta Phi Beta Sorority, Inc. and Sigma Gamma Rho Sorority, Inc. strolled in front of backdrops that Land scoured the city for.
The goal of the video was simple: encourage people to vote. But Maisha Land nor Page imagined it would take off the way it did. The Gems of Georgia Dance Studios owner said she knew this would go viral, but she didn't think it would go "pandemic viral."
As for Page, he said the pair knew it would connect with Black Greek organizations, but it's reached further.
"When we started the project, we kinda figured it could go viral but we didn't know how big. We knew it would go viral amongst people who are in the Black fraternities and sororities," he told The Atlanta Journal-Constitution. "But it's gone beyond that. When I go online, the people who are liking and commenting on these things… it's very diverse on the response, which I think is phenomenal."
Maisha Land was inspired to create the video when Sen. Kamala Harris got nominated as Democratic vice president. The choreographer thought up the idea of creating the video and contacted members of all four Divine Nine sororities to participate. She and the sorority members practiced for four weeks straight, working on a dance routine that incorporated what Black sororities do — stroll — putting on display how Black women move in unison.
"It's a fun and entertaining way to get people together," Page, who was referred for the effort by a member of Delta Sigma Theta, told the AJC.
"It's a big deal because it's usually everyone for themselves," he added of the Black Greek culture and why he thinks it took off. "It's showing unity."
To track down the locations in the footage, Maisha Land visited nine murals around the city. They included ones proclaiming "Black Futures Matter" and demanding justice for Breonna Tayloras well as another dedicated to the civil rights activist, Evelyn G. Lowery, who was once married to the late Rev. Joseph Lowery, also a civil rights activist.
Each mural was meant to speak to the individual sorority featured in front of it, Maisha Land said. She added that the choreography incorporated elements of each sorority's stroll, leading up to the end when the Divine Nine members exclaim, "Stroll to the polls!" before uttering their respective calls.
One of them has almost certainly been uttered by Harris, who is a member of Alpha Kappa Alpha Sorority. It was also the senator's music choice that influenced the soundtrack for the footage. Maisha Land researched Harris' summer playlist and discovered Lizzo's "Like a Girl" was included. With the lyric, "Woke up feeling like I just might run for president," it was a shoo-in.
Since the photo and promo took off, it's caught the attention of everyone from one-time fictional White House fixer Kerry Washington to Ana Navarro and Sunny Hostin, who is a member of Alpha Kappa Alpha Sorority, on ABC's "The View."