#foodie-all – by Ellen Britt. Today I completed my first real mission (better known as homework, but that somehow doesn't seem quite as glamorous!) in Rouxbe's Online Culinary School Professional Plant Based Certification program in which I am enrolled.
We students have been introduced to the concept of mise en place which I have been writing about, first in this column and then this one. If you haven't had a chance to look at what this term means, you owe it to yourself to investigate it, as it has implications that go way beyond the kitchen.
Today was the first all plant based meal that I have made since enrolling in Rouxbe and I was challenged to not only use the concept of mise en place in preparing the meal, but then had to upload a photo of my mise en place, which you see as the main photo in this article.
Then I had to submit a photo showing some aspect of the preparation. I chose to photograph sauteing the vegetables in some oil along with ginger, garlic and curry powder.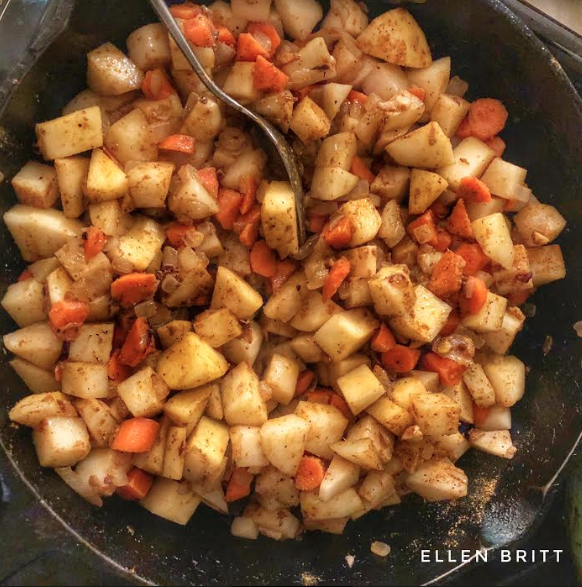 Vegetable curry is not hard to make. Basically you just saute some onion, garlic and ginger in oil, then add chopped vegetables such as potatoes and carrots. I also added a peeled chopped apple as well to add a touch of sweetness to the spice of the curry powder.
Then cover the sauteed vegetables with water, salt to taste, add a couple tablespoons of tomato paste and cook till everything is tender.
Put up a pot of your favorite rice. In this case I used Thai jasmine rice and served the curry over it, garnished with chopped roasted peanuts and drizzled with sriracha sauce. Yum!
Last I was asked to upload a photograph of the finished dish, which you can see below, along with a description.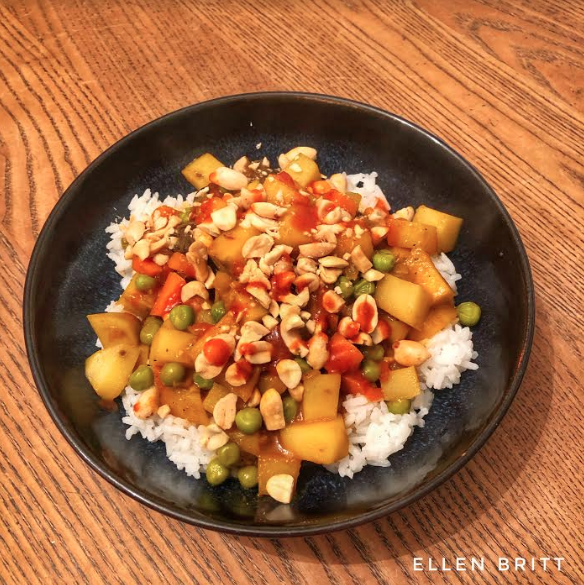 So here's your mission, should you choose to accept it. Read over the last few columns here at the Hometown Foodie and make sure you understant the concept of mise en place. Then use it when you make your next recipe.
Let's eat y'all…!