Rebekah L. Sanders, Arizona Republic (CNT) City News And Talk #phoenix-az
Chance Jones carefully prepared his Tempe apartment before leaving to train abroad with the Army ROTC between semesters at Arizona State University.
He prepaid months of rent and confirmed with apartment management there was nothing else he needed to do, he said.
But while Jones was driving a tank and rappelling off a cliff in Uzbekistan, a Tempe towing company was hauling away his car, filing for an abandoned title and planning to sell the vehicle without his permission.
When Jones came home, the 2003 Toyota Camry was gone.
Chance Jones, 22, was training in Uzbekistan as an Army ROTC cadet when his car was towed without his knowledge from his Tempe apartment complex and almost sold.
COURTESY OF CHANCE JONES
"There was no contact. I had no idea the title of my car was switched out of my name," said Jones, 22, who recently graduated. "I just came back, and my car wasn't there."
Towing is one of the most common consumer complaints The Arizona Republic receives, with nearly 150 requests for help since 2018.
Readers have claimed they were illegally towed, required to pay in cash, forced to travel long distances to a tow yard, unable to retrieve their car because of a company's limited operating hours, found damage to a vehicle after it was towed, believed personal items were taken from a vehicle or were blocked from accessing important personal items in a vehicle.
Apartment and condo complexes, as well as businesses, often contract with tow companies to patrol parking lots to ensure safety, as when a vehicle is parked in a fire lane, and to guarantee the free flow of traffic, as when a parked vehicle is blocking a driveway.
Under state law, each tow must be reported to police within an hour so the owner can call to find out which company has the vehicle. Some cities require a report immediately.
A Republic analysis of police records in four metro Phoenix cities over an 18-month period shows the total number of tows from private properties is huge.
More than 58,000 vehicles were towed from private properties in Phoenix, Tempe, Scottsdale and Glendale from March 2018 through August 2019, according to the data.
Given the thousands of tows every year in Arizona, the number of complaints The Republic received is small, said Angela Roper Barnett, executive director of the Arizona Professional Towing and Recovery Association.
"Just like other professions, towers are painted with a broad brush," Roper Barnett said. "However, the good far outnumber the bad."
Towing from private property is unpopular with the public because it's usually involuntary, unlike roadside assistance or towing from an accident scene, which a vehicle owner typically requests, said Andrew Marschand, overnight operations manager for Phoenix Towing Service.
"Most of the reason people dislike towing companies is they either don't realize they did something wrong or they think it's not that big of a deal," Marschand said. "A lot of people fail to see it from the other perspective."
But when private property towers make a mistake, or even break the law, drivers often discover there are few options for recourse.
"Unfortunately, for every excellent towing company, you have three fly-by-night, or simply uneducated, companies out there," Marschand said. "I don't think all of them do it maliciously. They just do it wrong."
'I felt taken advantage of'
Jones was one of the readers who complained to The Republic.
For weeks, Jones relied on friends to drive him to early morning ROTC drills and the grocery store while he struggled to convince Gateway at Tempe apartments and All City Towing to return his car, he said.
"I felt taken advantage of," Jones said.
All City Towing followed every rule, general manager Jeffrey Dunn said.
Jones' car had been tagged in May 2019 with an orange warning sticker because the apartment complex prohibited long-term car storage, Dunn said. It was removed a week later at the apartment manager's request when Jones didn't respond, Dunn said.
Chance Jones says his apartment complex was unresponsive about the towing of his 2003 Toyota Camry until an Army attorney at Fort Huachuca in southern Arizona threatened to sue on his behalf.
COURTESY OF CHANCE JONES
The lease did not mention a ban on long-term car storage, according to a copy Jones provided The Republic. But Arizona and Tempe regulations allow vehicles on private property to be towed if they have been stationary for at least 72 hours.
A federal law called the Servicemembers Civil Relief Act, in many cases, protects active-duty military members from having their vehicles towed and sold without a court order. But the fact that Jones wasn't yet commissioned and other quirks of Arizona law mean it may not have applied to him.
Jones wondered why the apartment complex ordered the tow when he had previously communicated with his property manager that he would be gone. The complex did not email or leave a voicemail for Jones, even though his license plate and contact information were on the lease, he said.
Jones also didn't receive notice that the Arizona Department of Transportation was transferring the title to All City Towing, he said.
Towing companies are required to file for an abandoned title within 15 days if an owner hasn't claimed a vehicle. ADOT then must send the registered owner a letter, providing 30 days to contest a transfer.
When Jones called All City Towing in August 2019 looking for his car and explained he was an ROTC cadet, the company placed the car on a hold list so it wouldn't be sold, Dunn said.
"We advised him that he needed to contact the property management company to discuss the issue with them as we were simply following their instructions," Dunn said.
The apartment complex was unresponsive until an Army attorney at Fort Huachuca in southern Arizona threatened to sue on his behalf, Jones said.
Once the property manager admitted the error and paid the towing fees, All City Towing returned the title to Jones' name and released the vehicle, Dunn said.
"We did this as a courtesy and out of appreciation for his service to our country," Dunn said. "Our A+ BBB rating should convince any independent reviewer we are very good at what we do and take our job seriously."
Arizona drivers complain towing industry targets cars unfairly
Tow companies are supposed to keep parking lots safe and accessible. But some motorists say their cars have been towed with no explanation.
MICHAEL CHOW, ARIZONA REPUBLIC
With more than 100 tows, Gateway at Tempe was in the top 30 Tempe locations for towing, according to The Republic's analysis. The complex declined to comment.
Jones worries ASU students who use their cars intermittently because they walk to school — or people who are driving less because of the COVID-19 pandemic — could find themselves in the same situation.
"I was so relieved I was in the Army and had the resources of the JAG (Judge Advocate General) because otherwise I would have had to hire a lawyer myself," Jones said. "I would have had to spend a bunch of time and money out of my pocket. I would have felt totally alone."
Arizona's towing rules
Arizona provides less protection for vehicle owners than in other areas of the country, according to Marschand, who towed in Indiana before moving here several years ago.
Arizona statutes focus more on towing for law-enforcement purposes, such as when a car is left on a highway or at an arrest scene, than on towing from private property.
The state laws that do govern private property allow businesses to tow for any reason as long as there are signs clearly visible and readable from any point in the parking lot that explain restrictions, fees and how to locate a towed vehicle. Some cities have stricter signage rules.
"We have very property owner-friendly laws here, so if you say, 'I don't want people parking here,' people can't park there and can be towed," Marschand said.
A towing company also must have written permission from the property owner, usually in the form of a towing contract, or an order from police before removing a vehicle. And towers must register their company and trucks with the Department of Public Safety, obtain a bond and pledge to follow state and local laws.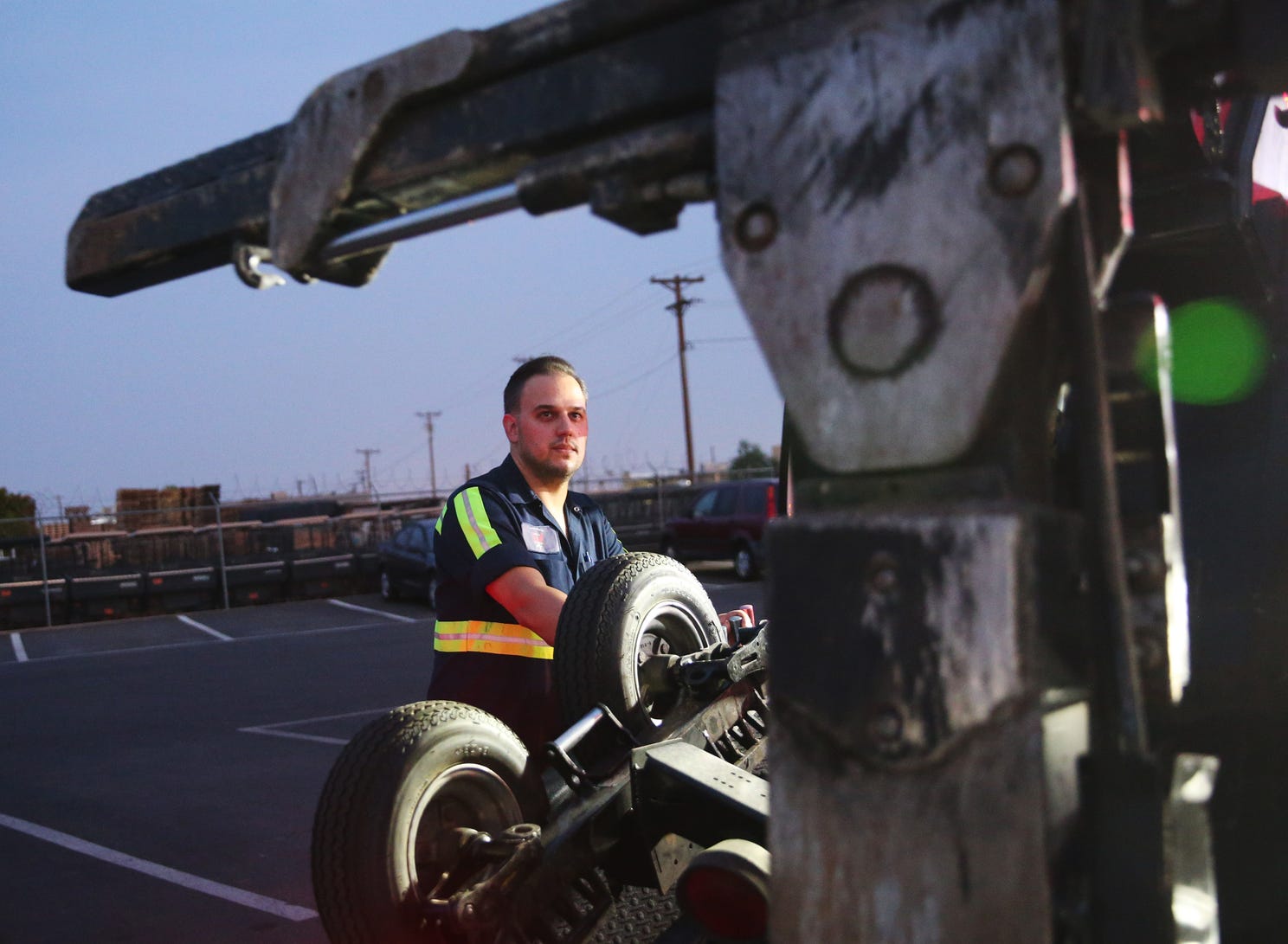 Some counties and cities have more detailed rules on private property towing. Glendale, for example, mandates a yearly towing permit, background check and permit fee. In Scottsdale, towers must be available 24 hours a day to release a vehicle. Tempe requires towing companies to accept card payments.
But other cities have no towing regulations at all, which can add to the confusion over which rights vehicle owners have, Marschand said.
Roper Barnett, of the towing association, disagreed that the patchwork of local regulations can cause confusion.
"Professional towers make it their regular business practice to know and adhere to the laws that govern the industry, just like any other responsible business would," she said.
The towing association was "instrumental in bringing change" in 2018 to some problems that Republic readers have complained about, Roper Barnett said.
However, the reform law she touted — which requires towing companies to accept card payments, tow to the nearest storage lot, provide a detailed receipt, remain open during regular business hours and allow inspection of the vehicle for free — only applies to vehicles towed from accident scenes.
Roper Barnett said the news organization should focus on dangers to towers rather than complaints against them.
Towing is one of the riskiest jobs in America, with more than 35 tow drivers killed nationwide this year, according to the National Institute for Occupational Safety and Health and the Emergency Responder Safety Institute.
The most common cause of death is a distracted driver who strikes a tow truck driver rendering help on the side of a road. But a Phoenix tower was killed during a private property tow three years ago. The 26-year-old was shot to death by a drunk partygoer while pulling an SUV from an apartment complex.
Mill Avenue a towing hot spot
The towing data obtained by The Republic confirms what many Tempe residents have suspected for years.
The most common place to be towed in metro Phoenix is Mill Avenue's strip of bars and restaurants near ASU.
In particular, CVS and Jack in the Box in downtown Tempe accounted for more than 3,500 combined tows over a year and a half, according to the data.
Other hot spots were the Cornerstone shopping center at Rural Road and University Drive in Tempe and nearby apartment complexes The Cottages of Tempe, Nexa and Rise on Apache, which had roughly 400 to 800 tows each.
Old Town Scottsdale claimed two major towing locations: San Marin at the Civic Center apartments and First Fidelity Bank, which borders bars and nightclubs. They each had about 350 and 425 tows, respectively.
In Phoenix, the most frequent place to be towed was Del Mar Terrace apartments near Grand Canyon University, where nearly 400 vehicles were removed from March 2018 to August 2019.
The data also made plain the most prolific towing companies in the metro area.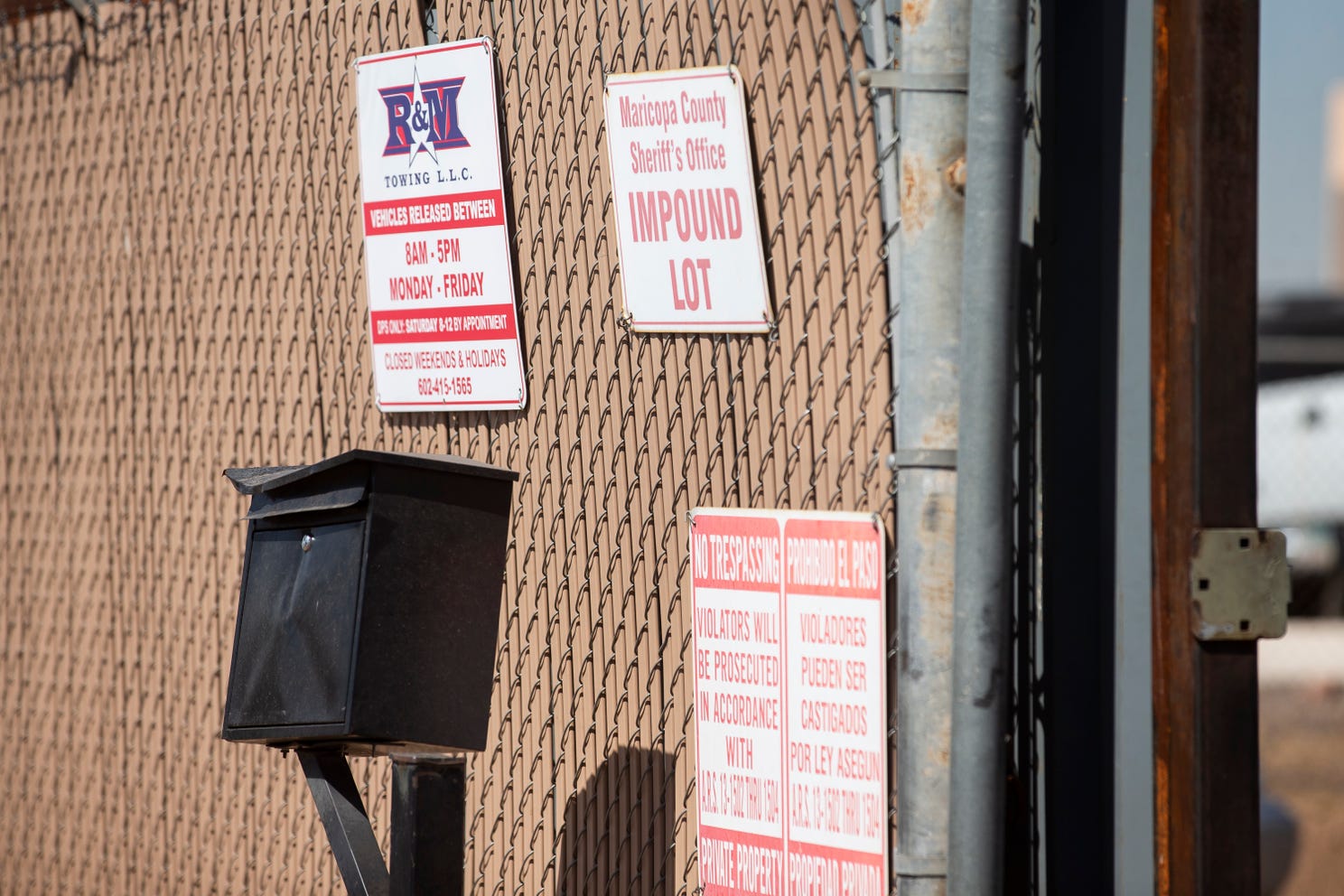 One in four cars towed from private properties in Phoenix, Tempe and Scottsdale — more than 15,400 vehicles out of roughly 57,600 — were seized by Kwik Tow during the time period.
Zip Tow, R & M Towing and All City Towing were the next largest with roughly 7,500 to 8,900 tows each.
Glendale police did not provide names of tow companies.
Obtaining the data wasn't easy. It took more than a year for Phoenix police to respond to a reporter's records request. When the data arrived, it was so outdated, The Republic had to request a new set.
Demand for parking on Mill Avenue
It's no surprise downtown Tempe has high rates of towing given how busy the area is, said Adam Jones, vice president of Downtown Tempe Authority, a booster group that also operates public parking facilities.
Mill Avenue boasts high-rise apartments, a bustling commercial hub plus Class A office space neighboring one of the nation's largest universities, he said.
"Downtown Tempe is a truly urban setting with a lot of demands," Jones said. "There's a lot of people converging on the downtown area, whether it be for special events or attending ASU or going out for a drink or dinner."
People often get towed when they're taking a gamble, Jones said.
They park in a location without clear signage, hoping it's OK to be there, he said. Or they leave a vehicle at a private business, betting no one notices they've gone elsewhere.
With 15,000 public parking spaces in downtown Tempe, there's no reason to risk it, he said. The free ParkMobile phone app shows drivers in real time the closest available public parking spaces.
"It's worth taking the extra few minutes on the front end to find a well-lighted and well-signed public parking lot or garage you can park in versus taking a chance when you're not really sure," Jones said.
Downtown Tempe Authority avoids towing at its public parking facilities when possible, preferring instead to ticket, because taking away someone's car can be so disruptive, he said.
WHAT TO DO: How to handle common towing issues in Arizona
Tows can be life-changing
The consequences of a tow can be serious for drivers.
Recovering a vehicle can cost a base fee of $105 in Phoenix, $120 in Tempe, $125 in Scottsdale and $135 in Glendale, plus daily storage charges of $12 to $15.
In cities without towing ordinances — such as Avondale, Chandler, Gilbert, Goodyear and Surprise — there are no limits on fees. State law doesn't cap towing costs.
The time spent retrieving a car can add up as well.
Vehicle owners may miss work, doctor's appointments or other important activities if a towing company's storage lot is closed on the weekend or parts of the weekday, or if the tow yard is far away.
LaKeishea Dixon, a retired Air Force veteran who recruits job candidates with top-secret clearance for defense contractors, missed the first day of a new job because of getting towed.
Dixon, who lives in California, had been visiting her cousin in Phoenix last year and didn't realize she needed a permit to park at the apartment complex. When her red Infiniti Q50 was towed on a Sunday morning, Dixon called the towing company and learned the storage yard was closed, she said.
Dixon had to wait until Monday to retrieve the car and drive home. Not only did she miss out on pay, Dixon was dismayed at how the situation could be perceived by her new boss, she said.
"This was not a good look," Dixon said. "My supervisor said she didn't know if I was taking it (the job) seriously."
Companies should be required to keep tow yards open on any day they're towing, she said.
"How are you closed, but you're taking the car? That doesn't make sense to me," she said. "I don't think that's fair."
Driving off with a wallet and pills
Michael Latino's health and work were harmed by a private property tow, he said.
Latino had backed into a parking space at his Phoenix apartment complex last December, he said. He didn't see signs prohibiting the practice.
Intending to return to the car quickly, he left his wallet and a medication that prevents severe anxiety and seizures, Latino recalled.
As he looked out his apartment window, he saw a driver from R & M Towing hooking up the Honda Accord, he said.
A tower can seize a vehicle in less than a minute, according to Marschand.
Latino ran outside, shouting for the driver to stop, he said.
"I was freaking out, waving my arms and yelling," said Latino, 40, a licensed addiction counselor. "(The driver) looks at me and drives off."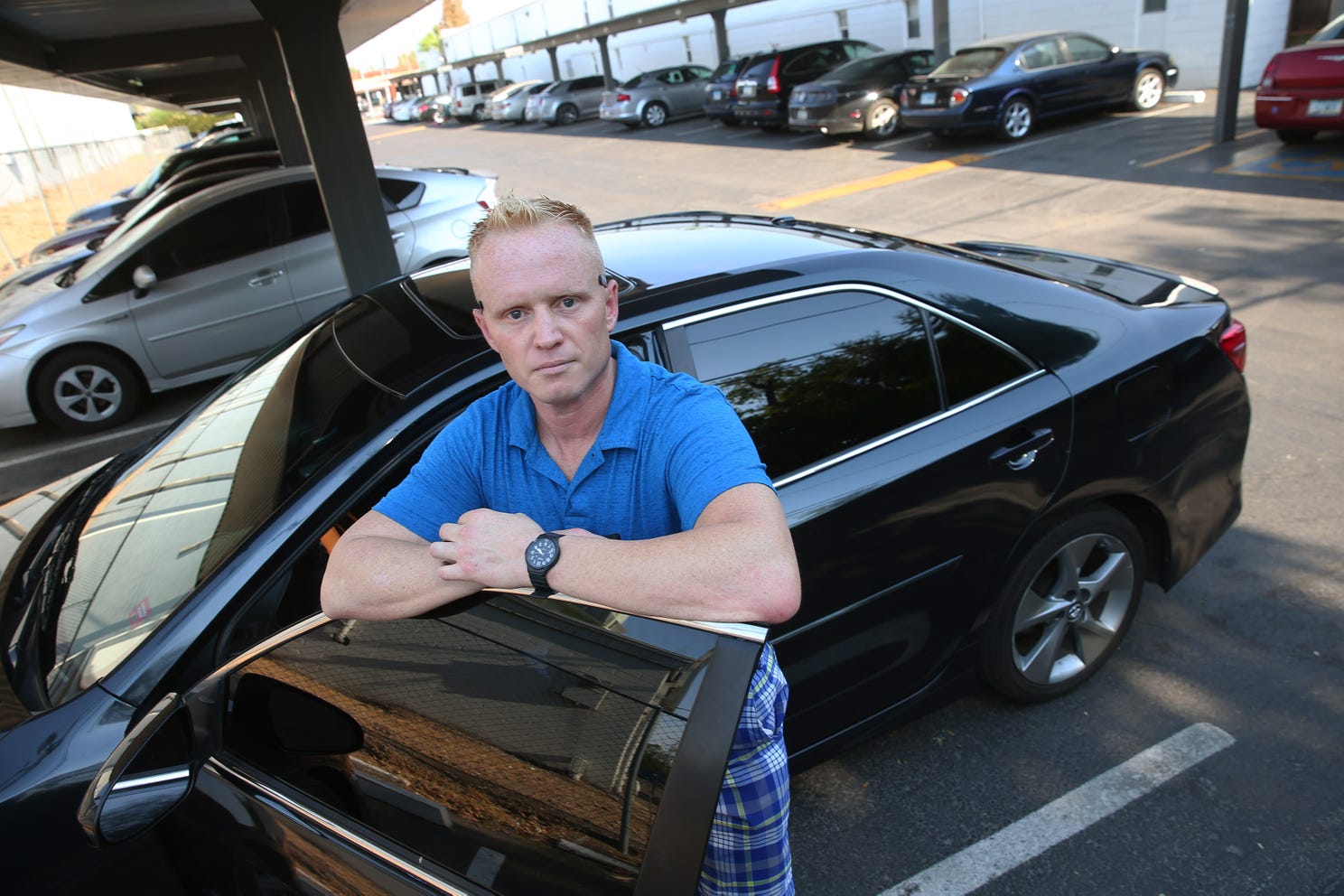 When Latino called the towing company that Saturday, an employee told him the tow yard would be closed until Monday and he should call an emergency room if he needed medication, he said. A call to the police didn't help, either, Latino said.
The towing company "didn't care," Latino said. "If I did have a seizure and, God forbid, died, that would be on them."
He toughed it out over the weekend, he said, feeling symptoms of withdrawal like chills, sweats, increased anxiety and sleeplessness.
That Monday, Latino missed work to take an Uber to the tow yard about 11 miles away, where he paid more than $100 in cash to retrieve the car, he said.
R & M Towing said in a statement that the apartment complex had towing signs and Latino had been warned with a sticker on his car. The towing company added that Latino had said in a phone call that his wallet was in the vehicle and he had gone to the hospital.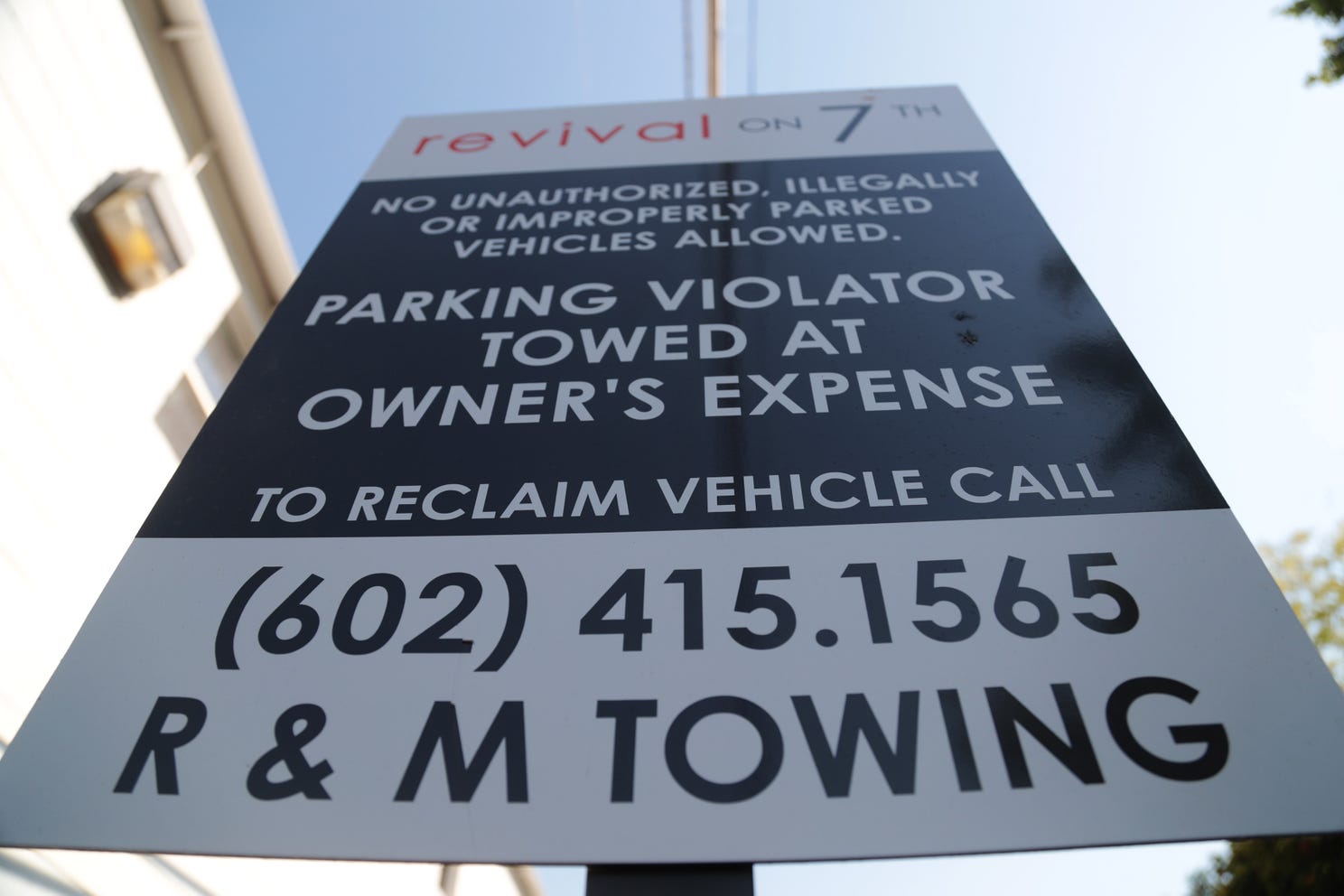 Employees would have allowed Latino to retrieve medication from the vehicle if they had known, R & M Towing said.
Latino was so angry, he wrote a letter complaining to his apartment complex about what he believed was a lack of signage, he said. Large placards with parking warnings and R & M Towing's phone number were erected soon after, he said.
Latino believes Arizona should pass clearer towing laws, in particular to ensure drivers can access their vehicles at any time if important possessions such as medication are inside, he said.
"It's just wrong," he said.
'It's a hassle to fight'
Even if a vehicle owner doubts the validity of a tow, it can be difficult to contest it.
"It's a hassle to fight, and people don't know where to begin," Latino said.
Drivers rarely have evidence to prove they were parked legally, since it's unusual to take a picture of a car each time an owner parks it.
Owners can ask a towing company for photographs of the vehicle to prove the tow was legal, Marschand said. But companies aren't obligated to take photos before a tow or to provide evidence to vehicle owners unless a court orders it, he said.
Most people pay towing fees, even when they believe a tow was unjustified, rather than seek a resolution in court, Marschand said. Going to small claims court in Maricopa County takes time and $53, or about half the cost of some cities' base towing fees, to start a case.
"It does give the towing company a distinct advantage because the amount (of the towing fee usually) is so little in comparison to the costs of trying to legally recover it," Marschand said.
What most drivers don't know — and towing operators don't like to publicize — is that Arizona case law essentially gives vehicle owners a way out.
Under the 1984 Arizona Supreme Court decision Capson vs. Superior Court of the State of Arizona, towing companies are prohibited from holding cars ransom.
In other words, a towing company cannot require a vehicle owner to pay fees before releasing a vehicle. Some local ordinances, including in Phoenix, Tempe, Glendale and Scottsdale, reiterate this point.
People who cite the case and drive away rarely pay the bill later, Marschand said, forcing companies to write the costs off, send the bill to collections or go to court, which may not be worth the hassle.
That's why towers may argue with a vehicle owner or require them to recite the specific ruling before complying, he said.
If a company refuses to comply under that ruling, a vehicle owner can call police and report a stolen car and towing companies may be prosecuted. Complainants to The Republic have reported mixed success asking police for help.
AVOIDING A TOW: The rules of parking on private property in major Arizona cities
'Somebody stole my baby'
Tony Olson decided to fight a tow he believed was illegal, even though he knew the odds were against him.
The financial adviser was visiting friends over Memorial Day weekend, he said. The Phoenix condo complex had a small section for visitor parking. A large sign stated the hours: No parking from 8 a.m. to 5 p.m. Monday through Friday. All other times, visitors only.
Olson was there on a Saturday, so he figured the 2017 Mustang with custom leather interior he'd nicknamed "Blue Lightning" was safe. A couple of hours later, the car was missing.
"I was shocked," Olson, 50, said. "It's like somebody stole my baby."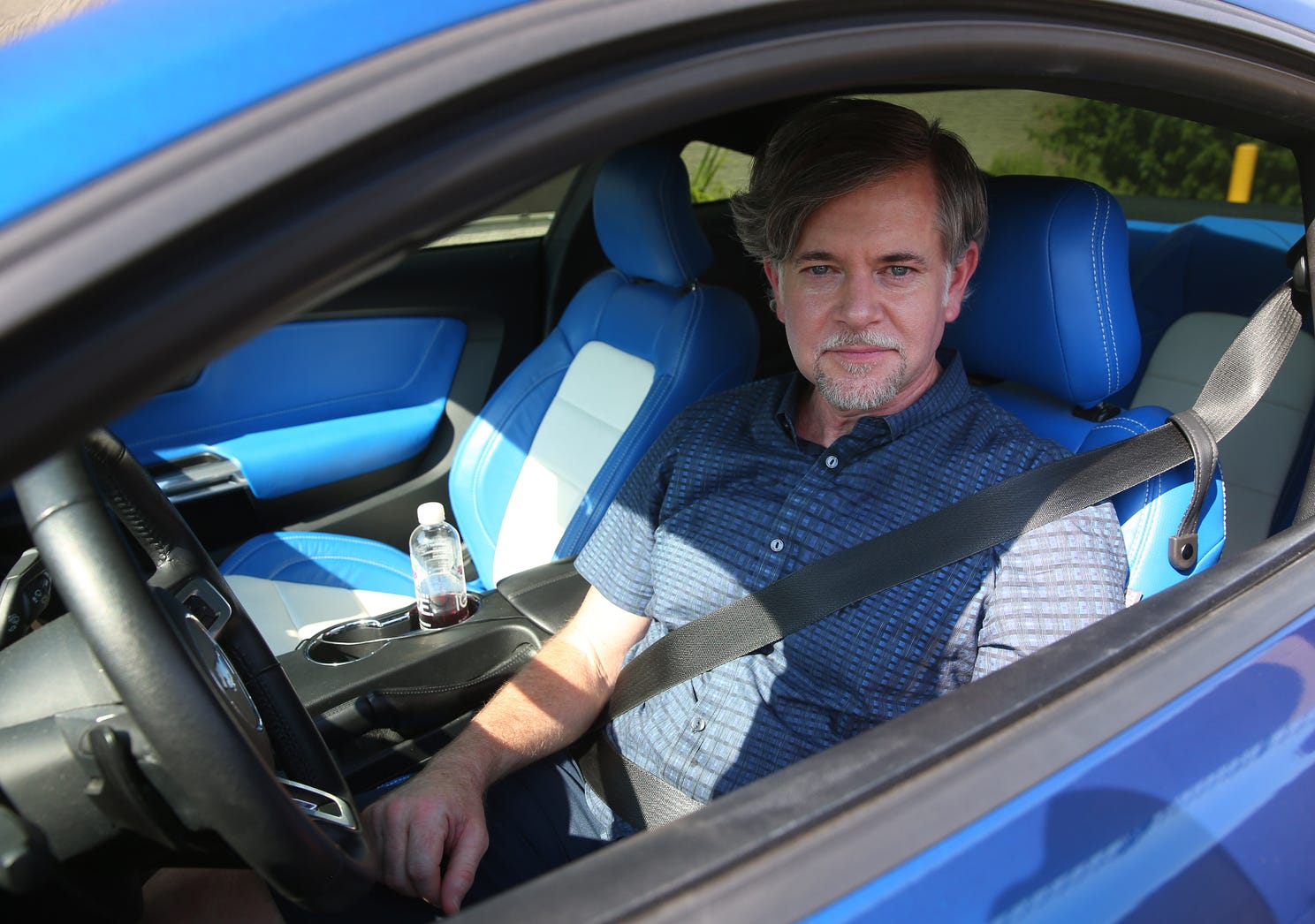 Olson said he always checks for signs to make sure he's parking correctly.
"I consider myself a conscientious person, especially when it's having to do with my vehicle," he said. "It's one thing if I know I'm taking a risk and I get towed. It's another when I'm consciously parking in a place I'm told I can park and then your car is gone. You feel like you've been violated."
Olson's house keys were in the car and he needed to get home to let his dog out, he said. He called R & M Towing and demanded the company let him pick up the vehicle even though the business was closed.
A friend gave Olson a ride to the lot, where he paid $117 in cash.
An R & M Towing employee wouldn't listen to Olson's story, he said, and instead told him to file a complaint with the company in a few days.
Olson read through city codes and started calling the tow company as well as the condo HOA to seek answers. The two entities pointed the finger at each other for nearly four months, he said.
"You feel like a pawn," Olson said.
He considered going to small claims court or calling police, but both seemed like extreme measures. He asked The Republic for help.
After the newspaper inquired about the case, R & M Towing acknowledged the tow was improper, without claiming responsibility, and sent Olson a refund.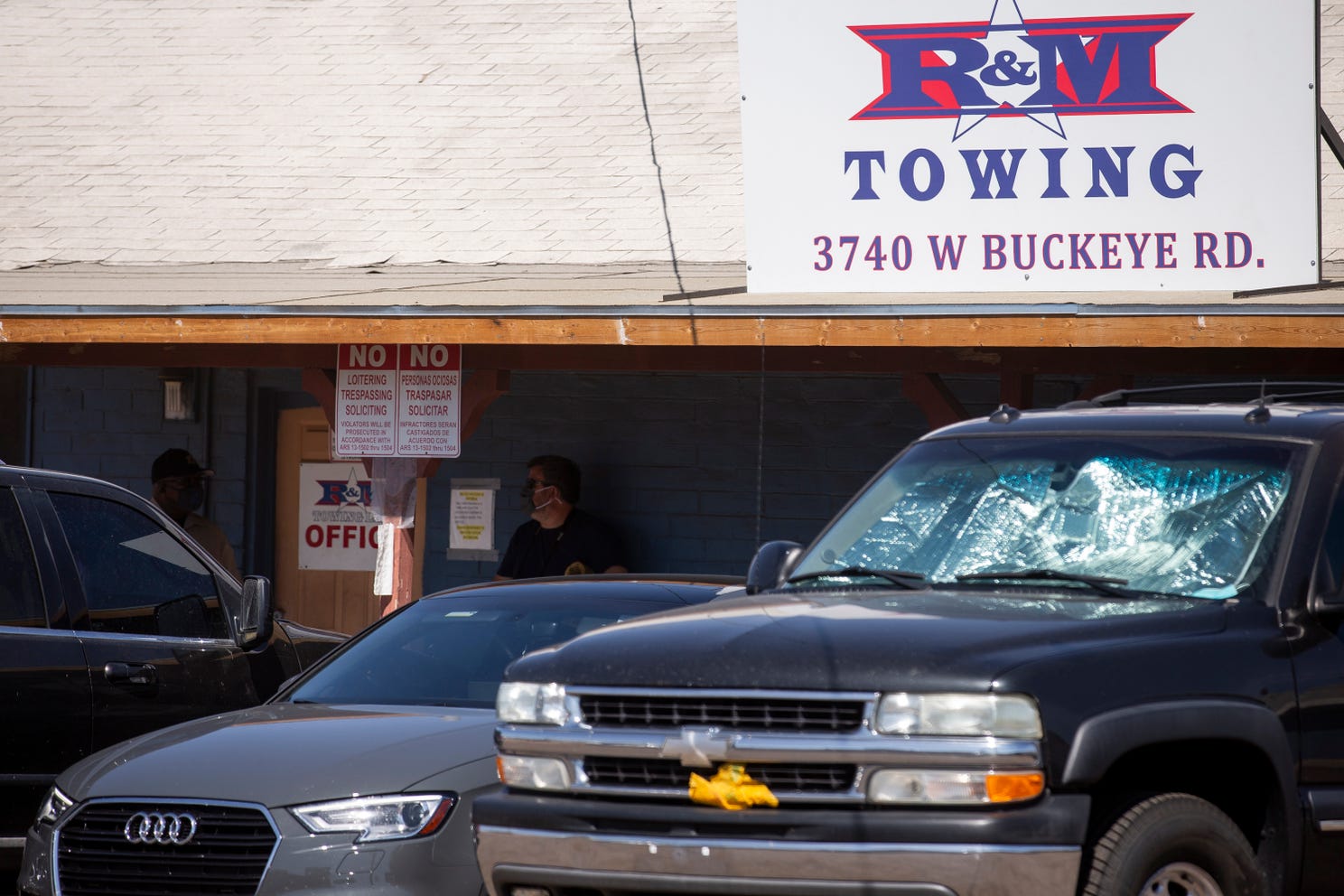 'Just admit you were wrong'
Olson wonders whether the tow truck driver accidentally misread the parking sign or deliberately disregarded it.
Often it's a mistake, Marschand said.
"There are absolutely companies that are doing things improperly," he said. "Is it intentional? I don't think it is always."
But ignorance of the law is not a valid excuse, according to some city codes. And a violation of towing ordinances in Phoenix, Tempe, Glendale and Scottsdale can carry fines of up to $2,500 and six months in jail if a tower is convicted.
Olson wants R & M Towing at least to acknowledge it messed up, he said.
"They completely disregarded my protests, basically acknowledging that I, as the vehicle owner, mean nothing to them," Olson said. "It didn't matter what was on the sign."
He said his experience with the industry leaves a bad taste.
"What other personal property can someone take, hold hostage for a ransom, and you have to pay them to get it back, and it's cool?" Olson said. "It shouldn't have happened. Just admit you were wrong."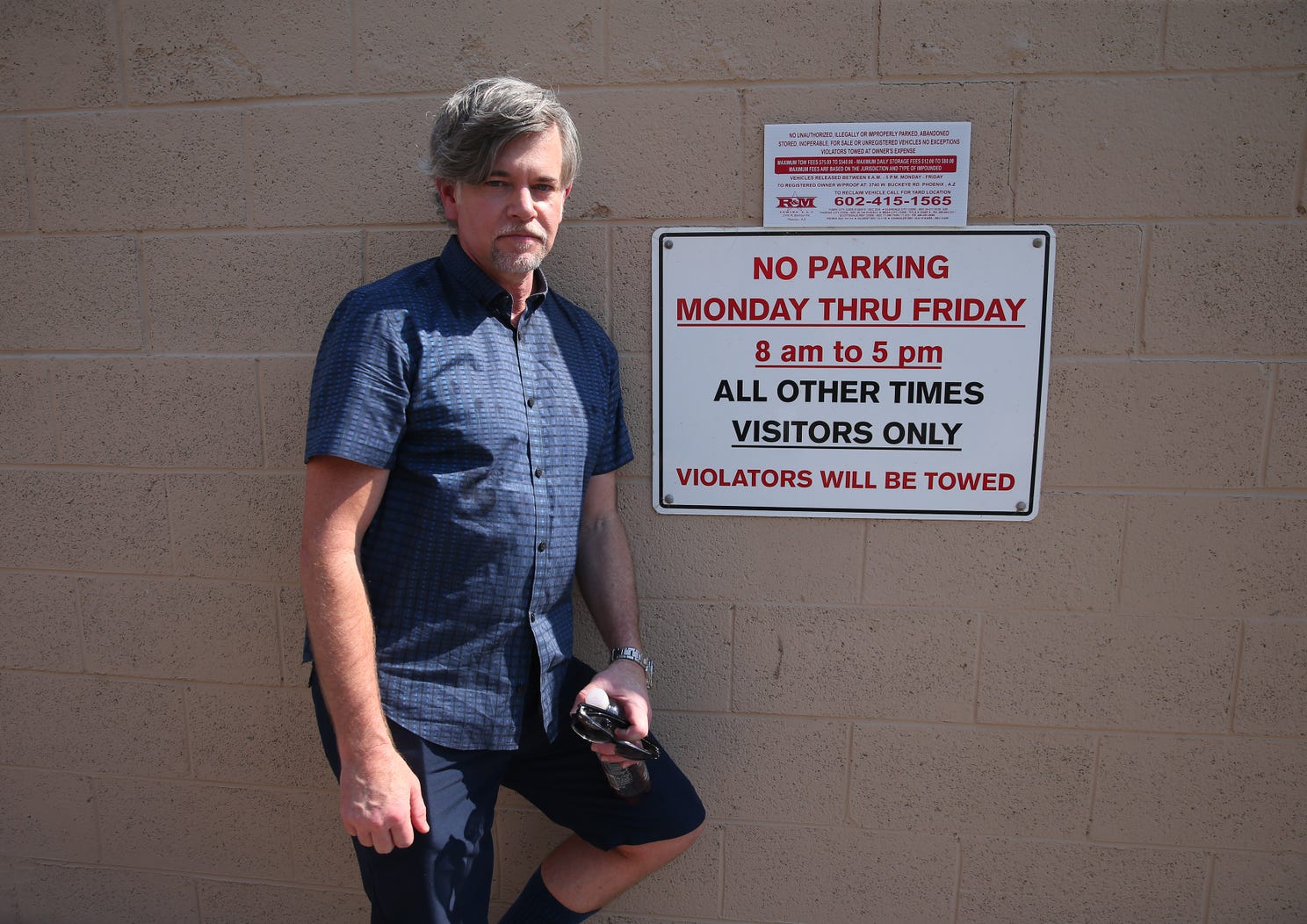 Top 10 towing hot spots
More private property tows happened at these locations in Phoenix, Tempe, Scottsdale and Glendale than anywhere else in those cities from March 2018 to August 2019, according to police data.
CVS, 802 S. Mill Ave., Tempe. 1,842 tows.
Jack in the Box, 721 S. Mill Ave., Tempe. 1,684 tows.
The Cottages of Tempe, 708 S. Lindon Lane, Tempe. 777 tows.
Cornerstone shopping center, 920 E. University Drive, Tempe. 761 tows.
Lot next to Jack in the Box, 701 S. Mill Ave., Tempe. 555 tows.
Nexa apartments, 1221 E. Apache Blvd., Tempe. 501 tows.
First Fidelity Bank (near Old Town bars), 7401 E. Camelback Road, Scottsdale. 426 tows.
Del Mar Terrace apartments, 7007 W. Indian School Road, Phoenix. 389 tows.
Rise on Apache apartments, 1000 E. Apache Blvd., Tempe. 387 tows.
San Marin at the Civic Center apartments, 4215 N. Drinkwater Blvd., Scottsdale. 351 tows.
10 busiest towing companies
These are the towing companies that seized the most vehicles from private properties in Phoenix, Scottsdale and Tempe over a year and a half in 2018 and 2019, data shows. Glendale data is missing the names of the tow companies.
Kwik Tow: 15,407 tows.
Zip Tow: 8,878 tows.
R & M Towing: 7,717 tows.
All City Towing: 7,468 tows.
Maverick Towing: 4,459 tows.
Go Towing and Recovery: 2,597 tows.
All Valley Impound: 2,327 tows.
A-Z Towing and Impound: 997 tows.
Alliance Towing: 985 tows.
Arizona Impound: 412 tows.
Got a problem? Azcentral.com can help
Have you been ripped off? Do you have a complaint against a business or government agency? If you live in Arizona, The Arizona Republic/azcentral.com can investigate. We're #HeretoHelpAZ.
The team saved consumers more than $560,000 in 2019.