John D'Anna Arizona Republic (CNT) City News And Talk #prescott-az
With her Pikachu backpack strapped to her back and a brightly colored sign spelling out "Black Lives Matter" in big balloon-shaped letters, 18-year-old Nyah Jones decided to finish what she'd started.
It was 3 o'clock on a broiling hot Friday afternoon, but it might as well have been high noon.
A showdown was about to begin in the tree-lined square in front of the historic Yavapai County Courthouse in Prescott, Arizona's first territorial capital.
And like so many other showdowns in America's reckoning with race this summer, this one would become a battle of competing fears.
On one side were those who fear that racial unrest will destroy their way of life. On the other were people who fear their lives simply don't matter.
But in Prescott, the fears of one are masked by an in-your-face bravado combined with a Second Amendment ethos that magnifies the fears of the latter.
It has become so prevalent and public that 1,200 area residents recently signed on to an ad that ran two full pages in the local newspaper decrying the lack of basic everyday civility on city streets.
"There is an alarming increase in actions that are not neighborly, tolerant or respectful," the ad reads in part. "They instill fear and are hurtful to many of us. They represent past attitudes and beliefs that have been found unsuitable…in civil society."
The protest on that hot Friday afternoon started with a social media post. Jones, the child of a white father and a Black mother, was fed up with constantly being made to feel like an outsider in her own hometown. She had posted a flyer on Instagram two days earlier announcing a Black Lives Matter demonstration in front of the courthouse.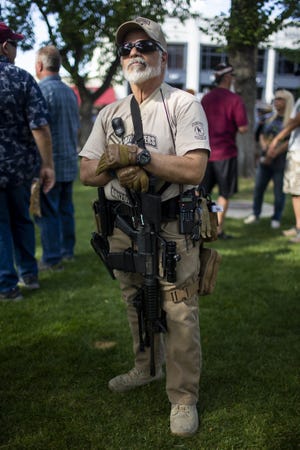 She expected maybe 20 friends would show up and hold signs on the corner for a couple of hours while people drove by and honked in support.
But within six hours of her post, it found its way to a handful of right-wing social media pages, where it quickly metastasized.
"We CANNOT let these Marxist Liberal Democrat Rioting Terrorists destroy our little town," one post read. "Good guys need to come out in full force to counter protest."
When Jones and two friends arrived at the square at 2:30 on Friday, there were already more than 100 counterprotesters waiting for her, many of them well armed, most of them maskless, and all intent on preventing the specter of Black Lives Matter and antifa from darkening the town they love.
Their numbers quickly tripled. As the clock ticked toward 3 p.m., three older men hurried toward the square. One of them, who appeared to be in his 70s, carried a deer rifle with a scope.
In the square, dozens of men and women wore tactical vests and carried AR-15s, side arms and other weapons. The handle of an aluminum baseball bat stuck out from one man's camouflage backpack, and another man carried an ax handle.
Red MAGA hats were everywhere, as were American flags, Trump 2020 flags, pro-police thin blue line flags. A Chevy pickup with a young girl in the passenger seat drove around the square flying a Confederate battle flag with the Gadsden rattlesnake superimposed on it.
One business owner closed early and said he expected to see his employees on the square to defend their city. They showed up still wearing their black Tire Pros T-shirts and ballcaps.
Many of those on the square were ordinary looking, some young, most not, who said they fear for their way of life in Prescott and will fight to keep it from being the next Minneapolis or Portland or Kenosha.
"We are here to protect our city," said Becky Hawlish. "We're here for our cops."
But sprinkled in their midst were open and brazen displays of extremism, white supremacy and hate.
One man had a large RAHOWA image tattooed on the back of his shaved head. The term is an acronym for Racial Holy War, and reflects the white supremacist ideology that a race war is the only viable path to the goal of a white ethno state.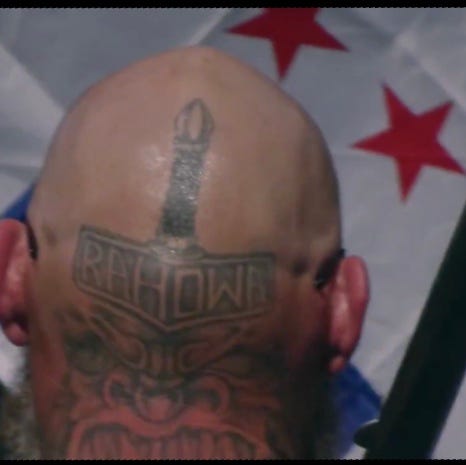 Several men wore shirts identifying themselves as members of the Proud Boys, which the FBI has classified as a hate group that traffics in white nationalistic ideas and whose name was invoked in the first presidential debate. Other groups linked to extremism, including Boogaloo Bois and Three Percenters, were also present.
At least half a dozen members of the Oath Keepers also took up positions around the square, geared up with assault-style weapons and military-style fatigues.
The Anti-Defamation League and the Southern Poverty Law Center classify the Oath Keepers as an anti-government extremist group, and its leader's Twitter account was recently suspended for promoting violence.
Nevertheless, spokesman Jim Arroyo said his group was merely exercising its First and Second Amendment rights in a peacekeeping role to assist police in case Marxist antifa and BLM forces got violent or started destroying property.
As 3 p.m. approached, Jones, a 5-foot-1-inch tall teenager who loves anime and hopes to someday be a sign-language interpreter for the deaf, decided she had as much right to be there as anyone else.
Wearing blue denim shorts, a black top and a butterfly necklace, she took stock of the armed and angry crowd and the dozens of Prescott police officers and Yavapai County Sheriff's deputies standing nearby.
She'd graduated from high school two years early and just finished her associate's degree at Yavapai College, but her education was just beginning.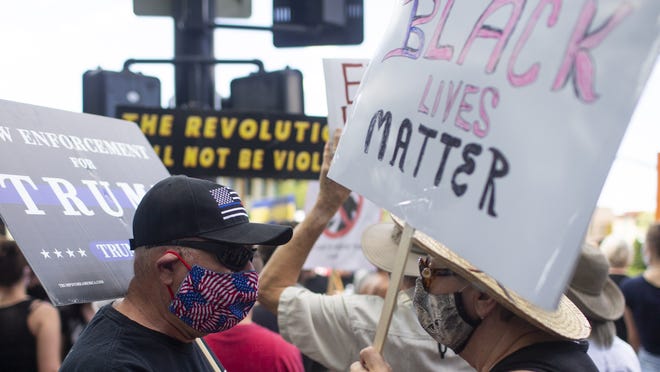 "Oh my gosh," she thought. "I gathered all the racists in town into one side."
She waded into the crowd. On the count of three, she and her friends began to chant:
"Black Lives Matter!"
♦ ♦ ♦
Nestled at the foot of Central Arizona's rugged Bradshaw Mountains, Prescott is a mile-high city, largely immune from the withering heat of Phoenix, 90 miles to the south. Its downtown has a small-town feel, and the locals embrace their history.
They're happy to tell visitors that Prescott was named Arizona's first territorial capital because the much larger and well-established Tucson had briefly been part of the confederacy, while their city had not.
The truth is more complicated than that, but the history is part of Prescott's charm.
The Palace Saloon on Prescott's famed Whiskey Row dates to 1877 and was frequented by Wyatt and Virgil Earp and Doc Holiday. It is said to be Arizona's oldest bar.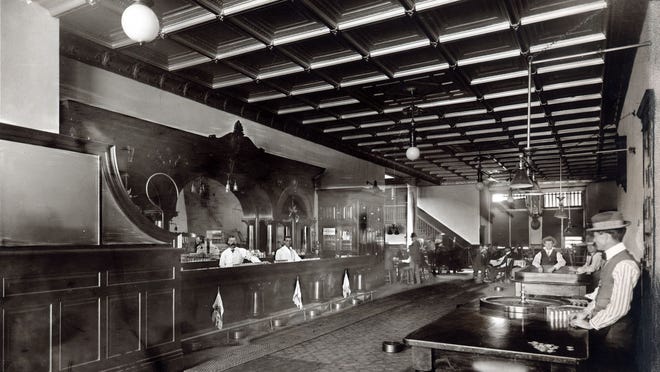 Across Montezuma Street from Whiskey Row stands the courthouse. A statue in the plaza honors Bucky O'Neill, a Prescott newspaper editor, mayor and judge who joined Theodore Roosevelt's Roughriders and died in the charge up San Juan Hill.
The neoclassical revival courthouse occupies its own place in history — and popular culture. Barry Goldwater announced his 1964 presidential run from its steps, and it's where John McCain held the final rally of his 2008 presidential campaign.
The courthouse also served as the backdrop for the most famous scene in the iconic 1971 film "Billy Jack," in which the title character, a half white, half Navajo Green Beret karate expert played by Tom Laughlin, tells the racist and corrupt town boss that he's going to "take this right foot, and I'm gonna whop you on that side of your face … and there's not a damn thing you're gonna be able to do about it."
Though the movie was fictional, it reflects Prescott's long and complicated history with white supremacy and race.
When gold was discovered near Prescott, the Union Army, the same Army that fought to end Black slavery, moved in to protect miners, in part by waging a campaign of extermination against another race.
Civil War Major Gen. James Henry Carleton, who has a street named for him in Prescott, ordered the establishment of nearby Fort Whipple as a vanguard against the local Yavapai Indians, but also as a part of his larger vision of Christianizing and civilizing Native Americans.
It was Carleton who ordered Kit Carson to kill all men of the Mescalero Apache Tribe "whenever and wherever you find them," and it was Carleton who removed the Navajos from their homeland via the "Long Walk," a brutal forced march in which hundreds died from starvation and exposure.
The Prescott Yavapai too, were forced onto reservations. Today, fewer than 400 remain, and few actually live in Prescott.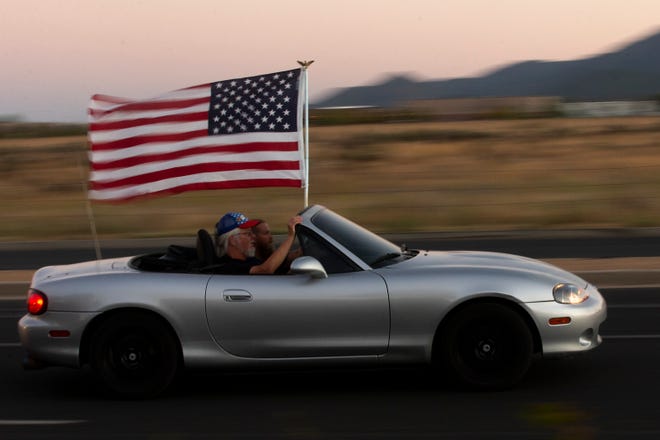 Legend holds that Chinese laborers were so unwelcome on Prescott's streets that they built elaborate underground opium dens below Whiskey Row. Local historian Parker Anderson says he's never seen evidence of the underground culture, but that Chinese laborers were shunned when they arrived in the 1870s and relegated to what amounted to their own Chinatown ghetto, which lasted until the 1940s.
In the 1920s, the Ku Klux Klan established a foothold in Prescott as part of its nationwide expansion. A 1924 photograph in Arizona Historical Foundation archives shows hooded members parading down a street along the courthouse square.
About the same time, civic leaders came up with the idea of performing a mock Indian dance to raise money for the Prescott rodeo. Their first show involved white men jumping around and whooping in a caricature of Native American ceremonial dances.
Over the years, the group named themselves "The Smoki People," dropped the burlesque and focused on imitating authentic dances to "preserve" the culture, even though real Native Americans were actively preserving their own rites just 200 miles away.
The preservation hook transformed what was essentially a minstrel show that mocked Native Americans into what is known today as cultural appropriation. The Smoki, which once counted Goldwater as a member, disbanded in the 1990s as interest dwindled and Hopi tribal members staged protests in town.
More recently, art and white supremacy collided to put Prescott in the glare of another unwelcome national spotlight. In 2010, a City Council member named Steve Blair began using his local radio show to criticize a mural being painted at a local school.
His objection: The skin of one of the children being depicted in it, an actual student, was too dark.
In an interview with The Arizona Republic for this story, artist RE Wall recalled that as he and the students were painting the mural, which faced a major street, people would shout racial epithets as they drove by.
"You'd get 'get that (N-word) off the wall, get that (Latino slur) off the wall' every day," Wall said. "I had all these little children around me and like, we have to listen to this? And they (the kids) kept looking to me and I'm like, just keep working."
Wall, whose organization, Mural Mice Universal, had done four other murals in Prescott, said the Miller Valley School project had been designed by students and endorsed by the faculty.
Blair, who declined to comment for this story, had mistakenly described one of the four children depicted in the mural, the central figure, as Black, when he was actually Hispanic.
"To depict the biggest picture on the building as a Black person, I would have to ask the question: Why?" Blair said at the time.
Wall resisted requests to lighten the child's skin. The mural was dedicated as designed, but he was so disheartened by the episode that he moved to Flagstaff.
The school was closed in 2015 and torn down several years later. Blair still serves on the City Council.
Today, according to the latest census, Prescott is 91% white.
♦ ♦ ♦
The scene that unfolded in the courthouse square on the Friday before Labor Day was not unlike the hundreds of peaceful demonstrations across the country since the death of George Floyd in Minneapolis unleashed waves of protest over centuries of racial inequality.
But it was remarkable for the amount of firepower on hand.
Arizona is what's known as an open-carry state, with virtually no restrictions on displaying firearms in public. Prescott residents take full advantage. The gun-culture bravado was just one of the forces that compelled Nyah Jones and her friends to the courthouse square that day.
Other forces had been building for months, she said, fueled by President Donald Trump's rhetoric and fanned in the toxic anonymity of social media.
Jones — and many of the nearly 50 people interviewed for this story — say they have noticed an increasingly open hostility toward people of color in Prescott, a city whose motto is "Everybody's Hometown."
Six weeks after Floyd's death, a Black Prescott College professor, Patrisse Cullors, a co-founder of Black Lives Matter, was targeted with racist Facebook posts saying "her kind" wasn't welcome in town even though she lives in Los Angeles, teaches virtually, and has rarely set foot on campus.
"Get the rope," a local businessman named Sam Keller replied to one of the posts.
When the Cullors controversy erupted, Jones had already been noticing the thin blue line flags, Trump flags and even Confederate flags flying from pickup trucks everywhere she went. She felt they were being flaunted to intimidate her and any other people of color.
"They're saying you are not welcome here, but this is my town too. I grew up here," Jones says. "I just feel so helpless."
After Floyd's death, Jones painted "Black Lives Matter" on her car. She was met with extended middle fingers and taunts of "all lives matter." Not long after she painted the sign, her cousin ran into the house saying someone was photographing her car and recording their address.
"It's terrifying," Jones says. "It feels like I'm a target in my own hometown."
She isn't the only one who feels that way.
Jada Kroom-Moore, 20, a barista who is biracial and has lived in Prescott for four years, also painted Black Lives Matter on the back of her car.
"I'm very strong in my opinions," she said, "and I'm definitely down for conversation about them."
But after weeks of taunts and obscene gestures while driving around town, she washed it off.
"I put it on there because I was willing to start a conversation," she said. "But nobody wanted to have that conversation."
A young Black man who moved to Prescott from Phoenix to start a business several years ago told The Republic that he has been called the N-word twice in his life, both times in Prescott. The man did not want his name used for fear that extremist elements would target his businesses.
Another Black man echoed similar experiences.
"This is the most racist place I've ever lived," says Brent Trinidad, a 40-year-old artist and designer. "I wasn't in town five days before someone drove by and called me the N-word,"
Trinidad, who wears dreadlocks and dresses in what he describes as "urban cyber-punk" fashion, is an in-line skater who frequents parking lots and open spaces.
He said he has been confronted numerous times by people who say he doesn't belong there.
Trinidad moved to Prescott from Boston five years ago with his girlfriend, who is from the area. As an artist, he quickly fell in love with the big skies, lush scenery, and the large number of art galleries for such a small town.
Now he can't wait to leave.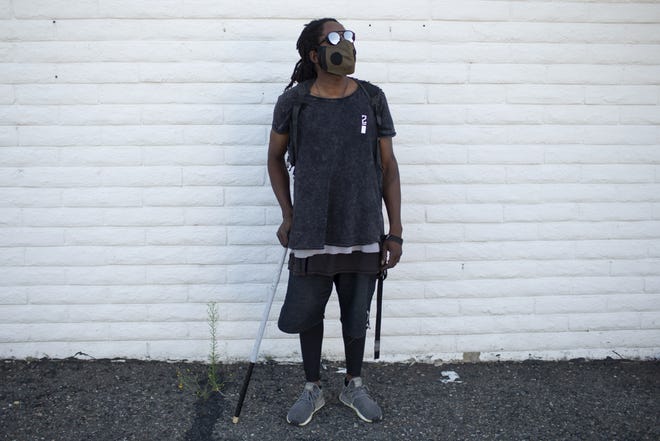 The antipathy is not solely aimed toward Black people.
Berto Yanez, a Tempe salesman, describes visiting Prescott Valley for an ice hockey tournament and repeatedly being confused for a maintenance man or janitor and even being asked to clean up a popcorn spill.
He was the co-director of the tournament.
Yanez said some parents refused to interact with him, instead directing questions or comments to the other co-director, who was white.
"He asked me, 'Do they not see you?' and I told him, 'It's because I'm brown,'" Yanez said.
"I'm not one to play the race card," Yanez said, "but this was obvious."
♦ ♦ ♦
Rosemary Dixon, a community activist who has lived in Prescott for nine years, said she sees a community struggling with change.
"You see it all the time. We don't want to change. We don't want anything to change ever, ever, ever, but at the same time, all the development is happening," Dixon said.
Prescott's population has increased 10% in the last five years. The surrounding area has sprawled even more. Prescott Valley, eight miles to the east, has grown nearly 25% in the last decade and now eclipses Prescott in population.
Much of that growth has come from California; stickers saying "Don't Californicate my Arizona" adorn car windows all over town.
"There's a certain kind of people they want moving in," Dixon said, "and there's a certain kind of people they don't want moving in because they think it's a threat to their lifestyle."
John Lutes, a 40-year Prescott resident who runs a furniture business on Whiskey Row, said many locals fear that California transplants will bring liberal policies — and higher taxes — with them.
But the reality is that many are conservatives and retirees who are attracted to the area's mild climate, relatively affordable housing, and deep red values, he said.
Nevertheless, Lutes, who is running for a seat on the Yavapai County Board of Supervisors, sees some things changing for the better. The progressive group Prescott Indivisible, which promotes social justice and sustainability, has more than 1,500 members and 1,000 subscribers to its Facebook page, many of whom came together recently for a neighborhood summit aimed at improving the quality of discourse in the community.
In addition, Lutes said, he and others in the community have worked to bring an arts and culture focus to Whiskey Row to "uplift the cultural values of the community."
"It really does enrich the tone and it enriches the tourism experience here beyond cowboys and whiskey," he said.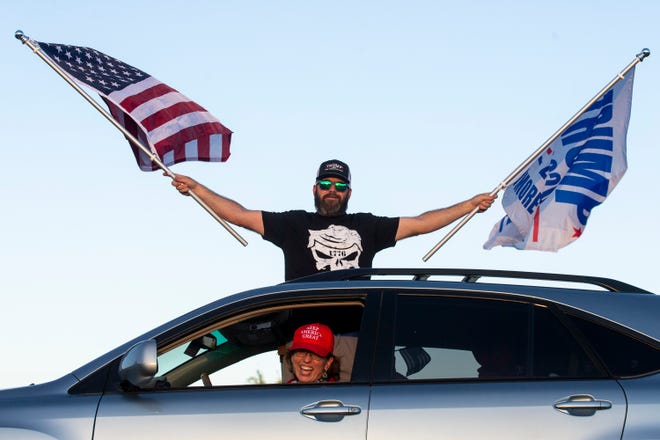 While Lutes, Dixon and others are working toward a more inclusive community, other leaders seem to be working at cross purposes.
Two months ago, former Prescott Mayor Harry Oberg, who is running against Lutes in the county supervisor race, made a campaign appearance at an Oath Keepers meeting, and in July, U.S. Rep. Paul Gosar, whose district includes Prescott, posed for a picture with a member of the Proud Boys at an event on the courthouse square.
Neither Oberg nor Gosar responded to requests for comment, but they aren't the only politicians who play to their deep red base.
Two days before Jones' rally on the square, Prescott Valley Mayor Kell Palguta addressed a crowd at an outdoor "Thank the Blue" vigil honoring local police.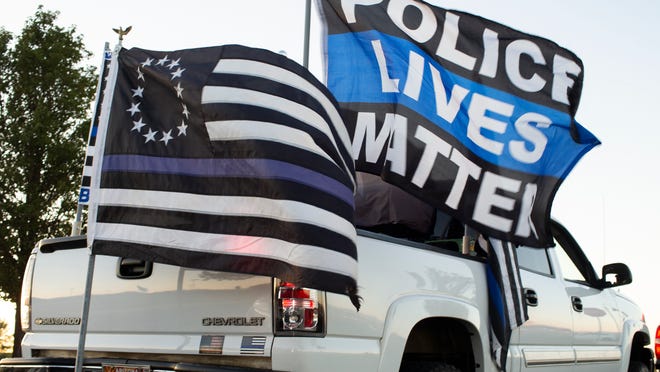 "If there are any members of antifa or Black Lives Matter in the audience, please come down to the front row so I'll know to speak more slowly and use smaller words," Palguta said.
Several hundred guests roared their approval as a young man at the back of the audience waved a Confederate flag.
Palguta, a retired Prescott Valley police officer, was unapologetic in the face of criticism.
"I am NEVER going to condone or side with ANY group that sides with spitting on officers, assaulting officers, ambushing officers, burning down businesses, assaulting innocent people because of the color of their skin," he said in a Facebook post on the Prescott Valley page.
"So if I hurt your feelings or offended you by speaking about ANTIFA or BLM I am NOT sorry."
♦ ♦ ♦
Jones has lived in or near Prescott for most of her life. She was born in Washington, D.C., but her family moved when she was 2 years old to Chino Valley, which, along with Prescott, Prescott Valley and Dewey, is part of what locals call the "Quad Cities."
Her mother died four days before her fourth birthday. When she was 13, her father was no longer able to care for her, so she moved in with an aunt and uncle, who are both white and live in Prescott. Both are uncomfortable with the open racism they see in their community.
"They went to a party the other day and my aunt had to leave because people were so racist," Jones says. "They were just making racist jokes about people and she finally just had to say … 'I have a Black kid at home right now. And the jokes you're making are not funny.'"
But it's not just jokes and flags and taunts that sent Jones to the courthouse square.
"Every job interview I've had, they've asked if I can do something about my hair, which they say is 'unprofessional,'" Jones says.
Seven states prohibit discrimination based on the way a person chooses to wear their hair. Arizona is not one of them.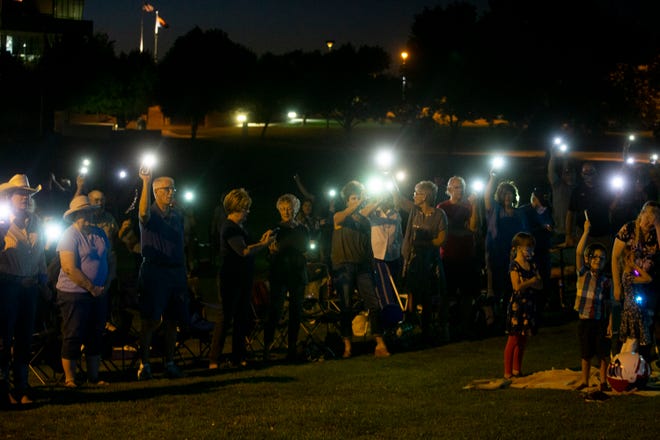 When Jones applied for a job at a retirement home, she said she was told that the clients were very conservative and might not be "comfortable" around her, and that she needed to do something about her long braids.
She offered to take them out and straighten her hair, but then decided she didn't want the job even if it was offered. It wasn't.
After sharing her frustrations with a small circle of friends, Jones decided she had to not just speak up, but speak out and on the Wednesday before Labor Day weekend, she posted the flyer on Instagram advertising the Black Lives Matter rally on the courthouse square.
Within hours, a Prescott Valley thrift store owner named Jared Klein began reposting it on right-wing community Facebook pages.
Klein told The Republic he felt it was important to call attention to Jones' post in response to the "rioting and vandalizing and setting fire to everything" across the country.
"While not every BLM protest has turned into a riot, every riot has started with a BLM protest," he said. "This is my hometown. This is where I live."
Within hours, Klein's posts took off on "patriot" sites and community Facebook pages.
One of the largest was the Prescott Valley community page, which has 11,000 followers and requires approval from a moderator to view. If community pages are a marketplace of ideas, one of the Prescott Valley page's chief commodities is loathing for liberals.
The page is filled with posts supporting the American flag, the police, the Second Amendment and President Trump. It is also rife with racist jokes and memes and profanity-laced screeds against all things Democrat.
Correspondents are especially contemptuous of Black Lives Matter and antifa, which most view as manifestations of Marxism and socialism funded by George Soros.
By the morning of the rally, Klein's post had been shared dozens of times with thousands of comments, most of them expressing fear that BLM was about to burn Prescott to the ground.
"I saw three busses (sic) loaded with people headed north on I-17 today. Looked like lots of bodies and the busses where (sic) spray painted with a bunch of crap in support of Antifa/BLM. Assuming they are headed to our town" a real estate agent posted.
"Bring it! We haven't even dusted off our guns YET!" another woman added.
"TRUST and BELIEVE there will be trouble if they decided to start shyt (sic)," a third woman wrote. "WE are lock n loaded here. AND will stand OUR ground to STOP a threat!"
As the posts ricocheted from page to page, others began to take notice. And grow concerned.
♦ ♦ ♦
Jeff Daverman, a white community activist, heard about the rally from his teenage daughter. His first thought was that whoever was behind it didn't know what they were getting themselves into.
On June 2, a week after George Floyd's death, Prescott Indivisible members joined religious leaders and others to stage Prescott's first — and until then only — Black Lives Matter protest, a peaceful, well-organized gathering in which 600 to 700 mostly white residents came together on the square, chanting "no justice, no peace" and singing "This Little Light of Mine."
But the gathering, which had been coordinated with police and city officials in advance, also drew the attention of the so-called 2A, or Second Amendment, crowd.
About two dozen men and women, many wearing black T-shirts and blue jeans, posed for photos in front of The Palace across from the gathering with an array of assault-style weapons and handguns, then fanned out along Whiskey Row.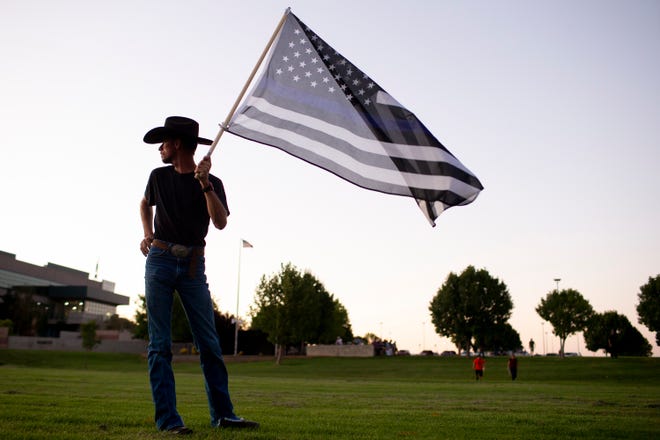 A social media post showed one man in a sniper position at a second-story window, looking out on the square with binoculars. His assault-style rifle was propped in the corner. In the caption, he said he's been "posted" there, which he punctuated with exclamation points.
"It was insane," said Dixon, one of the moderators of the Prescott Indivisible page. "Were they going to shoot us if we stepped out of line?"
Three months later, Dixon saw the hostile posts about Jones' rally on social media and was confused. If there were a BLM rally planned, why didn't she know about it?
Daverman's daughter knew Jones from school, and he had called her to suggest that she let the city know what she was planning.
Dixon scrambled to get members of her group to turn out on the square.
"If the kids are there, I want to protect them," Dixon said. "They don't know what they're getting into."
The next day, about 80 Prescott Indivisible members and Prescott College social justice students showed up at the square to support Jones and her friends.
Dixon and Daverman were alarmed at what they saw. Instead of two camps separated by a wide street like the June rally, they saw hundreds of flag-waving counterprotesters, dozens with guns, pulsing at the northwest corner of the square. Police estimated they outnumbered the Black Lives Matter protesters 3 to 1.
Dixon, Daverman and others urged Jones and her friends not to engage with the counterprotesters and not to get baited into a confrontation. They also discussed a disengagement strategy: If things got too heated, they would regroup across the street and march to Prescott College.
When Jones and her friends stepped into the throng and began chanting "Black lives matter," they were immediately countered with chants of "all lives matter," and "USA! USA!"
As Jones and her friends moved forward, counterprotester Shawn Baxter approached a woman carrying a sign that said, "Grandma against: No-knock warrants, vigilantes, carry to intimidate."
Baxter held out his hand and asked if there was any reason they couldn't be civil to each other.
The woman, Cherie Ditto, said of course not and agreed to pose for a photo with him. Then she noticed the pistol on his hip and the AR-15 slung on his shoulder and quickly pulled away.
"He's using those weapons to intimidate us, and I won't be intimidated," she said.
Baxter said he was disappointed that Ditto wasn't willing to have a dialogue, and that his main reason for coming out was to show support for the community and police.
He said he had read the Black Lives Matter "manifesto," and that "I have a firm belief that BLM is every bit as racist as the KKK."
A few feet away, an unmasked, heavyset older man unleashed a profanity-laced tirade at a young blond woman wearing a face mask and holding a handmade BLM sign.
The man, who later identified himself as James Schweigert, is a Prescott Valley resident who owns a heating and air conditioning business in Bullhead City.
As he continued to yell at the woman, a rail-thin young man with a black bandanna covering his face stepped between them.
Wearing a white T-shirt with seven red circles on the back representing the seven times Jacob Blake was shot by Kenosha police, the younger man stood toe to toe with Schweigert, who grew even more agitated, pointing his finger and screaming at him to "go back to your momma's basement."
The young man stood his ground as Schweigert dared him to throw the first punch.
"You take a swing and I'll kick your ass right here in front of everybody," Schweigert yelled.
As several counterprotesters tried to settle Schweigert down, a Yavapai County sheriff's deputy stepped in to separate the two.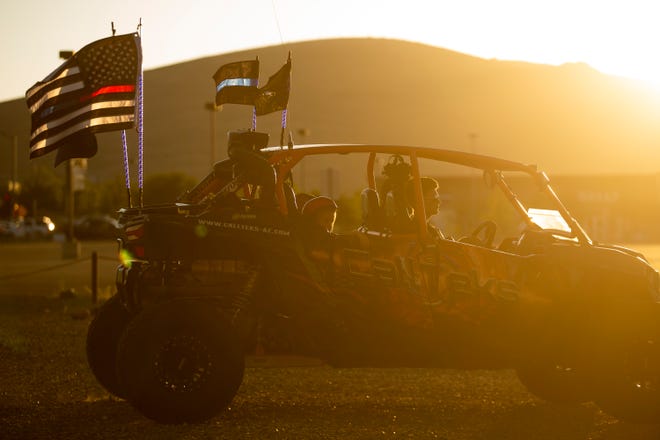 Schweigert, who told The Republic he was a Marine veteran and "a proud German American," eventually calmed down. Others didn't.
"Losers!" one man yelled, emphasizing his ire with a choice obscenity.
"Stop hating white America," an older woman shouted.
"Find yourself a different home," another man yelled. "We don't want you."
Klein, the thrift store owner whose Facebook posts alerted people to the rally, was there with his AR-15 and said most of the taunts from counterprotesters came in response to baiting from BLM protesters, some of whom carried signs with foul language and what he described as "disgusting" imagery.
"And so the fact that when I said all lives matter and I was told to go die, that only confirmed that I was doing the right thing by being there," he said.
"I'm not a racist," he said, adding that he has faced discrimination both because he is white and because his father was Jewish.
"I agree there that there is a problem — there is a disparity between Black people and white people in this country," he said, but he doesn't believe Blacks are treated more unfairly than whites in the criminal justice system.
"You have significantly higher crime rates in the Black community," he said. "In an area where there is an extremely high crime rate, I don't see why a cop wouldn't be more defensive than in an area where there's less crime."
♦ ♦ ♦
Just 10 minutes into the rally, with things growing more heated and her side vastly outnumbered, Jones decided to disengage.
Most of the BLM protesters followed her across the street to begin the two-block march to Prescott College, flanked by sheriff's deputies and Prescott police bicycle officers.
A small number of counterprotesters followed, but most stayed on the square, cheering that they'd sent BLM and antifa packing.
At Prescott College, President John Flicker and Provost Paul Burkhardt stood in front of one of its historic main buildings, a former convent dating to the 1890s, and watched the procession, making sure none of the counterprotesters set foot on campus.
The college is an anomaly, a liberal island in a vast sea of conservatism. (Donald Trump won Yavapai County with 63% of the vote in 2016, a slightly smaller percentage than the 67% Mitt Romney drew in 2012.)
Founded in 1966, the private liberal arts university launched in the heat of the civil rights movement with a mission of social justice and environmental sustainability.
Flicker said despite the diverging political orientations, the college strives to be a good partner with the community, pointing to a current economic development partnership in which the college provided land for a new convention center as part of a larger hotel project.
In addition, faculty and students work in the community on issues such as affordable housing and voter registration.
But not everyone is comfortable with the college's mission, and the controversy over Cullors, the Black Lives Matter co-founder Prescott College hired to run its virtual MFA program, still has not died down.
Chino Valley resident Fred Grabel told The Republic that Cullors and those who hired her should be fired.
"We have no need for socialism in this country," he said.
"We don't have white lives matter," he added. "If they said all lives matter, I can deal with it. But when they're specifying that only their lives matter, they can stick it you know where."
Cullors' hiring is still a frequent topic on social media.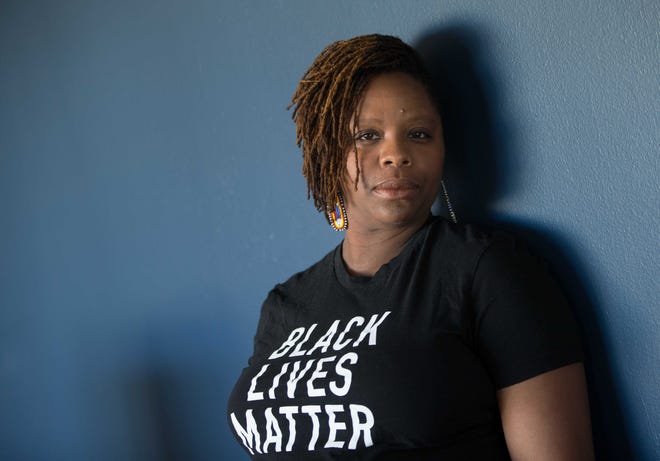 "BLM Marxists who commit treasonous acts have no place in any college where our children will be subjected to hateful teachings," one person wrote.
"To think people support this race," a poster named RJ Edwards said on another thread.
"Everyone that identifies with BLM should be arrested and taken to reeducation camps and have their racist b.s. waterboarded out of them," a protester named Craig Forester added.
Cullors has refused to comment on the situation, saying she doesn't want to give it oxygen.
Flicker, who served 15 years as president of the National Audubon Society and worked for 20 years as an attorney for the Nature Conservancy, jumped immediately to Cullors' defense when the first racist Facebook posts appeared and has continued his support.
He told The Republic that the backlash against Cullors was sad, unfortunate and "un-American."
"Black Lives Matter is looking at fundamental change in society. That's long overdue. And it's not surprising that some people were resistant," he said.
"But that kind of reaction that she received, the threats she received, are just totally unacceptable. We stand firmly for free speech and the ability of any citizen to speak out. You can disagree with somebody's ideology or whatever, but you can't threaten violence."
♦ ♦ ♦
Prescott Mayor Greg Mengarelli was out of town when the Facebook posts about Cullors first appeared. When he got back, he called Flicker to offer his support and to say he was "saddened people had said those things."
Mengarelli said he chose not to make a public statement because "things had quieted down" and he didn't want to stir them up again.
Mengarelli told The Republic he hasn't personally seen open signs of racism and doesn't think the comments about Cullors represent the views of "Everybody's Hometown."
"I think for the most part, people in Prescott are inclusive and appreciate diversity," he said. "I realize there have been remarks made … I think those are outliers."
During the Friday rally, Mengarelli stood with Prescott police Chief Debora Black and several of her command staff on the northwest side of the courthouse as Jones and her group made their way back to the square from Prescott College.
Mengarelli had arrived late, but he said he felt everyone gathered, even the extremist elements, had a right to be there and exercise their First and Second Amendment rights, and that while things had gotten heated, it had been mostly peaceful.
There were no arrests.
Days later, after a TMZ.com video of the protest went viral, Mengarelli would reconsider.
Mengarelli, who moved to Prescott with his wife to work at a Christian camp, which he now runs, took issue with the criticism that he hasn't done enough to confront racism in the community.
He said that several years ago he publicly called for the resignation of state Rep. David Stringer, who had made racist comments regarding Latino immigrants.
Stringer eventually resigned rather than face an unrelated ethics probe.
This year, Stringer ran in the Republican primary for Yavapai County attorney and lost.
Mengarelli said he didn't openly oppose Stringer's most recent candidacy and hadn't spoken out on the Oberg and Gosar episodes because he did not feel it was his place.
He said he has spoken one on one with a number of African American community members, and none mentioned any specific concerns about racism.
Yet others point out that you don't have to look far to find a Confederate flag flying in Prescott. Or worse.
On July 4, former Prescott Mayor Jack D. Wilson posted a photo on his Facebook page of someone flying a White Power Worldwide flag near downtown, which he termed "unacceptable." The picture was taken the same day Gosar was photographed with a Proud Boys member.
Trinidad, the artist and in-line skater, mentioned a Confederate flag flying from an apartment balcony in view of one of Prescott's main thoroughfares.
When a Republic reporter knocked on the door of the apartment, the man who answered, a 59-year-old carpenter named Ted Gourd, said he was flying it because he is a NASCAR fan but also because he believes Southern history is important, though he is not from the South.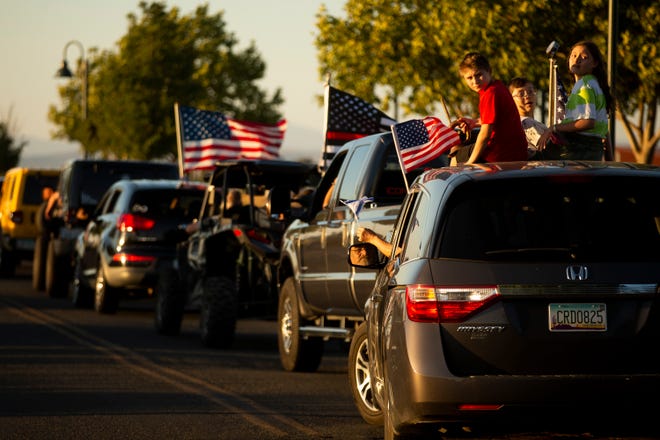 When told that NASCAR had banned the flag, he said he didn't agree with the decision. He added that anyone should have the right to fly any flag they want and that political correctness has gone too far and made people overly sensitive.
"Everything's changing," Gourd said. "They're tearing down statues, losing their history, and those who forget their history are doomed to relive it."
He said he has a number of Black friends. Asked if any had commented on his flag, he said he hadn't asked, but if they wanted to fly a Black Lives Matter flag, it wouldn't bother him.
Gourd said he had received mostly thumbs up for the flag.
The day after the interview, the flag came down.
Gourd said it had been cheaply made and that one of the grommets broke loose. He replaced it with the 13-star "Betsy Ross" flag because "I heard it pisses the liberals off."
♦ ♦ ♦
The Friday rally on the square was winding down when Nick Chonko parked his vehicle next to a Humvee decked out with American flags and Trump flags.
A retired Green Beret who received two Bronze Stars during three deployments in Iraq, Chonko had come downtown to pick up a pizza with his 3-year-old son.
"I just couldn't believe what I was seeing," he said. "I was like, this is the streets of America?"
Chonko, who was medically retired with a combat-related disability after 18 years in the Army and now runs his own IT business, described the scene as "pretty hostile."
"They were like, 'This is my town, I've got my long guns out,' like they're some kind of auxiliary militia fighting force," he said. "They just looked like they were out to get people."
Chonko said the scene felt "kind of weird to me. I'm used to seeing that overseas. I'm not used to seeing that (here), not that I'm personally afraid of those people."
He said he saw a video of the rally on TMZ that turned his stomach.
"I feel bad for those students," he said. "They're the survivors of the school shooting generation. They're not used to having weapons in their face. Sixty-eight-year-old women, they're not used to having weapons in their face."
As the rally ran out of steam and protesters drifted away, Jones, still wearing her Pikachu backpack, sat on a low concrete retaining wall near the Bucky O'Neill statue with more than a hundred counterprotesters still milling about.
A woman holding an AR-15 with one hand, her finger on the trigger, stood laughing with several other men nearby.
Jones was shaking and near tears but said she was glad she went through with it.
"I didn't want to cancel," she said. "I feel like canceling it is like what they wanted."
Jones said she expected the backlash to be intense and maybe violent.
"I hate to say it, but I was just like in the car (driving to the rally) and I was like, I could literally get shot today. This could be like the last time I'm driving down this street," she said.
"I was kind of just like whatever happens, happens. I know me and my friends are going down there to protest what we believe in, and there's going to be a lot of hate and there's going to be a lot of disagreement," she said.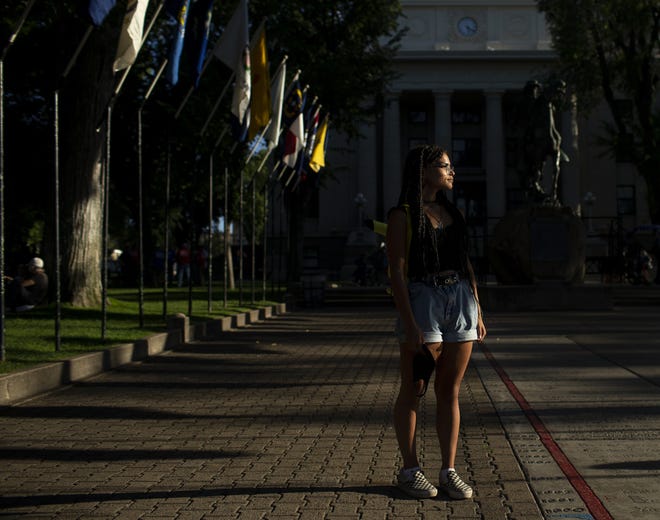 Still, the level of anger was bruising. She was called a terrorist, a racist, a "dumb Black girl," and was told repeatedly that Blacks should just obey the police if they don't want to be shot.
One woman told her "'Prescott isn't for you.' She's like, 'You don't belong here. Your movement isn't welcome here. We don't want you here.'"
Five days after the rally, Mengarelli addressed it in his weekly mayoral update on Facebook. It was the fourth item.
"What transpired that afternoon can be described as disturbing at best," he wrote.
"What I saw on the plaza that day was not representative of who we are as a community. Incitement, intimidation and harassment are simply not part of our value system," he continued.
"Prescott, we are better than this. We have to be better than this."
Jones, meanwhile, said she had mostly recovered from her experience on the square.
"Isn't it crazy that people want me dead because of the color of my skin," she said. "Isn't that insane? I think about it, and it's just, it's just hard."
She said it helped to talk to her aunt and uncle about what had happened.
"They were like, 'Yeah, it's hard,'" she said. "'But you put yourself out there so you either have to step back and take a break from it or like, toughen up.'"
She chose the latter. She is now working with Dixon's group to bring about a change in her hometown. "Everybody's Hometown." The one where she doesn't feel welcome.