By Chelsea Prince, The Atlanta Journal-Constitution
(CNT) City News And Talk #atlanta-ga
The rain has come to an end across North Georgia, leaving behind muggy and cloudy conditions.
Channel 2 Action News meteorologist Brad Nitz said some sunshine is the forecast Monday, but you'll have to wait until later in the day. Patchy fog is possible Monday morning.
"I don't expect that to cause any big problems," he said. "This afternoon, that's all over, and our skies become partly cloudy."
Georgia can thank the remnants of Hurricane Delta for all the moisture that's in place, he said. What's left of the storm is now to the north and east of the state, pulling away the rain and storms from this weekend.
Temperatures are in the upper 60s to low 70s Monday morning but will top out in the mid-70s in the afternoon, according to Channel 2. Atlanta's projected high is 77 degrees.
Nitz said there is no need for an umbrella or a light jacket Monday. Cooler weather is headed for North Georgia, but Nitz said it will hold off for a few days.
"Some drier air is going to be building in," he said. "I am tracking a weak cold front that's going to come through overnight tonight. It could bring us a very brief and isolated shower."
Any showers overnight are likely to fall in the predawn hours. The wet weather should be gone by the time the sun is up, Nitz said, and dry air behind the front will set up North Georgia for a string of sunny and dry days.
North Georgia's forecast calls for temperatures in the 80s Tuesday, Wednesday and Thursday before things turn cooler Friday. By Saturday morning, some neighborhoods could be waking up to lows in the 40s, according to Channel 2.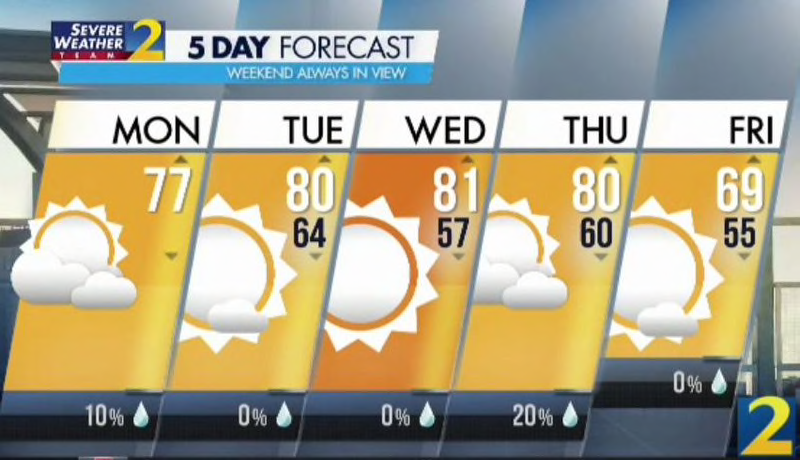 There may not be any more rain to contend with Monday, but there are still plenty of problems on the roads. Multiple crashes have been reported, and the morning drive is just getting started, according to the WSB 24-hour Traffic Center.
There are major delays headed into Cobb County on I-75 North after authorities shut down the interstate at Mount Paran Road just before 6 a.m. The lanes have since reopened, but the damage is done, the Traffic Center reported.
To avoid the backups, drivers can take Northside Drive as an alternate.
On the other side of the city, a crash with injuries was blocking multiple right lanes on I-85 North at Jimmy Carter Boulevard in Gwinnett County, the Traffic Center reported.
Elsewhere in Gwinnett, cleanup continues Monday after a train derailed in Lilburn. The Greenway Trail will be closed at Main Street for the next three days, according to the Traffic Center. Drivers should avoid the area as Main Street may also be closed at Camp Creek Road.
In addition to the traffic problems, there could be ongoing road closures due to weekend storm damage. Several roads remain closed Monday in Hall County because of flooding.
And if that wasn't enough, two presidential campaign events Monday are likely to snarl traffic in downtown Decatur and Kennesaw.
"We're looking ahead to a double campaign visit today," Arum said. "Campaign 2020 comes to Georgia first in Decatur, starting with Jill Biden."
The Democratic candidate's wife is scheduled to hold an event in the Maloof Building parking lot on Commerce Drive at 11:30 a.m. Arum said that could cause traffic delays.
On Monday evening, Donald Trump Jr. is scheduled to appear at a Make America Great Again rally at 6 p.m. at the Governors Gun Cub in Kennesaw.
"That could cause delays as well in and out of Kennesaw, but these aren't the huge motorcades we see for the vice president and the president," Arum said.