#foodie-all – by Ellen Britt.
Did you ever wonder what is it about a food's presentation (or "plating" as it's called in the culinary world) that adds to the dish's attractiveness and even to the perception of how the food actually tastes?
I enjoy an attractively arranged plate as much as the next person, but never put too much thought into it with the dishes I make at home. Until now that is…
As you likely know by now, I'm enrolled in the Rouxbe Culinary Institute's Professional Plant Based Certification program and even though we have not yet been taught the secrets of stellar plating, I have naturally become more conscious of it, because I know it's coming.
A few days ago, I wrote about making Golden Fried Rice for my daughter and the instructions were before serving to pack the finished rice into one of those small attractive porcelain soup bowls that are so common in Asian markets and Chinese restaurants.
Well, I happen to have one of those bowls, so I thought I'd give it a try, rather than just dish the rice out of a plate which I usually do.
I packed the cooked fried rice into the soup bowl, inverted my plate over it and then turned the whole thing over. Then I grasped the bottom of the soup bowl, shook it just a bit to dislodge the packed rice then carefully lifted it straight up.
Having never tried this before, I was half expecting the mound of rice to crumble into a disorganized pile, but to my surprise and delight it remained firmly in place, looking for all the world like the rice served in a Chinese restaurant.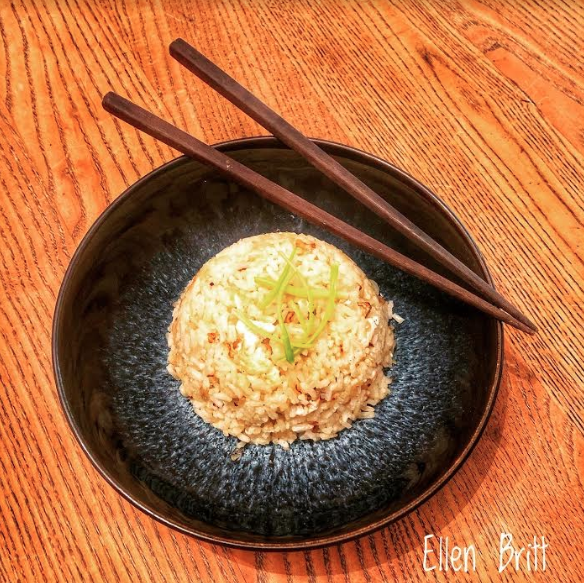 I used a few thinly sliced green scallion stalks as a garnish and proudly served the dish to my daughter. She was delighted with the presentation.
The other benefit to packing the rice into the bowl this way was that the rice stayed piping hot.
And just like the concept of mise en place, this plating aspect of things got me thinking about how important presentation is in other aspects of my life.
Who knew learning to cook at a higher level would have so many wonderful lessons? Let's eat y'all…!