By Chelsea Prince, The Atlanta Journal-Constitution
(CNT) City News And Talk #atlanta-ga
The air in North Georgia may not feel dry Tuesday, but there is no rain in the forecast.
Humidity is in place for a little while longer, according to Channel 2 Action News Brad Nitz. Tuesday will be sunny, warm and a bit muggy with a high of 76 degrees, he said.
"Dry air is settling in behind a weak front coming through this morning, and that's going to keep us dry for the next few days," Nitz said.
The front Tuesday is pushing to the south and east. It is contributing to mostly clear skies, which will help push temperatures down into the 50s on Wednesday morning, according to Channel 2.
A stronger cold front is on the way for Friday to bring rain and cooler weather back into North Georgia. Until then, Nitz said the forecast calls for lots of sunshine and highs in the upper 70s.
"I don't expect a lot of rain, but we'll have a partly cloudy sky with a few isolated showers possible late Thursday into Friday," he said. "And then much cooler and drier air comes in late on Friday and into the weekend."
Saturday and Sunday could both see lows in the 40s, with afternoon highs in the low to mid-60s, according to Channel 2.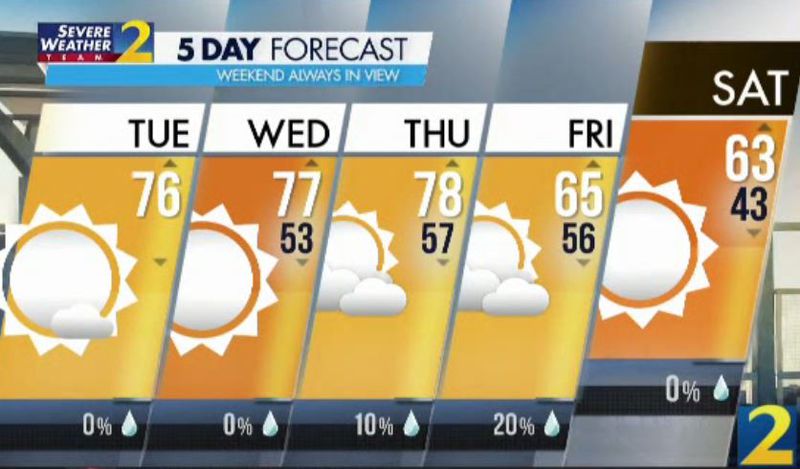 Nitz said metro Atlanta can't blame current traffic problems on the weather, but there could be sunshine delays later Tuesday morning.
Despite multiple early morning crashes, there are no major delays on Atlanta interstates, according to the WSB 24-hour Traffic Center. Construction projects are underway, including bridge work that has Northside Drive shut down at Peachtree Battle Avenue.
The Traffic Center suggests drivers take Howell Mill or Peachtree roads as alternates through Buckhead.
Most construction projects will wrap up before the end of the morning drive. Traffic reporter Mark Arum said the afternoon drive should not be too bad.
"No construction scheduled, and we'll have dry pavement," he said.