By Chelsea Prince, The Atlanta Journal-Constitution
(CNT) City News And Talk #atlanta-ga
The chill in the air Wednesday morning is not an indication of cooler weather for the afternoon.
North Georgia is starting the day about 10 degrees lower than on Tuesday, but Channel 2 Action News meteorologist Brad Nitz said temperatures will rise quickly. Atlanta's projected high is 78, five degrees above average for this time of year.
"It's going to be warm today," Nitz said. "We've got dry air. We're going to stay dry tomorrow, but I'm tracking this front coming in by Friday."
The approaching cold front won't bring much in the way of rain, he said, but it will turn up the moisture and cloud cover as it comes through. An isolated shower is 20% likely Friday before North Georgia turns drier and much cooler Saturday.
"Sunshine, cool, really beautiful fall weather as we head into Saturday afternoon," Nitz said.
For those craving crisp fall temperatures, Saturday will be the day to enjoy them. Morning lows in the low to mid-40s are in the forecast for metro Atlanta, with 30s predicted for the mountains.
The city should not leave the 60s on Saturday afternoon, according to Channel 2.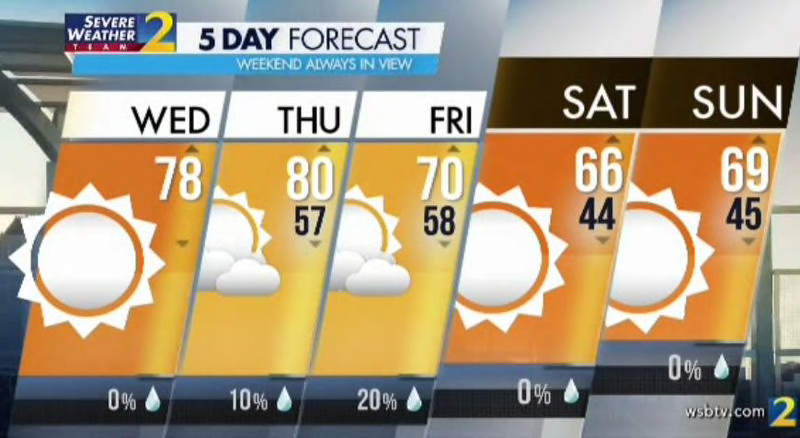 As for Wednesday, Nitz said weather conditions could not be more favorable for travel.
"Skies are clear, we're dry, no problems for our morning commute," he said.
Conditions on the roads aren't too shabby, either, according to the WSB 24-hour Traffic Center. Despite a few early morning crashes, there are no major delays on metro Atlanta interstates as of 6 a.m.