By Chelsea Prince, The Atlanta Journal-Constitution
(CNT) City News And Talk #atlanta-ga
The only thing brewing in North Georgia on Thursday is increasing sunshine.
The day is starting off with some low clouds and patchy fog possible, but Channel 2 Action News meteorologist Brad Nitz said those will burn off quickly. The clouds will continue to break up until the sun completely emerges for the afternoon, which has a high of 79 degrees, according to Nitz.
A cold front on the way Friday will change things up a bit. Nitz said moisture in the atmosphere will mostly show itself in the form of some clouds and isolated showers Friday afternoon.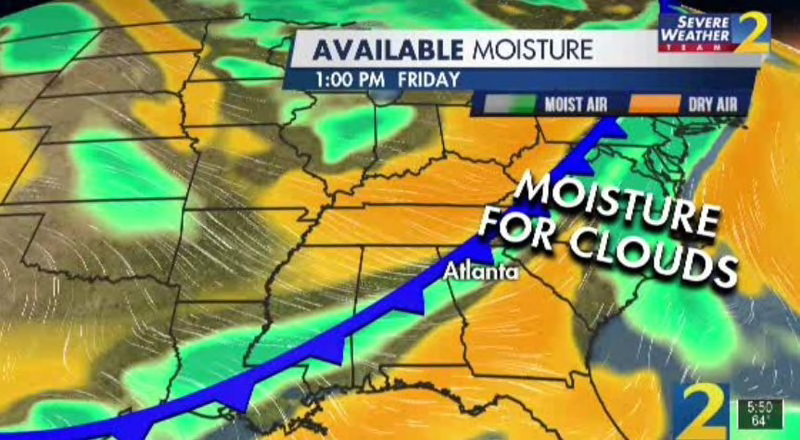 "The leading edge is some cooler air coming our way," he said. "Some isolated showers along and behind this cold front, but they will be few and far between, putting our rain chance just at 20%."
The cooler air will rush in once the front passes by, which Nitz said will drive down temperatures to lows in the 30s in the mountains on Saturday. The rest of North Georgia likely will be in the low to mid-40s Saturday morning, including Atlanta.
"That's going to be a big drop-off in temperatures," Nitz said.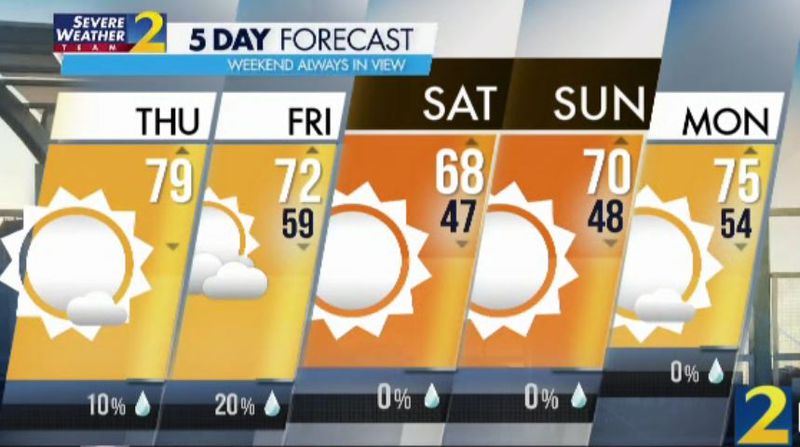 There is no immediate concern of any developments in the tropics, he said. However, hurricane season lasts until the end of the November.
"We have no named storms out there right now, but we have three areas that we are watching, two in the Atlantic and another in the southwest Caribbean," Nitz said. "Any of those three have the chance of slowly developing over the next few days."
There are no delays on the interstates at 6 a.m. Thursday, but there are some slow zones due to bridge construction, according to the WSB 24-hour Traffic Center.
In Atlanta, ongoing work on the bridge at Northside Drive has shut down the road at Peachtree Battle Avenue. Drivers should avoid the area and use Howell Mill or Peachtree roads as alternates, the Traffic Center reported.
And on the Southside, bridge work has shut down the westbound lanes of Ga. 54 past McDuff Parkway, according to the Traffic Center. As a result, expect delays through Peachtree City.