By Chelsea Prince, The Atlanta Journal-Constitution
(CNT) City News And Talk #atlanta-ga
A stray shower is possible Friday as a cold front moves through metro Atlanta, according to Channel 2 Action News.
However, rain will not be the biggest impact from the weather system. Channel 2 meteorologist Brad Nitz said a northwest wind moving in behind the front will help drive temperatures down for a sunny, but cool weekend.
"For our commute this morning, we've got mild temperatures," Nitz said Friday. "But it's really going to turn much cooler tonight and into tomorrow morning."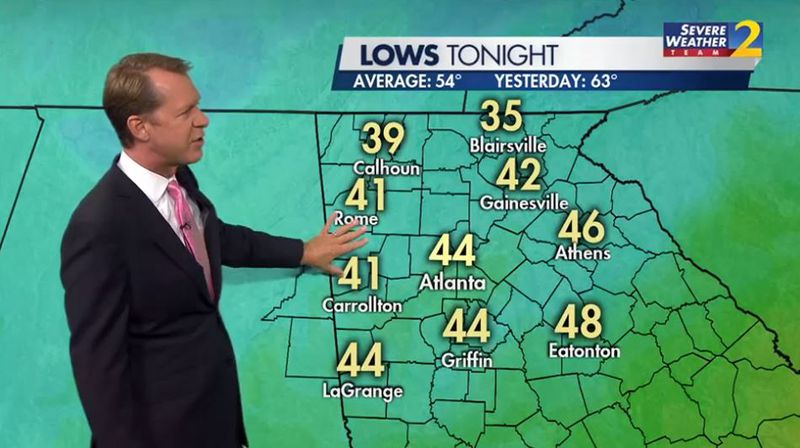 Metro Atlanta is waking up to temperatures in the 60s on Friday. In contrast, Saturday morning is expected to start in the mid-40s in the city and in the 30s in the North Georgia mountains.
"I'm going to call it chilly," Nitz said.
The breeze bringing the cooler weather could become gusty at times, he said. Gusts of up to 25 mph are possible. As for the rain, Nitz said he expects most showers will dry up as they approach metro Atlanta from the west.
"But a stray shower is still possible, so I will put that rain chance at 20%," he said.
The front is more likely to bring clouds. Nitz expects the most cloud cover around midday as the front drops into metro Atlanta. Things turn sunny for the afternoon.
According to Channel 2, Friday's projected high is only 65 degrees.
The fall feel may not last long. Warmer weather returns next week with highs in the upper 70s, according to the latest forecast.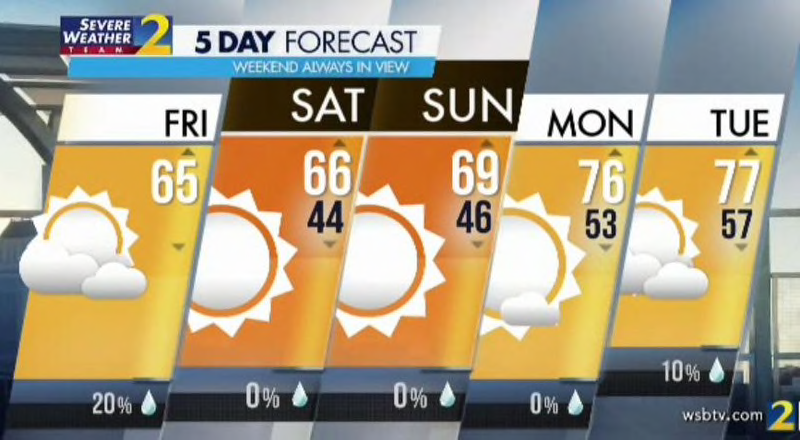 There are no major delays on metro Atlanta interstates at 6 a.m., according to the WSB 24-hour Traffic Center.
No crash-related lane closures have lasted long, and overnight construction projects are wrapping up. Roadwork on I-75 South past Ga. 155 has cleared in Henry County, leaving the interstate wide open.