By Andy Peters, The Atlanta Journal-Constitution
(CNT) City News And Talk #atlanta-ga
Letters 'TS' now perched atop vacant Midtown high-rise complex.
The landmark AT&T Tower has a new name, an improved lobby and a new logo crowning the building as its owner looks to keep pace with Midtown's bustling development.
The iconic AT&T logo, which topped the building on four sides and could be seen for miles in any direction, was recently replaced with a new "TS" logo. It stands for Tower Square, the new name of the 45-story building.
Tower Square has plenty of space to offer since telecommunications giant AT&T decamped. Considered the largest office development in metro Atlanta, the buildings in the 1.8 million square-foot complex are completely vacant.
Tower Square's owner, Icahn Enterprise Holdings, is modernizing a complex that had become shabby and outdated. A spokeswoman didn't share how much Icahn is spending.
"We have the opportunity to give thousands of office users, residents, visitors and passersby unprecedented access to the best retail mix in the city," Amy Fingerhut, senior vice president at CBRE, the building's leasing agent, said in a news release.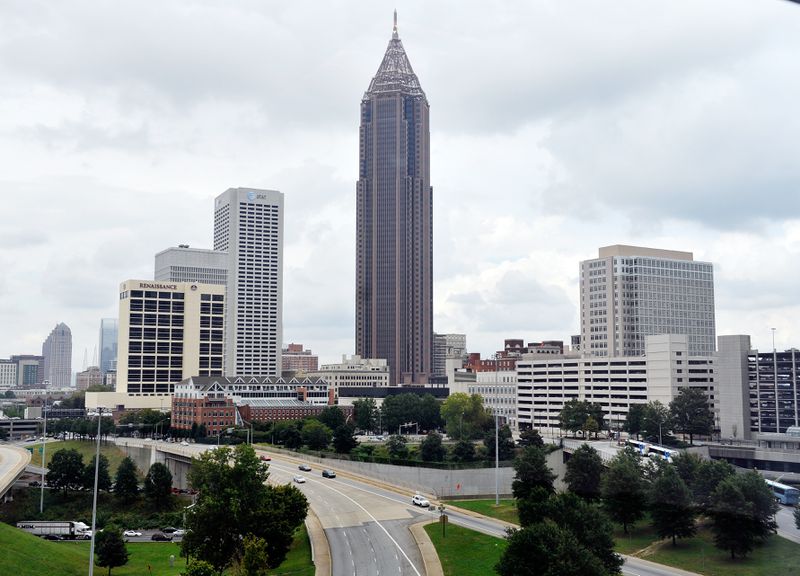 The blocky, white-colored, 677-foot tower isn't glamorous, but it became an Atlanta landmark when it opened in the early 1980s as Southern Bell Center. The phone company had planned to build the tower one block east, which would have required demolishing the Fox Theatre. After a public outcry to save the Fox, the building site was moved to its present location.
A local group that's planning a new healthcare innovation districthas considered the complex at 675 West Peachtree Street for office space, according to industry sources.
Across the street, railroad operator Norfolk Southern is building a new headquarters and the Indianapolis-based health insurance company Anthem has opened an office for its tech workers nearby.