By Shaddi Abusaid, The Atlanta Journal-Constitution
(CNT) City News And Talk #atlanta-ga
Metro Atlanta residents will wake up to another cool morning on Sunday before afternoon temperatures warm to a high of about 70 degrees.
While it shouldn't be quite as chilly as Saturday, the overnight temperature in Atlanta is expected to drop into the upper 40s, according to the latest forecast.
"You'll need to pull out those extra blankets once again and get those heaters cranked up. It's going to be another chilly one," Channel 2 Action News meteorologist Eboni Deon said.
There's no rain expected through the second half of the weekend, making conditions ideal to get out and enjoy the fall weather. But those planning on heading outdoors early may want to bundle up.
"Make sure you have that jacket with you," Deon said. "You'll probably need it through much of the morning."
Temperatures are expected to reach the upper 70s just in time for the workweek, but there is no rain expected through at least Wednesday.
"We will continue to see plenty of sunshine and it's going to really stay nice," Deon said.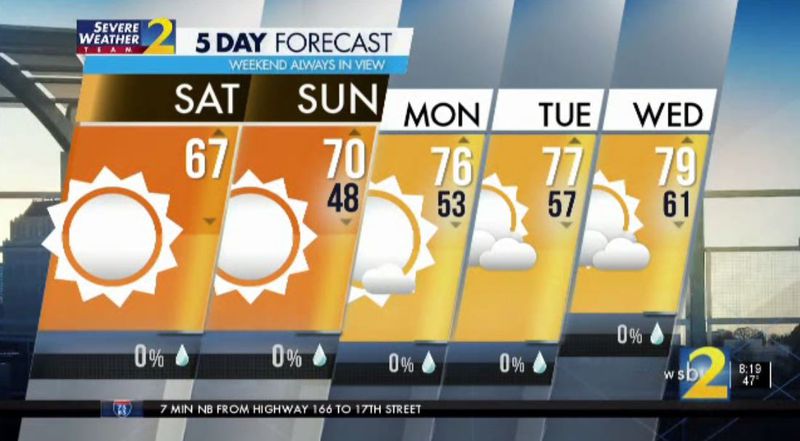 Georgia Department of Transportation crews are expected to take full advantage of the dry weather, meaning drivers may run into delays on metro Atlanta's roadways.
Two eastbound lanes of Abernathy Road will be closed this weekend as crews continue work near the Ga. 400/ I-285 interchange, GDOT officials said. Drivers can expect delays between Barfield and Peachtree Dunwoody roads until 5 a.m. Monday.
In addition, one southbound lane of Ga. 400 will remain closed between the Mount Vernon Highway overpass and Hammond Drive as crews install drainage structures along the heavily traveled route. All lanes should reopen by 3 p.m. Sunday.