Braves second baseman Ozzie Albies reacts in the dugout following the Atlanta Braves' 4-3 loss to the Los Angeles Dodgers in Game 7 Sunday, Oct. 18, 2020, in the best-of-seven National League Championship Series at Globe Life Field in Arlington, Texas. The Dodgers won the series 4-3 too. (Curtis Compton / Curtis.Compton@ajc.com)
ATLANTA BRAVES| 8 hours ago
By Gabriel Burns, The Atlanta Journal-Constitution
(CNT) City News And Talk #atlanta-ga
ARLINGTON, Texas — The Braves were 12 outs away from a World Series berth, but they'll instead spend the offseason stewing over a 3-1 series lead, a 3-2 Game 7 lead, and what might've been.
In what will be remembered as a classic Game 7, the Braves fell to the Dodgers, 4-3, on Sunday to be eliminated from the National League Championship Series in seven games. The Braves lost three straight after winning three of the first four in the series.
"It didn't go the way we wanted, but it was unbelievable experience for a really young team," manager Brian Snitker said. "We made some mistakes. We shot ourselves in the foot a couple times. In games like these, where runs are hard to come by, you pretty much have to play flawless baseball."
In the end, the Dodgers' slightly better depth, experience and precision won out. The Braves were 10 outs away from finishing the series in five games, but a pair of three-run innings kept the Dodgers alive. Los Angeles scored three runs in the first inning of Game 6, which proved to be enough in a two-run win.
That forced Sunday's winner-take-all. The Braves played beautifully in the first two innings, when they built a 2-0 lead. They carried a 3-2 advantage into the sixth frame before Enrique Hernandez homered off A.J. Minter to tie it. One inning later, Cody Bellinger hammered a solo shot to right off Chris Martin for the dagger. Three of the Dodgers' four runs were scored with two outs.
The Braves, who had one hit after the second inning, had no answer following Bellinger's heroics. They exceeded outside expectations this season, and they have seemingly endless positives to build on, but the fact remains they were one win from the World Series and suffered their second three-game skid of the 2020 calendar. When they were presented with golden opportunities, they wasted them. The Dodgers weren't perfect in optimal situations either, but they were just good enough to overcome the Braves.
"I don't think we exceeded expectations," said first baseman Freddie Freeman, who seemed to be fighting off tears. "We expected this out of ourselves to get to this point. We came up short, but everybody on this team can lay their head on their pillow tonight and know they emptied absolutely everything they had left in the tank. Snit just got done talking to us, and it's an emotional time whenever the season ends, especially when it ends like this, but that group in the clubhouse we have, this is the start of something special for a long time.
"It hurts right now. It really does. This moment sucks. But the Atlanta Braves organization is set up for success for a very long time. This group of guys we have this year started something special."
Rookie sensation Ian Anderson started Game 7, going three innings. Marcell Ozuna and Dansby Swanson (via homer) knocked in runs across the first two frames to give him an early lead, but the Dodgers tied the game in the third frame, with Will Smith's two-out single scoring both runs. Anderson was pulled and the Braves used five relievers over the course of the night. Julio Urias closed the Braves out with three perfect frames.
The Braves regained the lead in the fourth but wasted a premium opportunity. They led off the inning with an Ozzie Albies walk (and stolen base), a Swanson walk and Austin Riley's single that scored Albies. They appeared primed for one of the big innings that helped them reach the NLCS and build their series lead.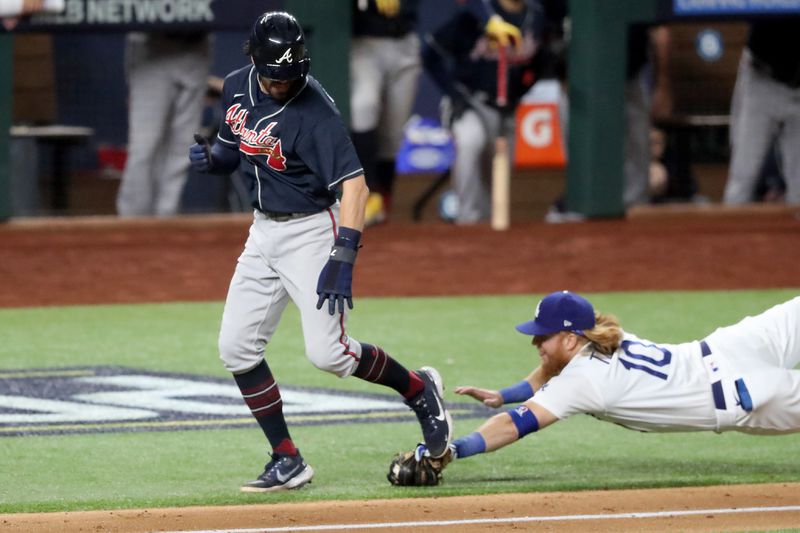 But Nick Markakis hit a grounder, and Swanson was caught in a rundown between third and home. Third baseman Justin Turner tagged him out and fired to third, where shortstop Corey Seager was covering and tagged out Riley. Riley was indecisive between second and third and his hesitation burned them. That double play will be referenced plenty over the winter, if not beyond.
"That was huge," Snitker said. "It's hard to score runs in the postseason. … Normally, we're a good baserunning team. We just did some things wrong."
Dodgers right fielder Mookie Betts snatched a home run from Freddie Freeman in the fifth that would've made it 4-2. It was the second consecutive night Betts made a gold-glove caliber play at the right-field wall. It also proved a game-saving catch. It was one of several plays the Dodgers made that the Braves couldn't match.
"The Dodgers made plays," Freeman said. "They got out of a second and third with no outs. They had the great play by Turner. Mookie robbed my home run. Mookie robbed Marcell the other day. They made the plays. We're all human. We're going to replay everything that's gone on for the next couple weeks. But like I said, we left it out on the field. It was a different feeling than last year for sure. We have a better feel right now. I'm just excited for 2021."
Wasted opportunities and mental errors plagued the Braves in the final three games of the series. It was uncharacteristic of a club that'd been so pristine for most of the season – a 60-game slate that saw them win their third consecutive division title and two postseason series.
Consider how the Braves' trek began: For months, it was questionable whether this season would happen. Between the coronavirus pandemic and unproductive labor negotiations, an MLB season was on life support for weeks before commissioner Rob Manfred implemented a truncated regular season with expanded playoffs.
When the Braves opened camp July 3, Freeman was among four players who tested positive for COVID-19. Freeman returned less than a week before opening day and assembled the best campaign of his career, one that will likely result in NL MVP honors.
During the Braves' first homestand, ace Mike Soroka tore his Achilles, ending his season. The Braves were already enduring rotation problems after Cole Hamels was hurt again and Felix Hernandez decided against playing.
The starting pitching woes only worsened. Mike Foltynewicz and Sean Newcomb were ineffective and jettisoned to Gwinnett. The Braves tried several uninspiring options, from Robbie Erlin to Tommy Milone. There was a point late in the season, when ace Max Fried was injured, that the Braves were down their entire initial starting group.
Yet the team kept winning. The Braves had an offense that would've shattered franchise records in a 162-game slate. They had the deepest bullpen perhaps in franchise history. They'd slug their way to leads and pass it off to their relievers. They went 35-25 against the NL and AL East, the two divisions Freeman considers baseball's best.
Rotation conditions improved later in the year, when Anderson, 22, pitched like a 10-year veteran and Fried continued his breakthrough. Kyle Wright returned from alternate camp looking like a new man. Huascar Ynoa, who nobody in The Battery would've even recognized, provided a few steady performances. Even in the postseason, the trend of young players stepping up continued, from outfielder Cristian Pache to starter Bryse Wilson.
The Braves' reliance on youth that performed beyond its years lends to the idea that this won't be their last NLCS appearance in the coming years.
"The experience these guys got this year in the regular season and postseason, with our young guys, we took a huge step forward this year," Snitker said. "We hadn't won a postseason series and then we won two. We got a game away from the World Series. They're taking strides in the right direction. And we did it with our young players and the experience they got. … A lot of our young players grew up a lot in the past three months. I'm as excited as I can be about the future of this organization."
The Braves' starting pitching ultimately wasn't their Achilles heel this postseason. It was an inability to come up with that single key hit. Not much separated the Braves and Dodgers, but the latter was better with the details when it mattered most. The Braves held mid-game leads in Game 5 and Game 7. It was set up well for their bullpen. The offense, which had been so stellar for months, couldn't finish the Dodgers off.
Ultimately, that's what separates a great team from a championship one. The Braves aren't quite a championship team just yet.
One important silver lining: The Braves moved past so many of their previous playoff woes. Instead of trying to win a postseason series, they'll be trying to get over that final hump. They didn't have enough to do that this week, but moving forward with their young, talented core, they'll no longer need to hear about the horrors of the past two decades. When Freeman arrives in North Port, Florida, next February and declares "World Series or bust," it will no longer warrant sarcastic replies.
"We changed the narrative from what's gone on over the last 19 years," Freeman said. "We're looking forward to next year already."
This season was a bust, by Freeman's measure. But it was a valiant effort, a run that will be remembered in Braves history for decades moving forward, and perhaps one that's viewed as a turning point for the franchise as it continues seeking its first championship since 1995.
"We have nothing to hang our heads about,' Snitker said. "We have nothing to be ashamed of. This was an unbelievable run. It was fun. We gained a lot of unbelievable experience. You can't replicate this. These guys just went through an NLCS and were a couple runs away from going to the World Series. This is a young team that continues to grow and get battle tested. Where we've come in the last few years is amazing to me. Organizationally, with our club, they're just going to get better and better."