By Chelsea Prince, The Atlanta Journal-Constitution
(CNT) City News And Talk #atlanta-ga
North Georgia is experiencing a bit of a warming trend this week, according to Channel 2 Action News meteorologist Brad Nitz.
The projected high Monday is 76 degrees, and temperatures only get higher as the week goes on. By Thursday, Nitz said Atlanta should top out near 80 degrees before rain moving in Friday brings some cooler weather.
"Temperatures are going to remain pretty mild here for the next several days," Nitz said. "Lows in the 50s, and then 60s by midweek. Highs in the 70s."
The sky is clear Monday morning, and there should be plenty of sunshine throughout the day, he said. The city should be warmest about 4 p.m.
Tuesday's morning low is 57, which is four degrees above the average for this time of year, according to Channel 2. Temperatures should remain above average all day Tuesday, eventually peaking at a projected 77 degrees in the afternoon.
Wednesday and Thursday both could see highs of 79 degrees, according to Channel 2.
Nitz said the warmth is thanks to dry air that is dominating North Georgia's weather over the next few days.
"We're picking up some clouds midweek," he said. "Increasing moisture is going to mean a chance of showers, and a rumble of thunder is possible."
A 40% chance of showers Friday increases to 60% for Saturday, when a few embedded storms are likely, according to Channel 2. Nitz said it looks like the rain will dry up for the second half of the weekend.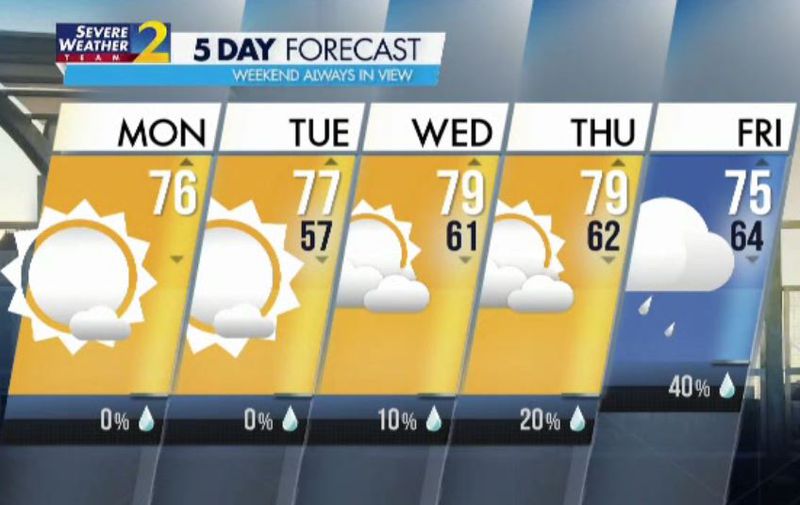 There is only one major traffic incident in metro Atlanta at 6:30 a.m., and it is headed away from town, according to the WSB 24-hour Traffic Center.
A crash on U.S. 78 East at Brockett Road was blocking two left lanes, leaving just one lane open. Commuters headed into Stone Mountain can expect pretty sizable delays, traffic reporter Mark Arum said.
Lawrenceville Highway and Memorial Drive are good alternates until the trouble clears.
"Thankfully, this is not impacting your ride on I-285," Arum said. "It's still lighter than normal as you circle the city."