By Chelsea Prince – The Atlanta Journal-Constitution
John Spink – The Atlanta Journal-Constitution
(CNT) City News And Talk #atlanta-ga
Atlanta police are investigating two separate deadly shootings across the city Tuesday morning.
In northwest Atlanta, a man was found dead about 3:30 a.m. outside a Goodwill donation center on Collier Road. Two hours later, police were called to the scene of another shooting at an apartment complex on Cleveland Avenue in the southwest corner of the city.
The first homicide victim was found by officers searching the area of the Goodwill after a 911 caller reported gunfire. He was shot multiple times, according to police.
"All we know at this point is that potentially two to three vehicles were seen leaving the parking lot of the Goodwill at the time of the gunfire," homicide unit commander Lt. Pete Malecki said from the scene.
The 911 caller, an employee at the Citgo across the street, did not provide any further description of the vehicles, he said. Investigators are hoping surveillance cameras at Goodwill and surrounding businesses will provide them with some answers.
"That will be really paramount to getting us off to a really quick start in the initial investigation in this case," Malecki said.
The victim has not yet been identified. Based on his appearance, Malecki said he is likely in his 50s.
"We are asking if there are any additional witnesses, if any citizens heard the gunfire or saw the cars leaving this parking lot, that they would call 911 or Atlanta Crime Stoppers to report that information to us," he said.
The second shooting sent officers to the Pavilion Place Apartments in the 500 block of Cleveland Avenue about 5:45 a.m. Officers at the scene confirmed to AJC.com that a woman was killed.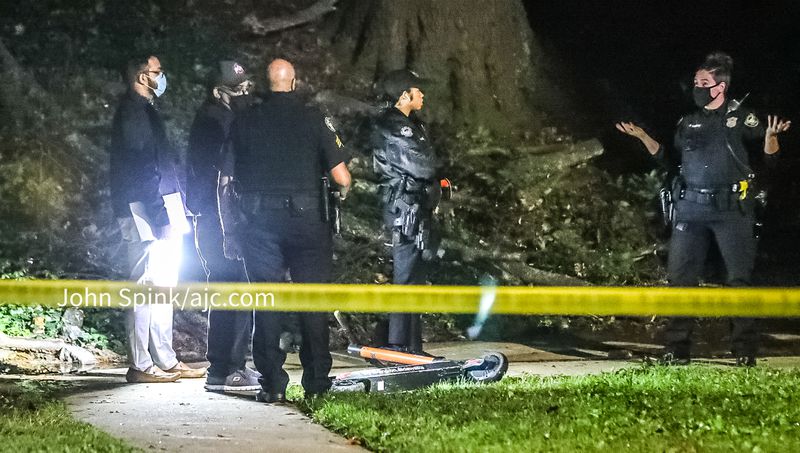 Police have not provided any other details on the second homicide. We have an Atlanta Journal-Constitution photographer on scene to learn more.
Anyone with information on either shooting is asked to contact police. Tipsters can remain anonymous, and be eligible for rewards of up to $2,000, by contacting Crime Stoppers Atlanta at 404-577-8477, texting information to 274637 or visiting the Crime Stoppers website.