Alison Steinbach Arizona Republic (CNT) City News And Talk
#phoenix-az | #chandler-az | #gilbert-az | #tempe-az | #mesa-az | #scottsdale-az | #glendale-az
Shouts, chants and jeers echo across a major Gilbert intersection on Thursday evenings.
Chants of "four more years" are met with cries of "(Expletive) Donald Trump" from across lanes of traffic. "Back the blue" resounds from a crowd waving American flags, Trump flags, pro-police thin blue line flags and the occasional Confederate flag.
"Black lives matter," the other side shouts back.
Since summer, as tensions across the country have boiled over police brutality, a historic pandemic and a looming presidential election, a nation divided has manifested itself starkly in Gilbert.
The largely white, conservative Phoenix suburb of more than 260,000 people bills itself as one of the country's safest communities and prides itself on a kind and welcoming small-town feel, although it doesn't feel like that most Thursdays at this street corner.
What began in earnest in July as weekly gatherings to show support for police escalated in the weeks following as the event started to draw more people from neighboring communities and as counterprotesters began gathering across the street. The busy intersection of Gilbert and Warner roads is just north of Gilbert's town hall and police headquarters, and a five-minute drive south of downtown.
After violent clashes between the two sides on Aug. 20, Gilbert police stationed themselves in the street between the two groups and added traffic barricades to prevent people from crossing over.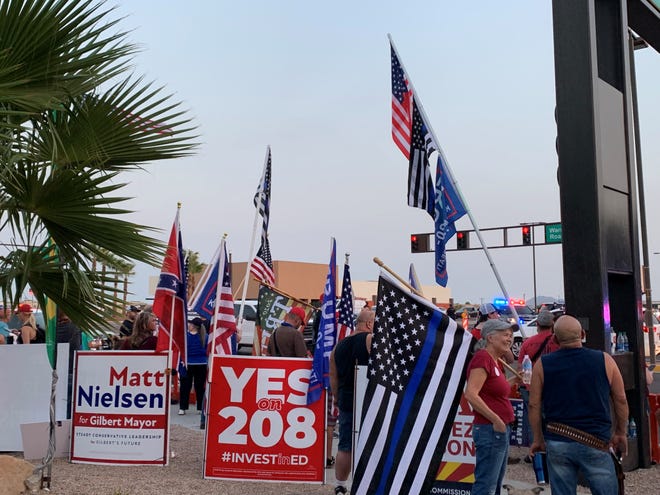 The police department already has amassed six figures' worth of expenses from the protests. But passions have not fully simmered down.
Two men on Sept. 17 burned a Trump 2020 flag on one side of the street, chanting that those across the street are racist. The dozens across the street, several with large rifles and handguns, erupted into cheers as a pickup truck passed, the driver leaning on the horn and a half-dozen Trump, American and thin blue line flags streaming from the truck bed.
On one side of the street, a sign reads "BLM-tifa not in my Gilbert." Across the street, protesters have repurposed a Trump campaign sign to read "Make racists afraid again."
There is no productive dialogue between the two sides, separated by police, just shouting and division.
But some discussion has occurred.
After George Floyd died in the custody of Minneapolis police in late May, igniting nationwide protests, Gilbert town leaders held a few listening sessions for residents and since have been discussing the next steps for policing and community dialogue.
Much of that work will fall to the next mayor, who voters will elect on Nov. 3.
The new mayor, either Brigette Peterson or Matt Nielsen, won't be seated until January. Although Nielsen has been out to the protests and Peterson has not, both said the dialogue will be important. Both also advocated for some sort of community relations board to help move the town forward.
Until then, the Thursday protests are expected to continue.
Why are people coming out?
The groups on either side of the street don't fall squarely into boxes, at least not any more after weeks of protests and fluctuations within groups.
The north side is largely police supporters, Trump supporters and proponents of an "all lives matter" viewpoint. The south side is largely people supporting the Black Lives Matter movement and calling for police reform and calling out racism, mostly a younger and more diverse crowd.
Few masks are worn on the north side.
Those on the south side almost all wear masks.
Some on the pro-police side sport MAGA hats and patriotic attire. One protester wears a Trump flag as a cape, a Confederate flag in his pocket and a thin blue line flag in his hand. Across the street, protesters are mostly dressed in black and tote Black Lives Matter flags and handmade signs.
Support for Trump is a clear dividing line between the two sides, as is the meaning of Black Lives Matter.
Darryl Cooper, a Black Gilbert resident who has been to a handful of the protests, said he believes there's an obvious difference between the two sides.
"Across the street, they're saying 'All lives matter,' but I don't think they really understand that we know that all lives matter. We're talking about police brutality against Black people. That's what this is all about," Cooper said. "Yes, all lives do matter. But specifically, think about what's going on with the police brutality against Black people."
Across the street, Mary Ann Schwartz, also from Gilbert, said there's no such thing as "Black lives matter."
"I keep seeing 'Black lives matter,' and I'm going, 'No, all lives matter.' Black, brown, yellow, purple — I don't care what color you are. All lives matter, and the unborn matter," Schwartz said.
Cienna Haley, who lives in Chandler by the Gilbert town limits, said she has found that racism is a real problem in Gilbert. She has heard people call her boyfriend the N-word multiple times in the town, she said. She hopes those across the street can realize that racism is an issue in Gilbert.
On the other side of the street, Tammy Cook is with her husband, daughter, son-in-law and two grandchildren to show their support of Trump and the police. Asked about the other side's perspective on racism, she said she doesn't think racism is an issue.
"This is America. Every color is fighting for our country," Cook said.
"I don't believe there's a racism problem because I don't know anybody that's 100% anything in our country. … What is full white? Who is not a different race at some point?" she said. "I feel like there are dirty police, I feel like there are bad white people, all races, I do, but we all matter."
Members on both sides of the street say they come out not only to speak their beliefs but to stand up to what they view as hate spewed from the other side.
People from both groups yell hateful things. Insults and F-words bounce across the street through megaphones and group chants.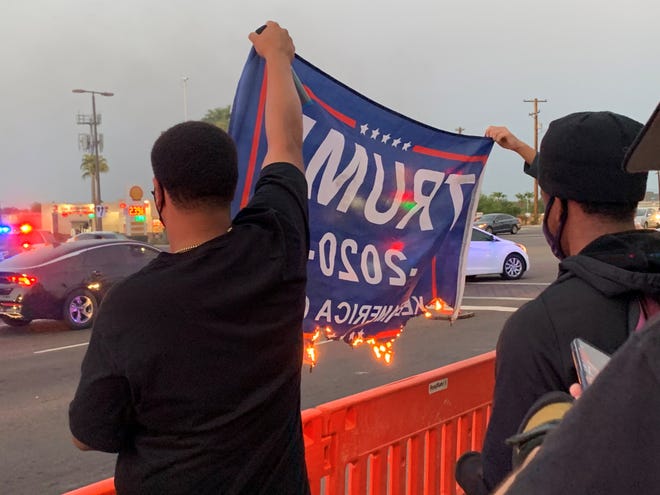 Those on the pro-police side at one point started a "Free Kyle" chant, referencing Kyle Rittenhouse, the teenager who is charged with killing two protestors in Kenosha, Wisconsin, in the wake of the police shooting of Jacob Blake. One man yelled, "Kyle did nothing wrong."
A group on the Black Lives Matter side launched into chanting, "If you're racist and you know it, clap your hands." Curse words flew across the street.
Gabe Telepak, a Gilbert father of three, said he's attended Black Lives Matter protests to stand up to racism. When his kids learn about these social movements and ask what he did, they'll know he acted, he said. He said he brought his 3-year-old son to Gilbert and Warner so he could see firsthand people protesting racism.
Dorian Jared said he comes out to support Trump. Those across the street "don't know the truth" and are "trying to tear the country down and divide us," he said. Jared believes Trump is leading the country in the right direction and said the president will make sure Black lives (and all lives) continue to matter as he has in his first term.
People say they gather on Thursdays not necessarily for Gilbert or for Gilbert-specific issues but to take part in national conversations.
A handful of those on the north side of the street say they're there just to support the police and the president; not to protest or ask anything of the town.
Several on the south side of the street say they come out to protest what they see as racism across the street and police brutality nationwide and to send a message that they want more support and action from the town.
Town's response
The Gilbert Police Department had spent more than $200,000 related to the weekly protests as of mid-October, according to the town.
With the exception of a few Thursdays when Chandler and Mesa police assisted, Gilbert spends about $32,000 per week for protest-related expenses, primarily personnel costs, according to the town.
Police officers and SUVs fan out across the intersection, with additional officers driving around the area and biking around the parking lot where many protesters park.
Other than the occasional public statement on social media, town politicians and employees have largely stayed quiet. The Town Council has talked some about longer-term ways to boost community relations but with little urgency.
Police Chief Michael Soelberg met with organizers from both sides on Aug. 25 and Aug. 26, days after the previous gathering grew physical.
The chief explained the police role at the gatherings and the security measures to keep protesters safe and to encourage constructive dialogue between the groups going forward, according to the town.
Gilbert in June held "listening space" sessions for residents to share experiences and feedback related to racism, police reform and inclusion. Gilbert police and other town employees, elected officials and school district representatives heard feedback on what the town could do to improve policing and community relations.
A common refrain from residents was the request for a review of policing policies to see where reform may be needed. There were calls for community oversight of police, diversity and increased transparency within the department, non-police interventions like counselors or social workers and updated policies about when police use force and must wear body cameras. Residents also asked police to better monitor white supremacy and hate group or gang activity.
The police department already is working on a number of these efforts, according to the town, such as publishing call and arrest data, having officers assigned to keep track of any possible hate groups or gangs and routinely reviewing the use of force policies. Community oversight of police is an ongoing discussion, according to the town.
As for the town, residents asked for more inclusion and cultural events, an external review board for police and more town action when issues are raised, among other requests. For school districts, residents wanted more public forums and a more diverse curriculum and school experience.
The town has not acted on the feedback from residents yet, but there may be more listening sessions.
"We need to pick the listening sessions back up and finish the job of reaching out to all areas of the community to listen to them, hear their stories, hear their concerns and their needs," Town Manager Patrick Banger told The Arizona Republic.
Some residents showed up at council meetings in September to tell town leaders the listening sessions were not effective and the town needed to do more, as made clear by the recurring protests.
Several younger speakers berated the council for not issuing a statement condemning racism and white supremacy in the town.
The council also heard from Jennifer Harrison, leader of AZ Patriots, who said those asking for a response from the town were just "emotional children" who "think everything is racist" and can't handle speech they don't agree with. AZ Patriots is a far-right group Harrison and others formed as a spinoff from Patriot Movement AZ.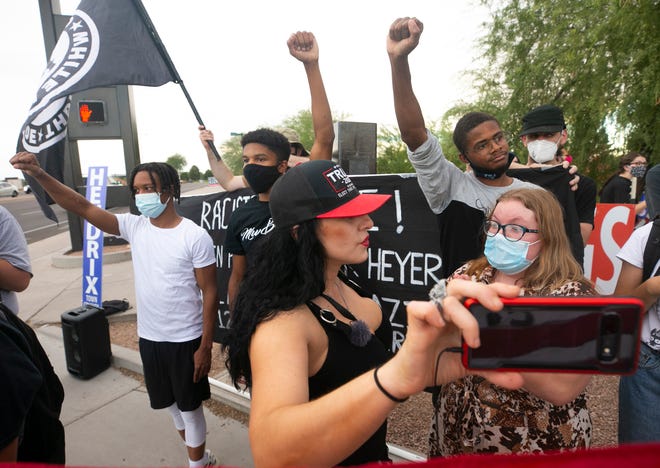 "We don't let them dictate who we are and what we can say or do. Just because they call us 'white nationalist Nazis' doesn't make it so, doesn't make it a fact," Harrison told the council. "Just because we're white, we're not 'white supremacists.' Just because we don't support their BLM-Marxist bullcrap doesn't make us white supremacists. So get over it, kids."
Gilbert resident MirandaRae Stusen addressed the council after Harrison.
"I'm very uncomfortable with the fact that my neighbors, who happen to be people of color, no longer feel safe in a town that claims to be one of the safest towns in the nation. The fact that white nationalists are able to threaten my life and others online because we believe that no matter a person's religion or ethnicity, they should never have to worry about being shot in their own hometown," she said. "I want a plan of action for this racism and for this to be a priority for the Town Council."
Two days later, interim mayor Scott Anderson issued a statement condemning racism and saying the town was working on ways to create dialogue and "a path forward for Gilbert."
One path may be creating a community relations committee, a reincarnation of the Human Relations Commission that was dissolved a few years back. That town commission was founded in 2001 to address social issues in the aftermath of the "Devil Dogs," a white supremacist teenage gang in Gilbert. Anderson said he's getting the ball rolling on a new committee, but most will be up to the next mayor.
Banger said as far as the protests, the town's role has been making sure everyone stays safe. Beyond that, residents can come and have a dialogue once listening sessions start back up.
Anderson said he's had to remind many who contact him that all people have a right to express their opinions.
"I get a lot of emails from both sides of those groups that are out there on Thursdays wanting me to somehow shut down the other side. One of the greatest things about this country is that both sides have the opportunity to express themselves, and that's what we want to emphasize," he said.
"Let's not have the violence, but please feel free to express yourself. We've had people come to council meetings and express themselves. We want to listen to what they have to say."
While several at Gilbert and Warner said the two sides may be too divided to come together and talk, others were somewhat more hopeful.
Ryley Meyers, who wore a Black Lives Matter hat and waved a large Black Lives Matter flag, said he's been coming weekly but that the setup means there is no discussion.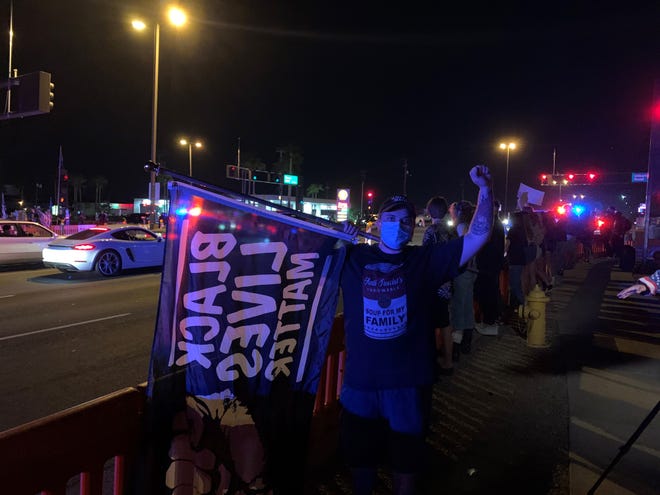 "It's just this: screaming at each other and insults," he said. "Literally anything would be more helpful than this. Trying to find a middle ground would be helpful, but I feel like America's just become so polarized, we can't do that anymore. There's no more discussion. We don't talk to each other anymore — we talk at each other, we yell at each other."
The town could be meeting with protesters and bringing everyone to the table for a discussion, Meyers said.
Meyers is eager for police reform. He became interested in the Black Lives Matter movement and policing issues after his friend, Kayden Clarke, was fatally shot by Mesa police during a welfare check at his home. Meyers said that his friend might still be alive had a mental health expert been present.
What would Gilbert's next mayor do?
When Gilbert's next mayor takes office in January, even if the weekly protests have quieted, the city's new leader will inherit the issues raised by protesters.
Mayoral candidate Matt Nielsen has been to the pro-police side of the intersection on three Thursdays, while his opponent Brigette Peterson has never gone because she said officers do not need any extra people walking around to see what's going on.
Nielsen said he never went to the south side of the intersection because he didn't want to walk across the street and possibly appear confrontational.
Although Nielsen has only visited with those on the pro-police side of the street, he said as mayor he'd meet with members from both sides to hear what they're trying to communicate and work to keep the gatherings respectful and neighborly. More open communication can lead to increased understanding and respect rather than increased violence and discord, he said.
"On the whole, these are good people. They just want to be heard," Nielsen said when asked about the protests at a mayoral debate hosted by The Republic earlier this month. "People want to be heard and listened to and feel heard."
Peterson couldn't answer what she would do as mayor because she doesn't have all the facts and data she would have if she were mayor. She said she's been told by people who have been at the rallies that most of the protesters aren't from Gilbert, which may make it hard to say Gilbert residents need to come together in response.
"We definitely need to be open to listen to everybody," Peterson said, adding that she believes Soelberg from the police department has done a great job of having productive conversations with people on both sides of the street.
Asked in the mayoral debate about the push for greater police accountability and whether Gilbert had room to improve, neither candidate proposed changes.
Peterson said the public safety training facility, which is currently under construction, will help with regular training for police officers. While everyone has room to improve, she said she's proud of Gilbert's police department.
"I've talked to many of our police officers and I've been with them on several ride alongs over the years, and I have never encountered a situation with a police officer that I ever felt uncomfortable with or the way that they've treated a member of our public," she said. "And I haven't had the public complaining to me about that in my five years on the Town Council, either."
Nielsen said officers have done a great job at Gilbert and Warner and added that he's in full support of first responders and police.
"We have a really good staff at the police department. Who knows, it doesn't take much for a spark to be lit and for things to get out of control quickly, of course, none of us hope for that and we'll work to prevent that," Nielsen said.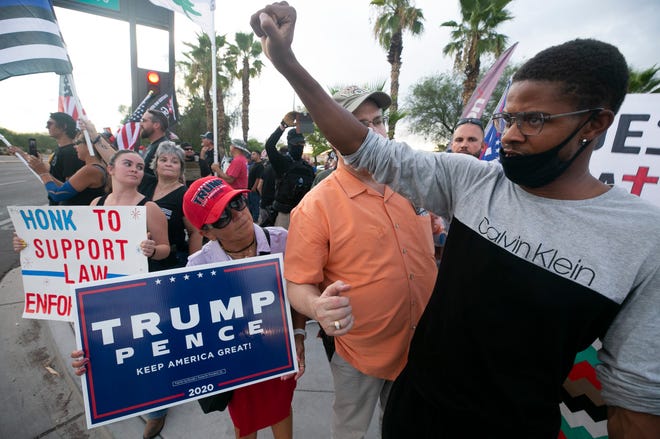 Nielsen and Peterson both said Gilbert can do more moving forward to build a strong, inclusive community.
Peterson said she is eager for the town to form a community relations committee with representation from all interested groups and organizations. She's been pushing for this with councilmembers to show the community that the town is listening and wants to keep moving forward from the listening space sessions.
Peterson said she'd like such a committee to hear from Gilbert's Black and LGBTQ communities as well as local high school students to understand issues they're facing.
Peterson said she's disappointed by how much these weekly rallies have cost the town. She said police officers are "really exhausted" and said the money could have otherwise been used elsewhere.
"The funds are being spent to protect the public and I totally agree with that — we have to protect the public. But if these rallies weren't happening, what could we have done with those funds? Could we have started a community relations board? Could the funds be going to some sort of a bigger listening space type of event or to make materials to use around town to get the word out? I guess the possibilities are endless."
While campaigning, Nielsen said he formed a community relations advisory committee and would continue that as mayor as a way to talk about issues like inclusion and respect and to build relationships between groups of people.
"We have a fairly good track record here in the town of neighborliness and kindness, we just need to make sure that we don't lose that in this difficult time," he said. "We don't want to be the next Kenosha or Milwaukee. We are better than that, we can do better than that, but that is going to require all of us in the town as residents, individuals being kind and being neighborly."