By Chelsea Prince, The Atlanta Journal-Constitution
(CNT) City News And Talk #atlanta-ga
Tuesday will be another opportunity for sunshine, clear skies and above-average temperatures, according to Channel 2 Action News.
In fact, North Georgia is likely to enjoy a few more days of this mild weather. Temperatures in the upper 70s and sunshine are in the forecast through Thursday.
"Beautiful weather the next couple of days, but rain chances are increasing late this week," Channel 2 meteorologist Brad Nitz said.
By 4 p.m. Tuesday, Nitz said Atlanta should reach a high of 77, which is five degrees above average for this time of year. Dry air in place across North Georgia will mean mostly sunny conditions, he said.
There are no weather concerns for the Tuesday morning commute.
"Towards daybreak, a little patchy fog could develop," Nitz said. "I don't expect that will be a problem, and sunshine delays (are) the only potential weather impact this afternoon. The bottom line is the weather is pretty quiet."
Increasing moisture could bring more clouds and scattered showers Friday, with the addition of scattered thunderstorms Saturday. With a 40% chance of rain, Nitz said Saturday won't be a total washout. The wet weather should clear out in time for a dry Sunday, he said.
Even with the rain, above-average temperatures persist. Saturday's projected high is 76 degrees, and Atlanta should get back to 77 on Sunday, according to Channel 2.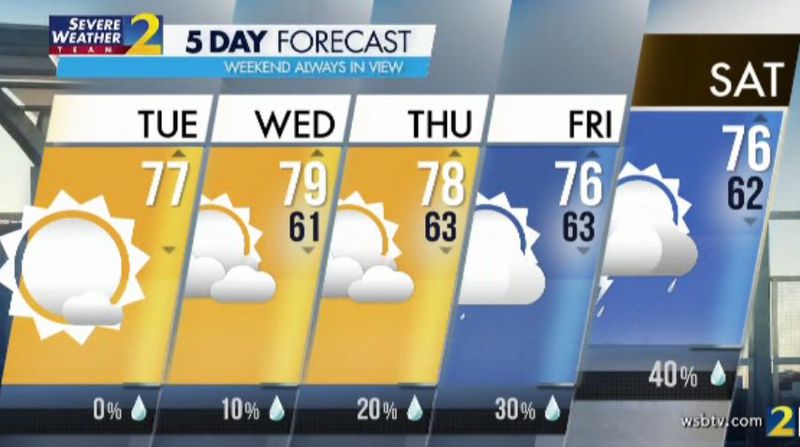 Weather may not be a concern for the morning drive, but a crash on Ga. 400 is causing some early trouble for North Fulton commuters.
The rollover wreck is blocking multiple lanes of Ga. 400 North past the Chattahoochee River, according to the WSB 24-hour Traffic Center.
"It is causing big backups through sandy springs into Roswell," traffic reporter Mark Arum said.
Drivers can take Alpharetta Highway until the delays clear, he said.