By Chelsea Prince, The Atlanta Journal-Constitution
(CNT) City News And Talk #atlanta-ga
Although the official start to winter is still two months away, some northern states are getting an early jump with bands of snow.
Not Georgia. Temperatures remain above average, with Atlanta expected to reach a high of 78 degrees Wednesday afternoon. Rain eludes the forecast for another day, according to Channel 2 Action News.
Channel 2 meteorologist Brad Nitz said warmer and drier weather is in the forecast all winter long. A La Nina pattern in the Pacific Ocean will impact the overall trend of Georgia's weather in December, January and February, he said.
"Warmer and drier than average, but let me really emphasize this one point: That is over the entire three-month month period," Nitz said. "There will be some cold days and cold stretches, and there can be even snow and ice in warm and dry winters."
With 61 days to go until the winter solstice, Nitz said Georgia has some time to enjoy fall.
"For all of us today, it's going to be a nice day," he said. "We're in the upper 50s to low 60s now, climbing through the 70s this afternoon."
High pressure centered over the Atlantic Ocean has been keeping North Georgia dry and reduced the number of clouds. Nitz said moisture from the Gulf of Mexico will begin increasing Friday, allowing for a small chance of showers.
Rain is 30% likely Friday and Saturday before the chance drops back to 10% Sunday, according to Channel 2.
"We'll have some scattered showers," Nitz said. "A few thunderstorms are possible on Saturday as well, but not a rainout on Saturday, and I expect we're going to dry out on Sunday."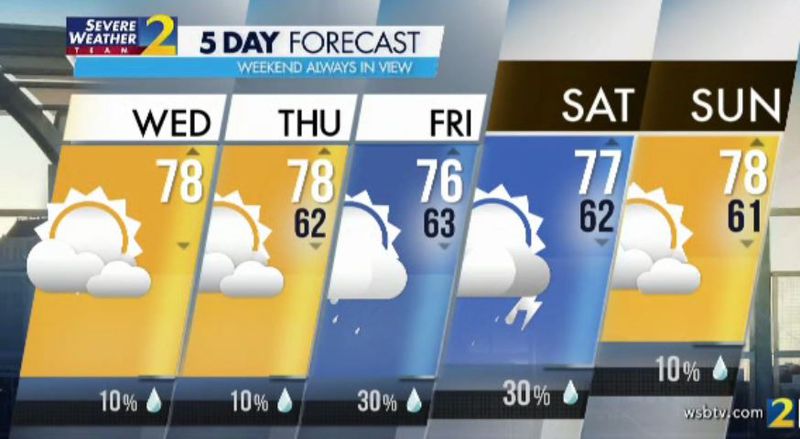 Although volume is increasing, there are no major problems on metro Atlanta interstates Wednesday morning, according to the WSB 24-hour Traffic Center.
"Lighter than normal conditions metrowide, including I-285," traffic reporter Mark Arum said.
The ideal conditions continue on Ga. 400, where there are no early southbound delays, he said. Headed north, a busy ramp from I-85 South to Ga. 400 has reopened in time for the morning commute.