By Chelsea Prince, The Atlanta Journal-Constitution
(CNT) City News And Talk #atlanta-ga
Fall in North Georgia typically comes with an impressive display of color, but leaves have been slow to turn this year.
Channel 2 Action News meteorologist Brad Nitz said recent above-average temperatures are delaying peak fall color. On Thursday, Atlanta is expected to reach a high of 80 degrees, which is nearly 10 degrees above what is typical this time of year.
"Colors are starting to pop out a little more now, but the forests are still overall mostly green," Nitz said. "What we really need are some cooler temperatures for these colors to peak."
North Georgia is not likely to turn cooler any time soon, he said. Thursday should be the warmest in the five-day forecast, but temperatures in the upper 70s will carry metro Atlanta into early next week.
Earlier in the season, Channel 2 meteorologists predicted that Atlanta would reach peak color around Halloween. But Nitz expects warmer weather to continue over the next 10 days, well past any pumpkin carving or candy gorging.
"It's going to take a while before we get to the peak," he said.
With the warmth also comes sunshine and mostly dry conditions Thursday, according to Channel 2. High pressure has been dominating the weather with dry air, but it is slowly moving toward the north and east.
"It will be replaced with more humidity, more moisture coming up from the Gulf of Mexico," Nitz said. "We'll see more cloud cover and a little bit better rain chances Friday night."'
Nitz is calling for a 20% chance of rain Friday, but he expects most showers to move through late in the evening. Saturday's chance of a shower or even thunderstorm is better at 40%, he said, but it will not be a rainout.
"We'll have the chance of a few showers any time during the day on Saturday," he said. "Better rain chances as we head from late afternoon into the evening hours, and then mainly dry on Sunday."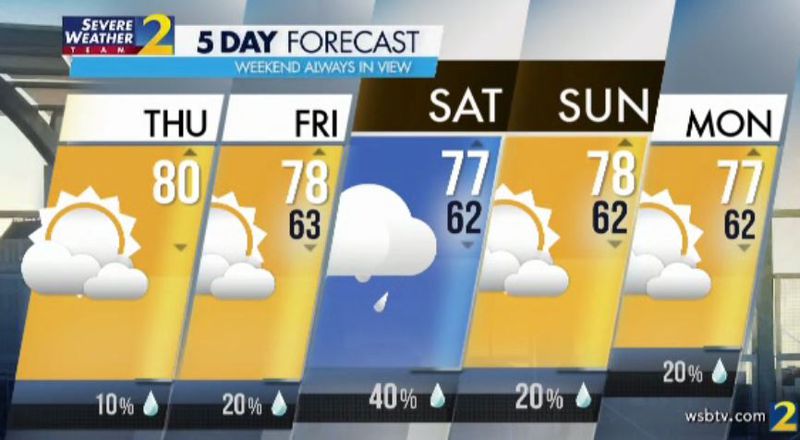 With dry pavement, there are no traffic delays Thursday morning, according to the WSB 24-hour Traffic Center. Some patchy fog could develop before daybreak, but Nitz does not expect it to cause any problems.
Traffic is "light and easy of out Cobb County" on I-75 South, traffic reporter Mark Arum said at 6 a.m. Volume is expected to increase throughout the morning drive.
"It will be a little different this afternoon," Arum said. "You can expect the heaviest delays at the North Marietta Parkway (loop) on I-75 North."
He expects traffic to slow to 40 mph leaving Windy Hill Road this afternoon. For the morning drive, the trip time on I-75 at 6 a.m. is 11 minutes from Wade Green Road to I-285, according to the Traffic Center.