By Chelsea Prince, The Atlanta Journal-Constitution
(CNT) City News And Talk #atlanta-ga
Those holding out for chilly fall weather will have to wait a little longer.
Friday will be "T-shirt and shorts weather," Channel 2 Action News meteorologist Brian Monahan said. Temperatures are in the low 60s to begin the day, and Monahan said metro Atlanta will make it to the low 80s by the afternoon.
Average temperatures would typically fall somewhere between the 50s and 70s. Instead, Monahan said it feels more like September outside, and that late summer feel will continue through next week.
"Late October is usually one of those times of year that can go either way," he said. "Sometimes you get a warm late October, sometimes you get that first real blast of cold air. This year it is a warm late October."
Even Friday evening will be warm. According to Channel 2, most neighborhoods will still be in the mid-70s at football kickoff time. By halftime, Monahan expects only slight cooling with temperatures in the low 70s.
Friday will be mainly dry, but it will not stay that way through the weekend, the news station reported. The next weather system arrives tonight, bringing a chance of rain.
"A cold front is going to come in from the north, and by tomorrow morning we're going to start out mostly cloudy," Monahan said. "There's going to be a few showers around early on Saturday morning. While Saturday is not going to be a washout, it's definitely going to be the wettest day of the week."
Moisture from the Gulf of Mexico will create the right conditions for a 40% chance of rain, he said. Showers are most likely late in the afternoon.
Cooler weather will also move in Saturday with the rain and clouds, but don't expect too much change. The projected high Saturday is still an above-average 77 degrees, according to Channel 2.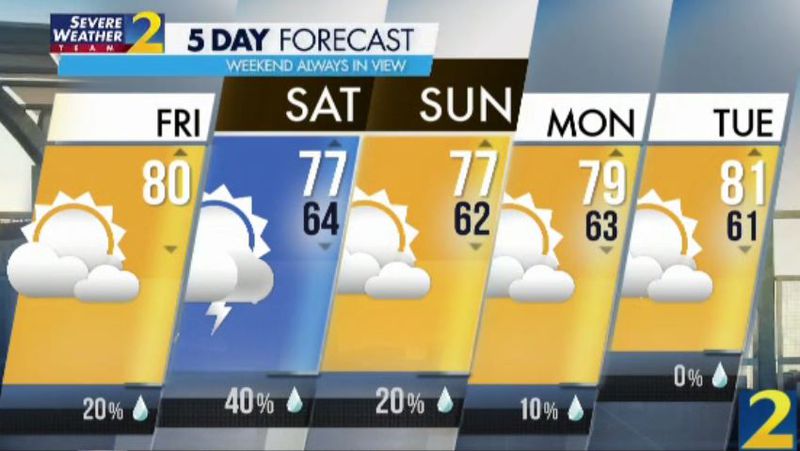 No major traffic problems are plaguing the early Friday morning drive, according to the WSB 24-hour Traffic Center. There are no shutdowns or major backups on Atlanta interstates at 6 a.m.
In Cobb County, commuters may experience a slight hiccup on Paper Mill Road. A crash took out a power pole, blocking the road at Atlanta Country Club Drive, authorities said.