Rebekah L. Sanders Arizona Republic
(CNT) City News And Talk
#gilbert-az | #chandler-az | #tempe-az | #mesa-az | #scottsdale-az | #phoenix-az | #glendale-az | #peoria-az
Every time Mesa grandmother Linda Jones takes a shower, washes dishes or flushes the toilet, she hears the sound of money going down the drain. And for the next 24 hours, she won't use the water again.
Because with every twist of a faucet, the driveway in front of Jones' rented townhouse floods and her water bill balloons from a broken pipe her landlord has refused to fix, Jones said.
Jones now owes more than $2,000 to the Mesa water department because of the leak that has flowed underground for nearly two months, if not more, she said.
To save water, Jones' grown son who lives with her sometimes urinates in the backyard, she said. When Jones' granddaughter comes to visit, they explain she can only flush once a day and give her bottled water to drink.
Arizona law requires landlords to maintain plumbing systems and provide running water to tenants. If they refuse, tenants can sue for damages, deduct rent and other remedies, as long as the tenant notifies the landlord of the problem and hasn't caused the damage out of negligence.
Jones said she's given up on her landlord making the repairs and wants desperately to move. But without funds to pay the water bill and now a dispute over the security deposit, Jones said she can't afford to go.
"I am stuck in the middle of a mess. An absolute mess," said Jones, 53, starting to cry. "I never thought something like this would happen to me and my family. … I don't know what I'm going to do."
'Everywhere I turn is a brick wall'
Jones tried to get assistance from a legal aid group that helps low-income people but was rejected because of the $40,000 salary she earns as general manager for a company that provides transportation for children and vulnerable adults. Attorneys she contacted charged more than she could pay.
Jones reached out to The Arizona Republic's #HereToHelpAZ program for help.
"Everywhere I turn is a brick wall," Jones said. "I've been throwing up, I'm not sleeping, I'm barely making it at work because I've never had to deal with anything like this before."
Jones' landlord, Sylvie Nguyen Ly of Infy Superior LLC, told The Republic her tenant is to blame.
Property records show Nguyen and her company own three rentals, a tire shop and a luxury home in a gated Mesa community.
Nguyen said Jones may have caused the leak underneath the pavement and accused her of preventing plumbers from doing repairs by yelling, threatening and chasing them, which Jones denies.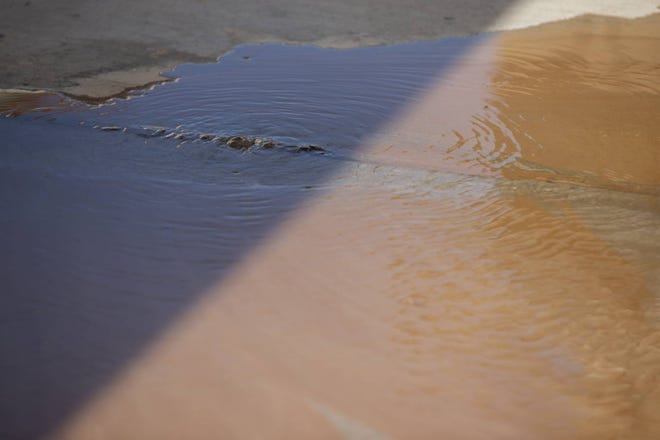 "She made a big scene," Nguyen said. "I cannot be asked to accept that. It's for my safety. I can't be there. I send my men there, and my men also get rejected."
Nguyen said she terminated Jones' lease so the plumbers can start work when she's gone.
"We need to investigate the unit. We need to go in there and find out what is going on. Why is the water bill so high?" Nguyen said. "I'm waiting so we can start doing our thing."
Problems with townhome add up
The water leak is just one problem Jones has encountered since rushing into the Mesa townhome lease in September, she said. Jones had to quickly find a place after the single-family home she had rented for eight years was sold, she said.
Soon after moving in, Jones said she found food stuck to the floor, lights that wouldn't work and mail keys that weren't provided. The stove, air-conditioning and electrical outlets all needed repairs, Jones said, while at one point her toilets backed up and her bathtubs filled with sewage.
Then came the shock of the water bill.
A city employee alerted her to the leak Oct. 1 after a routine check of the water meter.
The reading showed Jones had used 201,000 gallons in a month, or almost 45 times as much as the average Mesa household, according to the water bill and city estimates.
The cost: $1,442, compared with a normal amount of roughly $100, Jones said.
When Jones checked around the perimeter of the complex, she noticed the soil was moist, she said. Soon, water started bubbling through the cracks in the carport, photos show.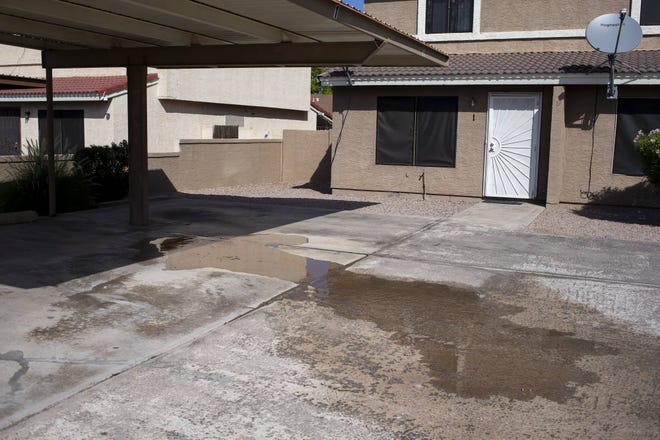 Jones asked the city to close the mainline and alerted the landlord.
"We had to shut the water off. It was running 8 gallons a minute," Jones texted Ly. "City of Mesa said that there could be flooding."
Jones said a water department employee told her the property's usage was high before she moved in, indicating the leak may have preceded her arrival. Ly told The Republic there were no previous high bills.
Later, Jones asked Bob Clark, her former landlord and a real estate agent knowledgeable about plumbing, to inspect the property, she said. Clark warned of a sinkhole potentially forming underneath the concrete pad where vehicles were parked and even texted Ly about the concern on Jones' behalf.
Trading blame for the leak
Ly sent two plumbers over three days to figure out the leak, texts between Jones and the landlord show. One plumber couldn't fix the pipe because it wasn't covered under the home warranty. The other provided a quote, Jones said.
The second plumber couldn't do his job, according to Ly, because Jones intimidated her and the plumber into leaving.
Jones disputed that account. Jones said she was on the phone with her former landlord, Clark, who recommended calling police for assistance if needed. Clark earlier had texted Ly that he planned to call 911 about the potential sinkhole.
Jones said she didn't report Ly to police but that her landlord heard Jones' conversation with Clark, interpreted it as a threat and drove away. The plumber finished his inspection and sent a quote to Ly, Jones said.
The tenant and landlord argued by text over what to do.
Jones said Ly should be responsible for paying the water bill and repairing the leak, the texts show.
"According to the law, everything outside the walls is your responsibility," Jones said. "You cannot leave a family without water. That's a home that is not livable."
Ly wrote that Jones must have caused the leak and should be responsible for the damages.
"Someone did something to cause this. …This is not an old building," Ly texted. "We didn't have any problem with any of the previous tenants."
Ly told Jones that the townhome was only 20 years old. Maricopa County assessor records show the dwelling is 34 years old.
Jones denied doing anything to trigger the break.
"Nothing causes it except old pipes," Jones said. "It has nothing to do with me."
Stuck, but desperate to move
Jones told the landlord she wanted to move out.
"Give me my $2,625.20 (security deposit) back and I'll pay rent for October and I will move out," Jones texted.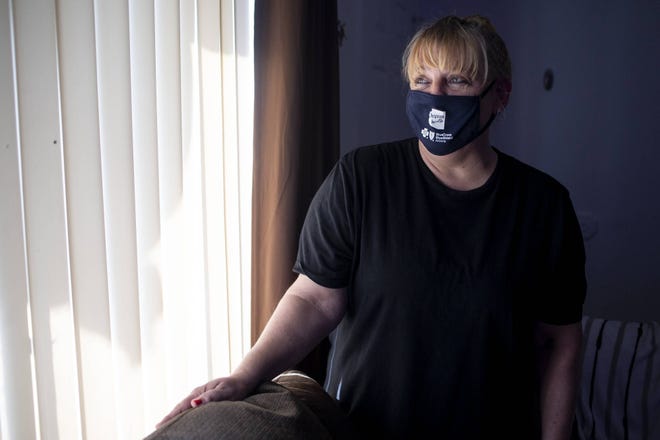 Ly said she would terminate the contract and return the deposit if the property was returned "in the same condition," adding "you will have to be responsible with whatever damage you caused."
The landlord sent Jones a notice of lease termination Oct. 3, giving the tenant less than three weeks to move. Oct. 20 Ly wrote that she would return the full security deposit four weeks after Jones moved out.
Arizona law requires a shorter timeframe. Landlords must return a security deposit, minus deductions for cleaning and repairs, within 14 business days after the tenant has moved out and requested the money, according to state statutes.
When asked about the law, Ly told The Republic she could send the deposit more quickly.
"We're not going to hold off anything," Ly said.
Clock ticking, leak still not fixed
On a recent morning, the leak was still running.
Jones uses a steel tool before work to turn on the water main and quickly shower and flush the toilets before turning the water off again for the day. Each time, a stream seeps out of the driveway and flows down the street.
The daily ritual has racked up an additional $500 in water charges from the city of Mesa, Jones said.
Now it's past the date the landlord asked her to leave, and Jones doesn't know how to do so.
Jones can't afford to pay more than $2,000 in water bills all at once, she said. And Mesa's water department won't work with her on a payment plan until the landlord fixes the pipe, a city spokesperson confirmed.
With an overdue bill, Jones can't get utilities turned on anywhere else in the city, she said, so she might have to move farther from her and her son's jobs, as well as her granddaughter.
"The only option is to find an apartment that doesn't take a lot of money to move into, which means I can't afford a three-bedroom apartment," Jones said. "I don't know what I'm going to do with my granddaughter. I guess we'll put her in a corner."
Jones received help from Arizona Tenants Advocates and paid $100 to a process server to start taking legal action this week, she said. She must give paperwork to the landlord demanding the leak be fixed before taking Ly to court, Jones said.
On Wednesday, the process server knocked for 10 minutes at Ly's house, which had lights on, and received no answer, Jones said. He'll try again soon.
Jones hopes the lawsuit can resolve the water bills and potentially win damages so she can afford to find a new place.
"I used everything I had to move here," Jones said. "One and a half months in, I had no idea I'd have to do it all over again."
What are your tenant rights?
Arizona law requires that landlords do the following:
Meet the requirements of local building and health codes for the condition of your home.
Make repairs necessary to keep the home in a fit and livable condition.
Keep shared areas, such as hallways and playgrounds, clean and in a safe condition.
Keep all electrical, plumbing, sanitary, heating, ventilating, air conditioning and other facilities and appliances that are supplied by the landlord in safe and working order.
Provide and maintain trash containers and trash removal.
Supply running water and reasonable amounts of hot water, heating and air conditioning/cooling, unless the services are exclusively controlled by you and supplied by a direct public utility connection.
Exception: For some services, the landlord can make a good-faith written agreement for you to be responsible for specific repairs and maintenance duties. The agreement must include that you get some kind of compensation, such as reduced rent. However, the landlord cannot make such an agreement to avoid the obligation of meeting building and health codes or making repairs necessary to keep the home in a fit and livable condition.
What should you do if your rental is not livable?
If the landlord fails to provide, or shuts off, running water, gas, electricity or air conditioning, here's what you should do:
First, talk to your landlord to try to resolve the issue.
If the landlord does nothing to fix the problem, you may give the landlord written notice that demands a remedy within 10 days, or five days if the issue involves serious health and safety matters such as electrical problems or outside doors that do not lock.
If the landlord still does nothing, you may terminate the lease and move out.
If you cannot move out, you can:
Subtract the cost of obtaining reasonable services from the next rent payment. For example, if you have to buy water because there is no running water, save your receipts and subtract the cost of the water from the next rent payment.
Sue the landlord to demand restoration of the services and reimbursement of the rental value during the time you waited for repairs.
Temporarily move out until the landlord makes the necessary repairs. You may then deduct rent for the time you did not live in your home.
If the issue requires a repair that will cost less than $300, or an amount up to one-half your monthly rent, you may hire a licensed contractor to make the repair at the landlord's expense. You must notify the landlord of your intention to hire a contractor. After the repair, you must notify the landlord that the repairs are complete and provide an itemized receipt, a waiver of lien from the contractor and a notice that you will subtract the cost of the repairs from the next month's rent.
Exception: If you, a family member or one of your guests causes damage, you must talk to the landlord about how to remedy the situation. If you are at fault, you may be responsible for the full cost of repairs.
More tips
Keep copies of all written notices, receipts and documents that you give to, and receive from, the landlord.
It is best to send all written notices by certified mail, return receipt requested, in case you later have to prove in court that you sent a timely notice.
Read more: Go to www.azag.gov/civil-rights/fair-housing/resources and click on "Tenant's Rights and Responsibilities Handbook."