By Zachary Hansen, The Atlanta Journal-Constitution
(CNT) City News And Talk #atlanta-ga
As of Thursday, the number of ballots cast in DeKalb County's early voting period surpassed the total number of early votes cast during the 2016 presidential election.
Between Monday, Oct. 12 and Thursday, Oct. 22, the county recorded 121,670 votes across its dozen early voting locations, according to data provided by the county. Officials have also received 85,623 absentee ballots, bringing the total to more than 207,000 votes.
That's a record number for DeKalb, surpassing 2016′s total early vote and absentee ballot count of 193,115.
DeKalb is not alone, with many other counties seeing record turnout. Gwinnett County, for example, topped its 2016 early voting total during the first week of early voting this year.
More than 64,000 absentee ballots have yet to be cast in DeKalb, data shows. Voters who received an absentee ballot but changed their mind and wish to vote in-person are asked to bring their absentee ballot to an early voting location, which will drastically speed up the process, county election officials recommend.
Early voting lasts until Oct. 30, and all of DeKalb's locations will be open from 7 a.m. to 7 p.m. during the week; from 9 a.m. to 6 p.m. on Saturdays; and noon to 6 p.m. on Sundays. Election Day is Nov. 3.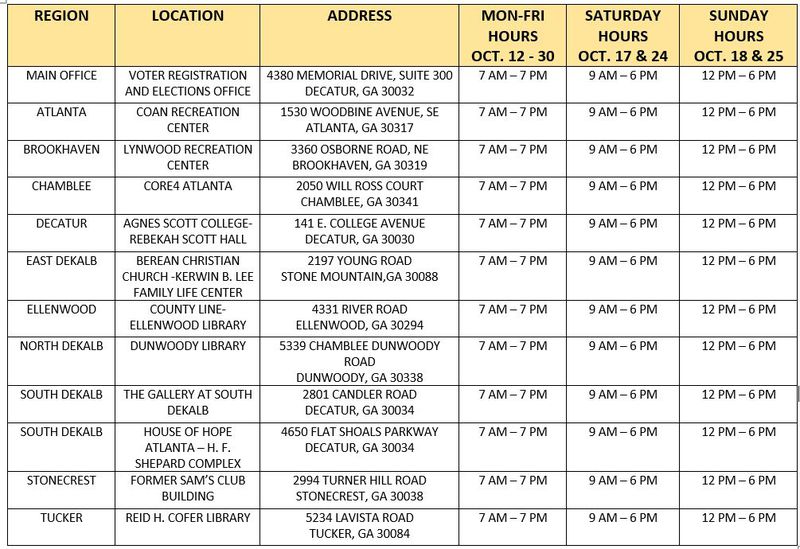 Advance in-person votes cast per day in DeKalb County:
• Monday, Oct. 12: 15,914
• Tuesday, Oct. 13: 12,888
• Wednesday, Oct. 14: 13,202
• Thursday, Oct. 15: 13,196
• Friday, Oct. 16: 13,655
• Saturday, Oct. 17: 6,997
• Sunday, Oct. 18: 4,856
• Monday, Oct. 19: 11,069
• Tuesday, Oct. 20: 10,534
• Wednesday, Oct. 21: 10,305
• Thursday, Oct. 22: 9,054
Advance in-person votes cast in the first week of early voting in DeKalb County by polling place:
• Agnes Scott College: 10,469
• Berean Christian Family Life Center: 9,464
• Coan Recreation Center: 8,994
• CORE4 Atlanta: 9,437
• County Line-Ellenwood Library: 5,508
• Dunwoody Library: 10,443
• Former Sam's Club in Stonecrest: 13,202
• The Gallery at South DeKalb: 9,766
• House of Hope Atlanta: 4,321
• Lynwood Recreation Center: 8,789
• Reid H. Cofer Library: 12,889
• Voter Registration and Elections Office (Memorial Drive): 18,388