By Tanni Deb, The Atlanta Journal-Constitution
(CNT) City News And Talk #atlanta-ga
A cold front will move into Georgia early Saturday morning and bring with it some scattered rain, according to Channel 2 Action News chief meteorologist Glenn Burns.
Showers should start making their way across the Alabama state line around 5 a.m., Channel 2 reported. There will be pretty good rain coverage across the state and possibly even a rumble of thunder.
"Nothing in the way of severe weather, and looks like the good rain chances will continue into the afternoon," Burns said.
About a half-inch to an inch of rain is possible Saturday, but only a few sprinkles will hang around early Sunday morning, according to the forecast. That day will be much drier, Burns said, with rain disappearing by 3 p.m. in metro Atlanta.
Temperatures will reach a high of 77 degrees both days, Burns said.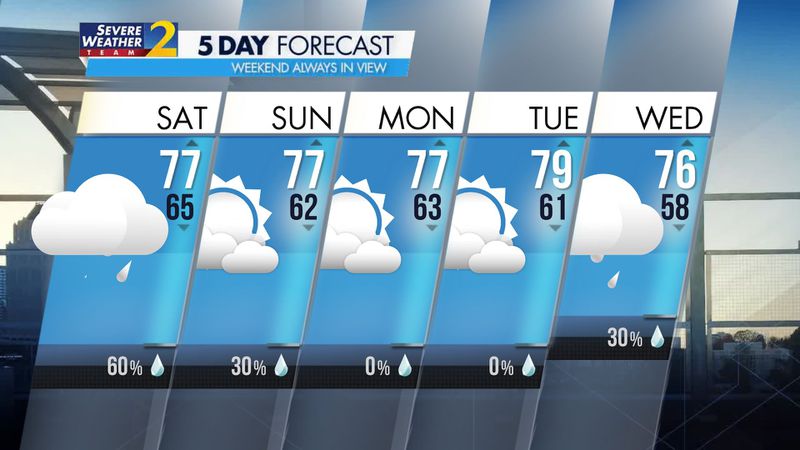 Downtown traffic may be heavy this weekend as the Big Night Outthree-day concert continues at Centennial Olympic Park. Drivers should also plan ahead if they're heading to Alpharetta, where the Yacht Rock Revue will perform in the "Live From The Drive-In" series at Ameris Bank Amphitheatre.
Weather permitting, the Georgia Department of Transportation has several road projects planned this weekend. Rolling lane closures on Ga. 400 northbound near Loridans Drive are expected to have a major impact on traffic from 8 a.m. until 5:30 p.m. Saturday, GDOT said.
Construction along I-285 near South Cobb Drive is expected to cause moderate delays between 7 a.m. and 9 p.m. Saturday, GDOT said. The right exit lane will be closed during the roadwork.
All entrance lanes will be closed during construction along I-285 West near Glenridge Road starting at 6 a.m. Saturday. GDOT said the roadwork will have a major impact on traffic, but the construction is expected to clear by 7 p.m.