Tirion Morris Arizona Republic
(CNT) City News And Talk #arizona
Since March the glow of neon signs at metro Phoenix bars has been an inconsistent flicker as the ongoing pandemic has caused some to close, then reopen, only to close again.
Earlier this year, as states including New York and California saw spiking numbers of cases, the novel coronavirus seemed slow to arrive in Arizona. But as numbers of cases grew, reaching record levels in June, Arizona Gov. Doug Ducey attempted to walk a tightrope, balancing public health with the local economy.
Many local businesses, including bars, felt the full weight of the shutdown.
Some metro Phoenix bar owners, including Ross Simon of Bitter & Twisted Cocktail Parlour, chose to play the long game and keep their businesses closed for months. Others reopened each chance they had.
According to current Arizona Department of Health Services guidance, bars should still be closed except those that can function as a restaurant by serving food. All nightclubs should be closed.
Arizona's numbers of coronavirus cases are poised to spike, with the virus spreading at its fastest rate since June, which means going out anywhere poses a risk of furthering the spread of the virus.
But despite the continuing restrictions and the fact that the pandemic is still in full effect, many metro Phoenix bars are reopening. This time, however, bar owners say they feel better equipped to do so safely thanks to new technologies, customers who seem more willing to follow safety protocols and knowledge they didn't before.
Bar owners say reopening now is different, and that this time, they're open for good.
"There's a time when you have to say, 'we are ready,'" Simon says.
Are Arizona bars allowed to be open?
It's been a tumultuous road to reopening for Arizona bar owners.
Most of these businesses first closed in March, when Gov. Ducey restricted bars to takeout service only. Thanks to a relaxation of typical alcohol restrictions, cocktails to-go, pop-up drive thrus, new delivery services and jarred margaritas became popular.
Then in early May, Ducey permitted restaurants and any bar that could act as a restaurant to resume dine-in service. But the relaxed language around the reopening guidelines allowed for bars serving foods as simple as chips and pretzels or microwaved pizza to reopen as well. When Arizona's case numbers spiked in June following Memorial Day celebrations — including some at prominent Scottsdale bars and clubs — Ducey shut down bars again.
While restaurants have been allowed to stay open since May, Arizona bars have remained under restricted operating guidelines for nearly eight months as of October. In July, a group of bar owners filed a lawsuit against the governor for keeping their businesses closed.
A later update to the governor's executive orders allowed bar owners to submit applications to ADHS in order to get permission to reopen.And on Aug. 10, the department published a phased plan that allowed certain bars to reopen across the state, circumventing the applications.
REOPENING:Arizona bars are starting to reopen. Here's where, why and how
Now, restaurants and bars that serve food may offer dine-in service provided that limited capacity, proper social distancing, sanitizing and other safety precautions are enforced.
Additional guidance released in late October further relaxed the rules, allowing arcade games, pool and karaoke, among other activities at bars.
Bars that do not serve food are still closed and the lawsuit filed against the governor is ongoing.
Why one owner hopes technology will help
For almost four months, Ross Simon has been squeezing Bitter & Twisted's award-winning cocktails into aluminum cans in order to keep some business coming in to his downtown Phoenix bar.
But as of Oct. 15, the business is beginning to inch its way back to normal.
"If we left it any longer, we probably wouldn't be able to reopen," he says. "There's not really much of a choice."
In order to survive the financial impact of the pandemic, the business had to start making more money than takeout food and cocktails alone could bring in. Simon says he expects COVID-19 will be around for a while longer, so instead of waiting for a cure, he's taking measures to make his bar a safer environment for both staff and customers.
"We didn't want to rush into it," Simon says. "This is a calculated move."
Simon's bar is entirely indoors, so he's installed "Pentagon-grade active air technology," he says.
The ventilation system is supposed to filter fungi, bacteria and viruses from the air.He's also adjusted the HVAC to increase the outside air intake and installed ionizers that are supposed to clean the air.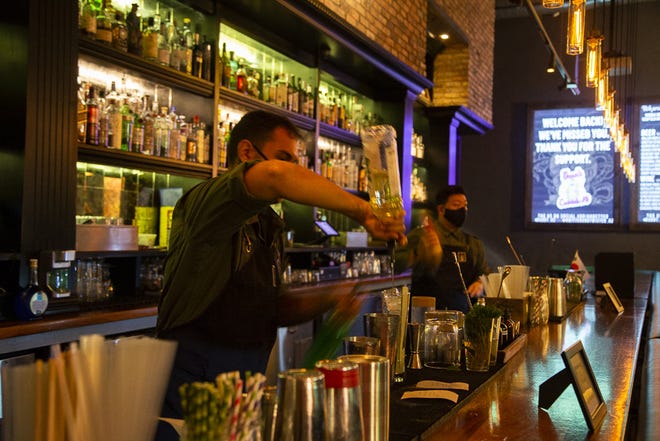 Adding these systems has been anything but cheap, Simon says.
"It's not really something you budgeted for in a year," he says. "We are going above and beyond, and it may be overkill, but the whole expense is a necessity right now."
Simon never expected to have to think so hard about airflow or learn the intricacies of how viruses are spread when he opened Bitter & Twisted.
"It's all a bit much," he says. "I just wanted to make sidecars and mojitos."
But the efforts to make his customers and staff feel safe enough to return, Simon says, are necessary. Bitter & Twisted also now features digital menus and touchless payments. Takeout cocktails and food are still available as well.
"There is no safe, it's just safer," Simon says, "But it's a small step in the right direction."
How customers could help keep bars open
A few blocks north, downtown Phoenix's shipping container collection the Churchill reopened for a second time on Oct. 9. Bar manager Travis Matreyek worked to monitor the line outside and limit customers during a busy first couple of days.
The Churchill reopened briefly in May "for better or worse," Matreyek says, and shut down again once Arizona's coronavirus spike continued to climb.
"It was hard to go through all that, getting the wheels turning again and then shutting down," he says.
He's hoping that rule-following customers will help the Churchill stay open this time.
Pandemic fatigue, a term coined by the World Health Organization, could be an important factor in how successfully nightlife returns to the Valley. The New York Times defines the experience as "exhaustion and frustration with pandemic restrictions."
It's something Matreyek says he has seen among his customers.
"People are happy places are starting to reopen for a number of reasons, whether they are bored of being home, they want to go to the bar, or they want to see small businesses open and doing their thing," he says.
This time, Matreyek says customers and staff better understand the mask policy and are more understanding about wait times and group size limits. They realize that the alternative to not following the rules could mean something worse: further shutdowns.
Some customers have even thanked him for going to such lengths with the safety measures, he says.
On the other hand, serving alcohol presents a challenge, Matreyek says.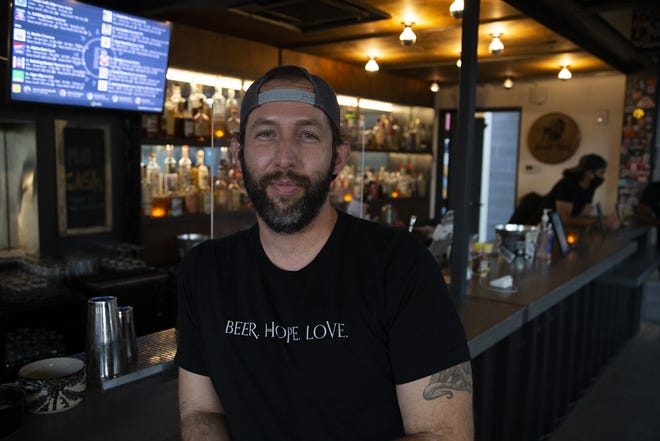 "One thing I see happening is people forget to put their mask back on when they get up and then halfway across the courtyard, they remember," he says. "It's not malicious but when you've got a couple of drinks in you, it slips your mind."
But when staff at the Churchill gently remind customers of the policies, they're generally happy to oblige, Matreyek says.
The Churchill is entirely outdoors, which should help reduce the risk of spreading COVID-19. And while the staff continues to work to find the right balance between safety and trying to get back to some sort of normalcy, the opening weekend went smoothly, Matreyek says.
"With the stress aside, I'm glad we're open," he says.
Are Scottsdale's nightclubs reopening too?
While downtown Phoenix nightlife has largely returned slowly, many nightclubs and bars in Scottsdale have reopened at every opportunity during the pandemic.
When Ducey reopened establishments that serve food in May, many Old Town Scottsdale bars opened too and music once again radiated from Saddlebag Trail's nightlife corridor. Over Memorial Day weekend, customers flocked back to the nightclubs in droves, resulting in a crackdown from the Arizona Department of Liquor Licenses and Control and local police.
In Scottsdale, bars and clubs including Riot House, Bottled Blonde, Pattie's, Casa Amigos, El Hefe, International, Maya Day Club and Hi-Fi all failed to follow safety guidelines and were served a notice of violation and opportunity to comply. Riot House also received a misdemeanor charge from the Scottsdale Police Department.
At this point, those bars have reopened.
Lissa Druss, a spokesperson for Riot Hospitality Group, a company that owns Dierks Bentley's Whiskey Row, El Hefe and Riot House, released a statement to The Republic saying the company is "working with the city attorney's office" to put the misdemeanor charge behind them. All Riot locations in Scottsdale are open.
"We are grateful to be open again and our team is happy to be back at work," Druss wrote. "There is nothing more important than the health and safety of our customers, and we continue to do what we can to go above and beyond what is required of Arizona establishments."
Evening Entertainment Group, which owns Bottled Blonde, Hi-Fi Kitchen & Cocktails, Bevvy, Casa Amigos and Skylanes in the entertainment district, declined to comment when asked about their plans for reopening safely. All of the company's bars are currently open.
Simon says he doesn't want to be grouped in with Scottsdale clubs and hopes that any enforcement in response to those not complying with safety measures will be case-by-case.
"When you've got nightclubs that are packing them in, we see the pictures and the lack of distancing and we are dumbstruck by it," he says. "Down here, we're taking it seriously."
Here's what an expert says about reopening
Despite all the changes bar owners say they've made, health experts' recommendations remain largely the same as ever. The Centers for Disease Control and Prevention says the safest option is to stay home or order takeout.
In June, experts told The Arizona Republic that eating outside on a patio in open air was safer than sitting indoors. Now, as bars reopen again, University of Arizona virologist Charles Gerba, who studies viral transmission, says his advice would be the same.
"If you are outside, you're better off," Gerba says. "And you have to have the social distancing. Unfortunately when people start drinking, they forget about that."
Gerba says drinking at a restaurant may be a better option, since at restaurants servers come to each table rather than having guests crowd around a bar to order drinks.
"If you can find a bar like that, you might be okay," he says. "You are going to take a risk but you can reduce it."
Ways he recommends mitigating risks also include continuing to wear masks as much as possible and sitting at the edge of the patio or as far away from others as space will allow. If there's live music, Gerba recommends sitting at the opposite end of the space from the stage.
"Things get aerosolized when people sing and move around and clap," he says.
Gerba also recommends visiting bars at unpopular times to avoid crowds.
"Don't go out on a Friday or Saturday," he says. "Go on a Monday or Tuesday instead when the place isn't packed."
Gerba says going out for a drink or doing any activity in proximity to other people poses a risk as the coronavirus pandemic is far from over.
"You may go 10 times and be fine and one poor guy goes once and gets ill," Gerba says. "It's just the chance you take."