By Shaddi Abusaid, The Atlanta Journal-Constitution
(CNT) City News And Talk #atlanta-ga
The weather is expected to improve on Sunday after a cloudy, rainy start to the weekend.
Afternoon storms rolled through metro Atlanta on Saturday, putting a damper on some people's outdoor plans. The weekend won't be a total washout, however, and sunshine is expected to return on Sunday, Channel 2 Action News meteorologist Eboni Deon said.
"The entire weekend will not be wet," she said. "We'll have some drier weather on Sunday and even into early next week."
The day will get off to a relatively warm start in metro Atlanta with a low of about 62 degrees, according to the latest forecast. That's about 10 degrees warmer than usual for this time of year, Deon said.
While there's still a 30% chance of rain in the morning, the showers shouldn't be very widespread. By afternoon, the wet weather is expected to clear out as temperatures reach a high of 76 degrees, making it a great day to get outside and enjoy some of the fall colors.
"Those clouds will start to break up in the afternoon, so Sunday will be a much drier end to our weekend," Deon said. "In fact, we'll see the dry weather extend into the early part of next week."
The start of the workweek will be warm as well, with temperatures in the upper 70s through at least Wednesday.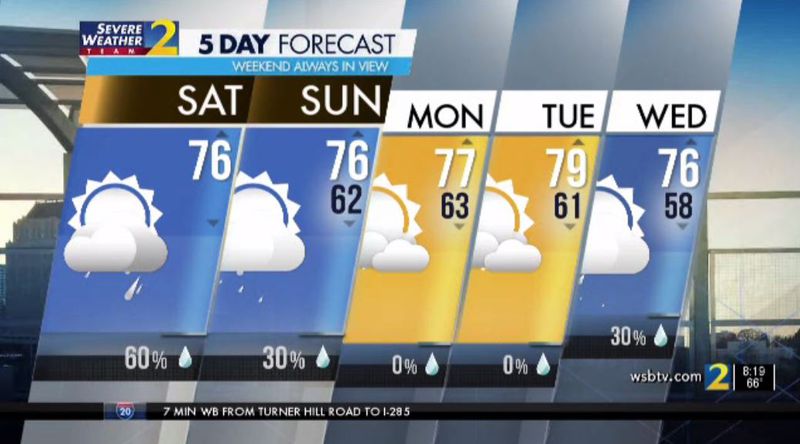 The third and final evening of this year's Big Night Out concert series continues Sunday at Centennial Olympic Park, so drivers may run into some downtown delays ahead of the show.
Atlanta hip-hop legend Big Boi is expected to headline this year's socially distanced music festival.
Drivers should also plan for delays at the Ga. 400/I-285 interchange this weekend as Georgia Department of Transportation crews continue work there.