By Chelsea Prince, The Atlanta Journal-Constitution
(CNT) City News And Talk #atlanta-ga
The weekend's storms may have North Georgia crying for relief, but more wet weather is headed this way, according to Channel 2 Action News.
Tropical Storm Zeta is expected to become a hurricane as early as Monday as it heads for the central Gulf Coast, the news station reported. After making landfall in Louisiana, the storm is likely to be swept up in a cold front and marched toward Georgia.
Channel 2 meteorologist Brian Monahan said this year's "incredible" hurricane season ties the 2005 record for the most named storms. Before Zeta's onslaught, North Georgia will be mostly dry Monday and Tuesday, he said.
"We get a break for a few days, but here we go again by Wednesday and Thursday," Monahan said. "More heavy rain is going to move into North Georgia."
Wednesday evening and Thursday morning will be the times to be weather aware this week, he said. Heavy rain is likely along Zeta's track, and severe weather is possible.
Before then, North Georgia is mild and mostly dry, according to Channel 2. A cold front is sitting across the state Monday, creating the right conditions for a 20% chance of few sprinkles or showers.
Monday is "one of those days where temperatures do not change very much from the morning to the afternoon," Monahan said. "The reason for that: a lot more cloud cover across North Georgia."
After starting the day in the upper 60s, Atlanta is expected to reach a high of 72 degrees by the afternoon.
"More clouds and sunshine on the way for your Tuesday as well," Monahan said. "Not much in the way of rain, either. Tomorrow should be a pretty dry day across North Georgia."
More dry weather is expected to move in behind Zeta on Friday in time for Halloween weekend. Atlanta should be partly cloudy and cool for the big day Saturday with evening temperatures in the 50s, according to Channel 2.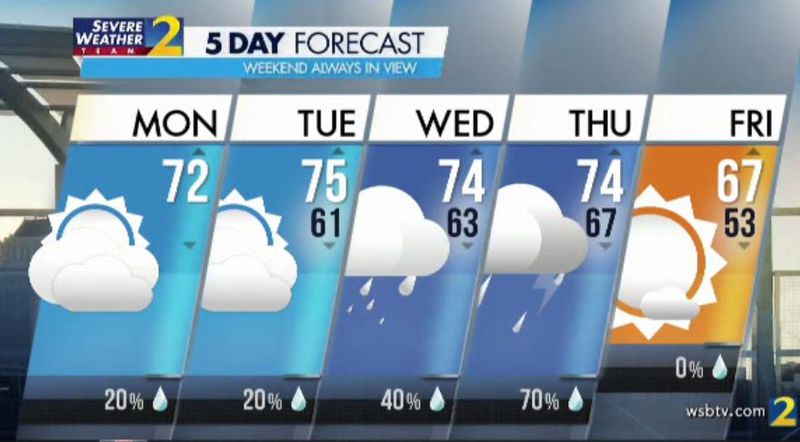 Weather may not be much concern Monday, but there are already plenty of extra brake lights on I-20 between Douglasville and downtown, according to the WSB 24-hour Traffic Center.
A rollover crash was blocking multiple eastbound lanes before Thornton Road before it cleared about 6:15 a.m., the Traffic Center reported.
But authorities are still on the scene of a crash on I-20 East at Lee Road. As a result, traffic is bumper-to-bumper out of the western suburbs and trip times are climbing, according to traffic reporter Mark Arum.
"The west freeway is going to be damaged for the next hour at least," he said.
Until the delays clear, commuters can use U.S. 78 as an alternate out of the western suburbs.
At least conditions have improved on the Southside after an earlier crash blocked all lanes of I-75 South. Traffic is flowing again on the interstate before the I-285 interchange in Clayton County, according to the Traffic Center.